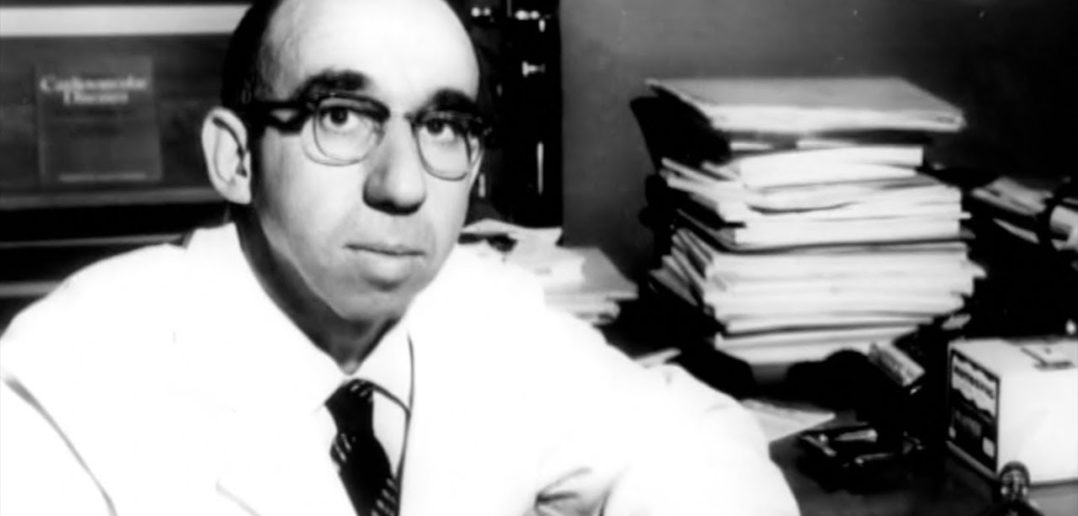 Jeremiah Stamler, MD, founding chair and professor emeritus of Preventive Medicine, passed away on January 26. He was 102 years old.
"Jerry was a giant intellect who founded the fields of cardiovascular epidemiology and preventive cardiology and led in defining new prevention concepts right up until his last days. He was also a kind and gentle soul who believed in people. As the current chair of the department he founded 50 years ago, I can say that we are all so grateful to have known him, to have been mentored by him, and to have been inspired by his example," said Donald Lloyd-Jones, MD, ScM, chair of Preventive Medicine and the Eileen M. Foell Professor of Heart Research.
Known as the father of preventive cardiology, Stamler's work helped transform the understanding of diet and cardiovascular health. He is also credited with discovering novel pathways to treat hypertension and defining innovative strategies for health promotion across the life course.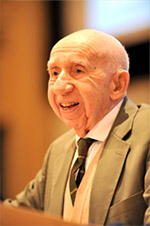 In the 1970s, Stamler helped introduce the concept of cardiovascular "risk factors" — notably cholesterol, blood pressure, diabetes, smoking — into the field of cardiology and highlighted their connection to heart attack risk, which at the time was deemed controversial by the scientific community and general public. Stamler's INTERSALT study, which established a connection between increased sodium intake and high blood pressure, also generated pushback when he published his findings in 1997, yet eventually informed health guidelines published by the American Heart Association and others.
"Dr. Stamler was an amazing colleague and friend to hundreds of people. He gave generously of his time to many colleagues, students, post-docs and even strangers. He was a force for truth and never backed down when confronted by others who did not share his passion for truth and the best science. He made me feel at home immediately in 1991 when I became chair of the department he had founded in 1972. I loved working with him since I always knew he would make our research better, more clear, more relevant and more impactful," said Philip Greenland, MD, the Harry W. Dingman Professor of Cardiology and a member of the Robert H. Lurie Comprehensive Cancer Center of Northwestern University.
"There was really no one quite like Jerry. He was a charismatic leader who championed preventive medicine from the beginning of his illustrious career, and a lifelong mentor and friend to me and so many others. His long span of fourscore and twenty-two years were devoted to making the world a better place. He will be sorely missed," said Neil Stone, '68 MD, '74 GME, the Robert Bonow, MD, Professor of Medicine in the Division of Cardiology and of Preventive Medicine.
Stamler joined Northwestern in 1958 as an assistant professor the Department of Medicine. In 1972, he became the inaugural chair of the newly created Department of Community Health and Preventive Medicine, a position he held for more than 18 years before becoming professor emeritus of Preventive Medicine in the Division of Epidemiology in 1990. In 2014, The Jeremiah Stamler Professorship in Preventive Medicine was established in his honor.
During his tenure, Stamler helped develop the medical school's Master of Public Health program. He also served on numerous committees, gave lectures across the U.S. and abroad on cardiovascular disease prevention and management, and received numerous awards and honors for his work.
In addition to being leader in his field, Stamler was a committed mentor and advised many young scientists throughout his decades long career. In 2014, he was the recipient of the American Heart Association's Eugene Braunwald Academic Mentorship Award.
"Dr. Stamler's guidance, mentorship and scientific expertise has shaped the lives and careers of countless talented investigators who have since gone on to contribute mightily to the field of cardiometabolic disease prevention and treatment. I feel incredibly blessed to be counted among them," said Linda Van Horn, PhD, RD, chief of Nutrition in the Department of Preventive Medicine and a member of the Lurie Cancer Center.
Over the course of his career, Stamler published more than 670 peer-reviewed papers, 22 books and monographs, and his work has been cited more than 56,000 times and has helped shaped public policy for decades.
Up until his passing, Stamler was actively involved in research and led a National Institutes of Health-funded study investigating the connection between high blood pressure and the human metabolome.
"Dr. Stamler's exceptional science was paralleled by his remarkable humanity. He was a champion of our best American ideals, he was fearless when facing the status quo, and he was tireless in the pursuit of what was right and just. He remains a beacon for all that is noble in medicine," said Clyde Yancy, MD, MSc, the Magerstadt Professor and vice dean for Diversity and Inclusion, chief of Cardiology in the Department of Medicine and a professor of Medical Social Sciences.
Stamler was born on October 27, 1919 in Brooklyn, N.Y. He earned his Bachelor's degree from Columbia University and his medical degree from State University of New York in Brooklyn in 1943. He completed an internship at Kings County Hospital Center in Brooklyn, N.Y. in 1944 before serving in the U.S. Army until 1946, where he was honorably discharged.
Stamler was also revered as a man of distinguished character among his friends and colleagues and permeated his work as a scientist and mentor. In the 1960s, Stamler was subpoenaed by the House Committee on Un-American Activities to identify friends who had attended communist party meetings. He refused and sued the committee. His case went all the way up to the U.S. Supreme Court, which ruled in his favor and ultimately led to the committee's abolishment in 1975.
"The depth of his character and the courage of his convictions, as evidenced by his successful personal fight that led to the dismantling of the House Un-American Activities Committee, rang through in everything that he did. We are all deeply saddened by his loss," Lloyd-Jones said.