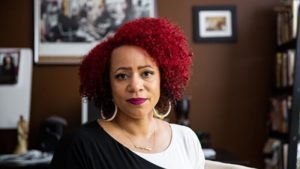 Northwestern celebrated the life and work of the Rev. Dr. Martin Luther King, Jr. with Dream Week, featuring a candlelight vigil, an oratorical contest and conversations with Nikole Hannah-Jones, a Pulitzer Prize-winning journalist and creator of The New York Times' 1619 Project.
"The 1619 Project deals with racism and the racial foundation of many aspects of American society, including practice of medicine and healthcare, law and politics," Hannah-Jones said. "We have to make those connections about what happened then and what is happening now."
She was joined by Linda Suleiman, MD, '17 GME, assistant dean of Medical Education, director of diversity and inclusion for the McGaw Medical Center and an assistant professor of Orthopaedic Surgery, as well as Robin Walker Sterling, JD, the Mayer Brown/Robert A. Helman Professor of Law and associate dean for clinical education at Northwestern University Pritzker School of Law.
The panel discussed the root causes of inequality for people of color in America, including the long legacies of racism and slavery, and how this inequality permeates the fields of medicine and law even today.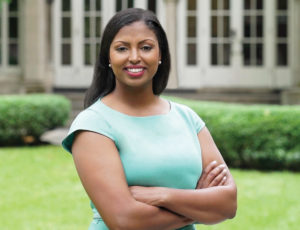 "Many people in the audience today are physicians who are taking care of patients with significant health disparities, or, like professor Walker Sterling, represent people in legal systems that are born out of this country's history of slavery," Suleiman said.
Earlier, Chicago campus students and staff participated in an oratorical contest. Entrants wrote short poems and speeches in response to King's 1967 "The Trumpet of Conscience" lectures.
"Whether we are the passive passenger or the deliberate driver, the wheels will keep on turning and keep on spinning, just like Dr. King," said Joyce Ohiri, a student in the Driskill Graduate Program in Life Sciences (DGP), who placed second in the student competition. "We have to take life by the reins and lean on each other. Unite of people divided and find strength within ourselves to pull up and pull through."
Tingting Liu, a financial coordinator in the Office of Finance and Administration at Feinberg, took the first-place prize in the staff contest.
"I urge us all to carry Dr. King's soul within us," Liu said. "When the world is shrouded and hard to navigate, I urge us all to believe. Not just in the power of hope, but to dare; dare to dream, dare to hope, even with its small and fragile wings, and dare to have faith in hope."
Dream Week 2022 is a cross-campus collaboration with Northwestern's Office of Institutional Diversity and Inclusion.