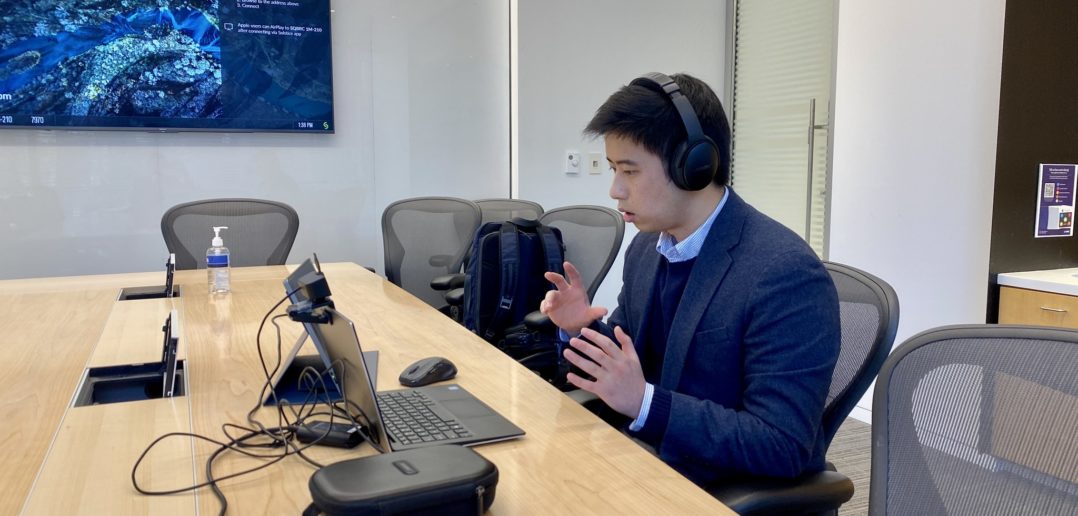 Second-year medical students presented their Area of Scholarly Concentration (AOSC) research projects during a virtual session held November 5, covering topics including the genetics of lung cancer, how brain damage in infancy can produce functional deficits later in life, surveys designed in collaboration with community organizations and more.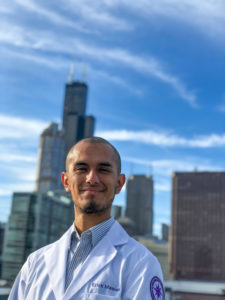 AOSC is a foundational element of the Feinberg curriculum, giving medical students the opportunity to work through the entire research process, which is valuable experience even for students who may not land in academia, said Matthew Feinstein, '11 MD, assistant professor of Medicine in the Division of Cardiology, director of medical student research and director of the Clinical and Translational Inflammation/Immunocardiology Program (CTIP).
"Besides the functional components of AOSC, the real goal here is to engage students' scientific passions and creativity, supporting them as they embark on a course of inquiry that addresses key health-related problems of the day," said Feinstein, who is also an assistant professor of Pathology and of Preventive Medicine in the Division of Epidemiology. "This highlights the work of the next generation of physicians, scholars and scientists, and gives them an opportunity to dream big about how to leverage their skills and passions to address pressing health-related issues of the present and future."
In his AOSC research project, Stas Fridland, a second-year medical student, examined the relationship between intratumor heterogeneity (ITH) and outcomes after immunotherapy for patients with lung squamous cell carcinoma. Previous studies had shown a negative association between ITH and outcomes, but Fridland and mentor Young Kwang Chae, MD, MPH, MBA, associate professor of Medicine in the Division of Hematology and Oncology, found the opposite: Among patients with low tumor mutational burden, high ITH was actually predictive of better response to immunotherapy, with longer recurrence-free survival.
"Metrics like this could be used to stratify groups and highlight patients that may be strong responders to new checkpoint inhibitor therapies," Fridland said.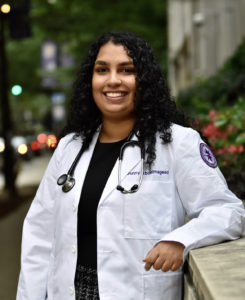 Other students looked beyond the laboratory bench, working with local organizations to design projects in a textbook example of community-engaged research.
Erick Masias, a second-year student, worked with Chicago groups Communities United and Strengthening Chicago's Youth to design a youth participatory action research project. Working under the mentorship of Karen Sheehan, '89 MD, MPH, associate chair for advocacy and professor in the Department of Pediatrics, Masias built a survey exploring barriers to mental and behavioral health services to boys and young men of color. Importantly, the questions were developed hand-in-hand with the target population — treating them as equal contributors rather than research subjects.
"The partnership is based on the premise that boys and young men of color with lived experiences are actually in the best position to conduct the research and interpret the findings," Masias said. "We're hoping the results can dispel some narratives about young men not accessing mental health resources because of 'stigma,' and point to other things like cost."
Other projects utilized the wealth of resources at Northwestern, including one conducted by Sunny Abdelmageed, a second-year medical student who examined the relationship between infant intraventricular hemorrhages (IVH) and later functional outcomes under the mentorship of Sandi Lam, '98 MD, vice chair for pediatric neurological surgery in the Department of Neurological Surgery. Premature infants are at particular risk of IVH, which can lead to brain damage, but even as premature births have declined the incidence of hospitalization for IVH has increased, according to Abdelmageed.
Using patient data from Lurie Children's Hospital, Abdelmageed found that greater ventricular dilation — a measure of IVH severity — was associated with worse functional outcomes as defined using a pediatric cerebral performance scale.
"I was surprised how strongly ventricular dilation predicted outcomes, even independent of other confounders and persisting until school age," Abdelmageed said. "I learned much about the IRB and literature review process, and gained skills including the use of Epic software which has been extremely useful in my Education-Centered Medical Home."
Chae is a member of the Robert H. Lurie Comprehensive Cancer Center of Northwestern University.