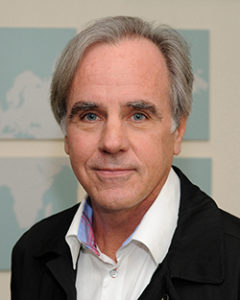 Feinberg's commitment to improving human health transcends borders. Around the world, investigators, trainees and students are working to expand health equity, knowledge and capacity through research and educational partnerships. One of the medical school's most important and longstanding partnerships is with scientists in Sub-Saharan Africa.
Through the Robert J. Havey, MD Institute for Global Health, Feinberg faculty across disciplines are training investigators from Africa, many of whom are enrolled in Feinberg graduate programs, on how to effectively conduct research about diseases currently impacting their home countries. Areas of focus include HIV/AIDS, cardiovascular disease and infection- associated diseases, such as cervical and liver cancer.
Some of these training programs were originally established with funding from the United States President's Emergency Plan for AIDS Relief (PEPFAR) launched by George W. Bush
in 2003, which has since provided over $85 billion toward the world's HIV/AIDS response. Currently, Feinberg's growing assortment of programs are supported by the Fogarty International Center at the National Institutes of Health and led by a dedicated group of medical school faculty.
These faculty members include Robert Murphy, MD, '81 84' GME, the John Philip Phair Professor of Infectious Diseases and executive director of the Havey Institute for Global Health; Claudia Hawkins, MD, MPH, associate professor of Medicine in the Division of Infectious Diseases and director of the Center for Global Communicable and Emerging Infectious Diseases; Lifang Hou, MD, PhD, chief of Cancer Epidemiology and Prevention in the Department of Preventive Medicine and director of the Center for Global Oncology; Mark Huffman, MD, MPH, the Quentin D. Young Professor of Health Policy and director of the Center for Global Cardiovascular Health; and Babafemi Taiwo, MBBS, the Gene Stollerman Professor of Medicine and chief of Infectious Diseases in the Department of Medicine.
Fostering Independence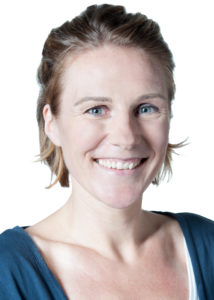 A key component of all the Havey Institute for Global Health's programs is mentoring. Trainees are partnered with faculty mentors to guide them through the research process from start to finish.
"The ultimate goal is to really foster their independence in research," Hawkins said. "So, they're working on their own research concept, and we're mentoring them through the research proposal development and providing with them with the skills necessary to conduct the research. Ultimately, we want to get them to a stage where they can write their own grants and set up their own research programs later down the line."
Hawkins currently oversees a program that is training investigators from Muhimbili University of Health and Allied Sciences in Tanzania on how to conduct HIV care research that incorporates patient-reported outcomes and experiences. In response to the COVID-19 pandemic, the program received additional funding to study the impact of the pandemic on HIV care and patients' anxiety, and the role of self-management among patients with HIV in Tanzania.
Another program, led by Hou, trains Nigerian investigators who specialize in cancer molecular epidemiology to perform population-based HIV-associated cancer research. This is a collaboration between investigators from Northwestern, the University of Illinois at Chicago, the University of California, Los Angeles, and the University of Jos and the University of Lagos in Nigeria.
"Through trainings in molecular cancer epidemiology, biostatistics and bioinformatics, this new generation will be equipped to lead the development of preventive and therapeutic strategies to reduce incidence and decrease mortality of HIV- associated malignancies in Nigeria, the region and the world," Hou said.
The same program recently received supplemental funding to address sexual misconduct and harassment in HIV/AIDS research training programs through the establishment of the Equity and Women's Center at the University of Lagos in Nigeria. This center will be created in partnership with Folasade Ogunsola, MD, PhD, professor of Clinical Microbiology at the University of Lagos, the Havey Institute for Global Health and Northwestern's Women's Center and Office for Equity. 
"This project is very timely. It not only addresses an urgent need for a safe work environment at our training site at the University of Lagos but is also in line with national movements in Nigeria, following the introduction of their Anti-Sexual Harassment Bill in early July 2020," Hou said. "Our goal is to build a strong foundation for the Office for Equity and a mentoring community to support awareness about the operational guidelines and other protocols for ensuring effectiveness and capacity development in prevention, protection and responses to sexual harassment and misconduct on campus."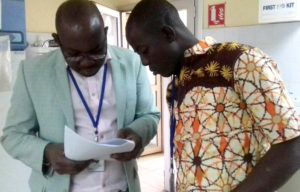 Hou and Mamoudou Maiga, MD, MSc, PhD, research associate professor of Preventive Medicine in the Division of Cancer Epidemiology and Prevention and of Biomedical Engineering at the McCormick School of Engineering, oversee an additional program that trains scientists from the University of Sciences, Techniques and Technologies of Bamako (USTTB) in Mali to perform epidemiological and population-based research on the country's most common infection-associated cancers: cervical, liver, gastric and lung cancer.
Similarly, Huffman is leading a cardiovascular research training program for investigators at the University of Abuja in Nigeria. The program aims to strengthen implementation science, clinical trials and patient-centered outcomes research, with the goal of helping shape public health and clinical strategies to improve cardiovascular health in Nigeria.
"Through this program, we will train a new generation of independent Nigerian investigators, mentoring them on the path to independence, and leading the way for University of Abuja to become a center for excellence for cardiovascular research in Nigeria," Huffman said.
Additionally, Murphy leads a program that trains investigators from USTTB on how to develop and implement diagnostic and monitoring technologies to address the HIV and tuberculosis epidemics in Mali.
Finally, a program led by Taiwo trains investigators in Nigeria about how to expand HIV-related brain disorders research to improve patient care. The program also received additional support to study the mental health effects of COVID-19 among patients with HIV in Nigeria and develop therapeutic interventions for these patients.
These programs have only strengthened academic and scientific leadership in Africa, according to Murphy. Over the years, relationships between faculty at Feinberg and in Africa have flourished. Even with the COVID-19 pandemic, the training programs have continued to prosper.
"We did everything remotely. We did online classes. We've continued our interactions, thanks to Zoom and Skype. We did not skip a beat — we applied for new grants, we got new grants; the pandemic didn't stop us," Murphy said.
Driving Tangible Impact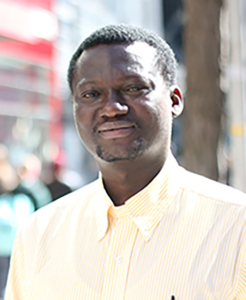 The training provided by Feinberg faculty continues to have a long-lasting impact on investigators in Africa. Particularly, four African investigators who completed research training programs at Feinberg have received the Fogarty Emerging Global Leader (K43) Award through the National Institutes of Health. The prestigious five-year award provides research support to non-U.S. citizen investigators from low- to middle-income countries whose work is highly relevant to the health priorities of their country.
One of these awardees is Jonah Musa, MBBS, PhD, adjunct professor of Preventive Medicine in the Division of Cancer Epidemiology and Prevention and professor of Obstetrics and Gynecology at the University of Jos in Nigeria. In 2008, Musa was recruited by Murphy with the help from the Fogarty International Center to train in clinical HIV/AIDS research through Feinberg's Master of Science in Clinical Investigation (MSCI) program.
"Prior to 2008, we were generating tons of clinical data in Jos. But one of the serious gaps I noticed was that I had no knowledge or skills in epidemiology, in querying data, in formulating an appropriate research hypothesis and even going about how to answer research questions," Musa said. "When I came to Northwestern, the faculty taught me how to decipher information from data, and since then, my academic story has changed."
Soon after completing the program, Musa returned to Feinberg and earned his doctorate from Feinberg's Health Sciences Integrated PhD Program (HSIP). During his doctoral program, Musa mobilized investigators from the University of Jos and University of Lagos in Nigeria to identify epigenomic biomarkers in two of the most common HIV-associated cancers in Nigeria: cervical cancer and liver cancer, which comes with a life expectancy of three months in Africa compared to five years in the U.S.
In 2018, Musa was named adjunct professor of Preventive Medicine in the Division of Cancer Epidemiology and Prevention at Feinberg. Shortly after, he received a K43 award to study the epigenetic mechanisms that contribute to HPV persistence and clearance to improve therapeutic interventions for women with cervical cancer.
"I cannot write my academic and scientific story without mentioning what Dr. Murphy and other Northwestern faculty have done for me," Musa said. "I conduct research, I analyze data and I share research knowledge without much difficulty anymore. I owe this to the faculty and the educational opportunity I had at Northwestern through this program. They have done incredibly well with educating and training me, and equipping me to be a successful researcher."