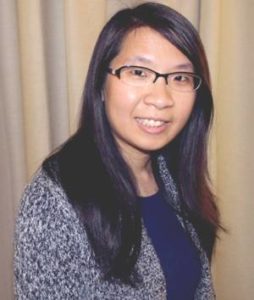 Yvette Wong, PhD, assistant professor in the Ken and Ruth Davee Department of Neurology's Division of Movement Disorders, has received the National Institutes of Health (NIH) Director's New Innovator Award. The award supports early-career investigators conducting unconventional and innovative research projects in the biomedical, behavioral or social sciences.
Wong's research aims to identify new cellular pathways using cutting-edge microscopy techniques to determine which pathways are involved in the etiology and progression of neurodegeneration in diseases such as Parkinson's disease, Charcot-Marie-Tooth disease, ALS and Alzheimer's disease.
"I am very honored to receive this award, which will fund really exciting and innovative research using super-resolution microscopy to investigate the dynamics of cellular organelles in real time, and to further understand how these dynamics might contribute to multiple human diseases," Wong said. "I would like to thank all my past research advisors and mentors for their support and encouragement throughout my research career, as well as my previous and current mentees and colleagues who have helped make science even more fun, enjoyable and novel."
The NIH Director's New Innovator Award, established in 2007, supports early-career investigators who propose high-risk or high-impact research. The award will support Wong's laboratory with studying the cellular mechanisms and events that occur inside organelles at nanoscale levels, to determine how these events contribute to cellular and neuronal homeostasis and disease. Her lab also investigates how defects in mitochondria-lysosome contact sites drive the pathogenesis of neurodegenerative diseases.
"There are many events occurring inside cells and neurons that we still do not know about, so getting to be the first to visualize these new events is really exciting. We hope that the fundamental basic biological discoveries from our lab can help advance biomedical research at the intersection of multiple fields including neuroscience, cell biology and neurodegeneration," Wong said.
The NIH Director's New Innovator Award is supported by the NIH Common Fund's High-Risk, High-Reward program, which inspires novel biomedical research that aligns with the NIH's mission while significantly impacting and accelerating the field.
"Dr. Wong is a talented young scientist, and this award is a testament to her creativity and innovative spirit that will serve her well throughout her career. I am especially proud of Dr. Wong because she trained in our lab, and thrilled that she has had such a great start as independent faculty," said Dimitri Krainc, MD, the Aaron Montgomery Ward Professor and chair of the Department of Neurology.