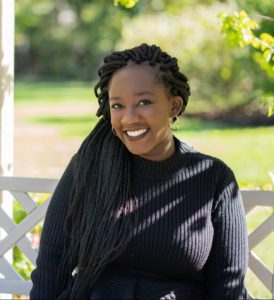 For first-year medical student Cheryl Mensah, attending medical school is an opportunity to become more than just a physician: she said she is looking forward to using the knowledge, skills and clinical experience she'll acquire during medical school to educate and empower patients and advocate for health equity.
Originally from Virginia, Mensah graduated from Washington University in St. Louis with a major in biology. She is interested in specializing in cardiology and said she has already had the opportunity to observe and learn from Feinberg faculty in the field.
Read a Q&A with Mensah below.
Why did you decide to go to medical school?
I have always been a healer. I think people have always found safety and comfort in my presence, and that is something I have always taken pride in. I think learning is also a really cool thing, and I was excited about the idea of being able to learn more and use that knowledge to validate, educate and empower others. There is a lot of imbalance and inequity in terms of people not having the information that they need to govern their own bodies and their own health. There are also a lot of leadership opportunities in medicine that I am attracted to.
Growing up, there weren't many Black physicians around. However, the ones that I did get lucky enough to meet had such amazing, multi-dimensional careers. They weren't just doctors, and also held larger roles in community organizations and medical education. Throughout my life, I have experienced, witnessed and learned a lot about healthcare inequity and there is a lot that needs to change. I believe that training to become a physician-activist is a really fitting way for me to make the impact that I want to make.
Why did you choose Feinberg?
The opportunities, just endless opportunities, as well as the opportunity to work with urban populations. I was really interested in Chicago, largely because I think it is an amazing and unique city of neighborhoods, each with its own distinct cultures and history. That was something that I wanted to learn more about and explore. I also liked the opportunity of being in a city that has so many different medical schools in one city, in terms of the friends that I can make and the people that I can meet and network with.
I wanted to apply to Northwestern because I was really involved in Student National Medical Association in undergrad, and one of the defining moments for me deciding that I was going to apply to medical school was at AMEC, which is the Annual Medical Education Conference. It's a national conference for underrepresented minority medical students and doctors, and Northwestern was the main sponsor of that event. They had the biggest booth and everyone there was just so friendly and fun and talked to me about all the amazing things they were doing. It just sounded like a dream. I was also impressed by the personal outreach from faculty members, such as Dr. June McKoy, who spoke to me as I was making my final decision.
How have your first few weeks of medical been so far?
Between moving, the white coat ceremony and meeting so many new people, the first few weeks have been overwhelming and emotional, but also exciting. There's so much information that you need to learn, and every day is a new challenge. However, I am adapting and growing, and I can actually feel myself getting smarter. The environment at Feinberg is also incredibly collaborative. I would do anything to help my classmates succeed and I know they would do the same for me.
Imposter syndrome has definitely been an ongoing challenge, and I will be the first to validate and normalize how intimidating this experience is because it is incredibly overwhelming. However, one thing that I've been trying to do is minimize if not eliminate negative self-talk as much as possible. I make myself sit in the front row during class, along with many of my friends who are underrepresented minorities in medicine, just to reinforce to ourselves that this is where we belong, that we earned the right to be here and that we deserve to take up space. That's something I've been really trying to remind myself: that even though it's a big school in a big city and it's easy to feel lost, I'm here for a reason and I belong and have a lot to offer.
Are you involved in any student-led organizations?
I am really interested in getting involved with SNMA leadership, not only at Northwestern but at the regional and national level, as well. The Office of Diversity and Inclusion has been so supportive of me literally since my sophomore year of college, and I did their summer pre-matriculation program with Dr. Ike Okwuosa. I wanted to spend the first couple months focusing on adjusting to medical school, but I have already signed up to be a student ambassador so I can work to continue to recruit more Black students to Feinberg.
Are you interested in any specific areas of research?
It's very early, but I am very interested in cardiology after I spent some time shadowing Dr. Alana Lewis and Dr. Okwuosa. I have always been interested in public health research and healthcare justice. I didn't do much translational research in undergrad, however being at Feinberg, I'm seeing more and more that translational research isn't something to be intimidated by. It is a privilege to be able to revolutionize medicine and create opportunities for people. I am looking forward to embracing every opportunity I can, because I feel incredibly lucky to be at an institution with so many resources.