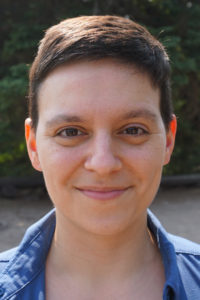 Priscilla Ambrosi, a student in Northwestern University's Interdepartmental Neuroscience (NUIN) PhD program, currently works in the laboratory of Talia Lerner, PhD, assistant professor of Neuroscience, where she investigates midbrain dopamine circuits and how they control the automation of motor programs, specifically habit formation.
Born and raised in Brazil, Ambrosi attended the Federal University of Rio Grande do Sul for her undergraduate studies and majored in biomedicine. She is also the recent recipient of the first annual Dr. James Houk Graduate Fellowship in Physiology Endowment Award in honor of the late James Houk, PhD, former chair of the Department of Physiology.
Read a Q&A with Ambrosi below.
Why did you choose Northwestern?
Dr. Kessler played a major role in recruiting me to Northwestern. I was moved by his generosity (we talked for hours about our research interests!) and his commitment to training the students in his lab. Other faculty across NU were also approachable and seemed genuinely interested in my professional development. Thus, I was confident I would get excellent mentorship here.
What are your medical or research interests? Can you tell me about your research on midbrain dopamine circuits?
I have a general interest in decision-making processes, from fate and wiring decisions at the cellular level to behavior at the organism level. In the Lerner Lab, I study the mechanism of habit formation. More specifically, I am testing a dopamine circuit that is thought to control habit formation. This circuit was proposed over 20 years ago but remained hypothetical due to technical limitations. Using state-of-the-art tools, I was able to prove that this long-hypothesized circuit exists. Now, I am testing if this circuit works in the way it was predicted. No matter the results, this work will help answer a fundamental question in neuroscience: What is the mechanism of habit formation? It will also provide a foundation for future translational studies.
Do you participate in any organizations or societies at Northwestern?
I am passionate about teaching, mentoring and outreach. Currently, I am a member of the content development team at Northwestern University Brain Awareness Outreach (NUBAO), helping plan neuroscience-focused outreach activities for middle school teachers and students. Pre-COVID, I mentored international graduate students at NU through a program called English Development Through Guided Exploration. Also pre-COVID, starting in 2016, I became a Science Club mentor at the Pederson-McCormick Boys & Girls Club. At Science Club, I co-mentored middle school students in a weekly afterschool program aimed to increase STEM engagement in underserved populations. I miss it dearly!
What has been your most rewarding experience?
The Lerner Lab has been a reliable source of rewarding experiences! This summer, I trained and mentored a new undergraduate student in the lab, Ellie Coleman. Together, we set out to pursue an ambitious project that involved challenging surgeries in the mouse brain. I got to witness Ellie's growth and development throughout the summer and watch as she became more and more independent. I felt so proud when she presented her data to the lab and so happy when she said she wanted to continue working in the lab in the fall! Working with Ellie has been incredibly rewarding – I'm pretty sure she can do those challenging surgeries better than me at this point.
What advice would you give to prospective doctoral students?
I recommend developing a self-care routine and learning to ask for help! These will help you avoid or deal with burnout. The path towards mental health is different for everyone; it may take you years of hard work to carve your own path but doing so is worth your time and energy. Give yourself permission to make mistakes and learn, to rest, and advocate for your needs. Find and build a support system that will hold you accountable when you give self-deprecating thoughts (like impostor syndrome) too much power.