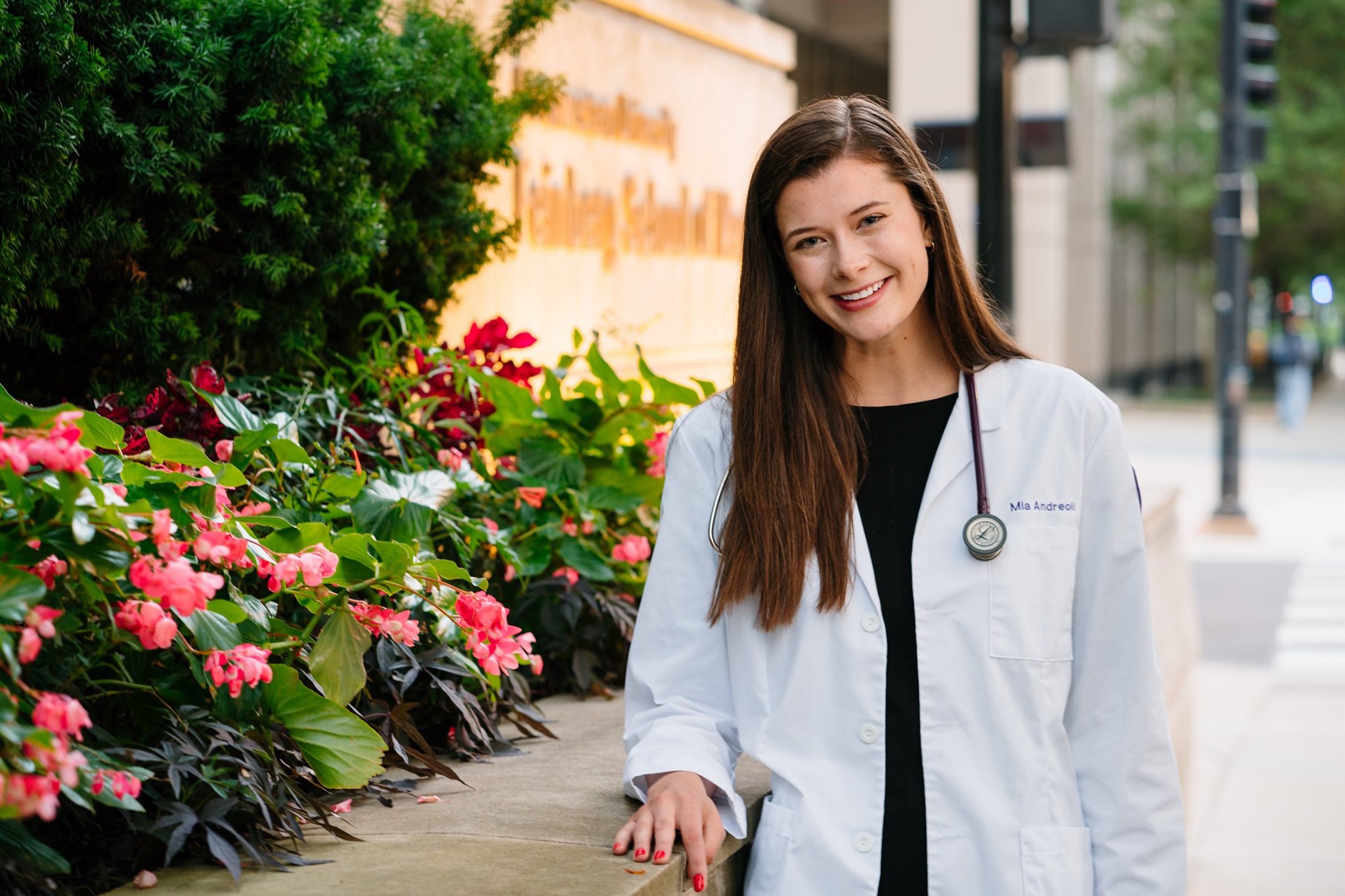 With the enforcement of strict social distancing guidelines in response to start of the COVID-19 pandemic, many individuals were and still are at risk of experiencing intense social isolation and loneliness, especially seniors. Recognizing this issue early on, Feinberg medical students formed the Senior Social Calls program, which pairs Feinberg student volunteers with local seniors in underserved communities in Chicago to have weekly phone calls.
Mia Andreoli, an incoming second-year medical student, joined the executive board last fall and has worked alongside her peers to continue to expand the program. Under the guidance of Lee Lindquist, '00 MD, '05 MPH, MBA, '03 GME, Anna Liggett MD, Joshua Hauser MD and Darby Mordhardt PhD, LCSW, the program matched 54 student volunteers with 80 seniors, with plans to send out the next batch of student-senior pairs this fall, according to Andreoli.
Read a Q&A with Andreoli below.
Why did you choose Feinberg?
I chose Feinberg for many reasons, in particular for its exceptional clinical and research opportunities. On the clinical side, we get early and longitudinal clinical experience through the ECMH program, which is a great environment to practice your skills under the mentorship of a faculty member and more senior students. I also knew I wanted research to be a big part of my medical education, so I was excited to find out about the AOSC program at Feinberg. In general, there's a strong emphasis on teaching and mentorship here and I've found that the faculty are very receptive to shadowing, being a resource for you, and providing career advice.
What are your clinical and research interests?
My interests are wide open, and I've been able to explore a variety of different fields through shadowing and research so far. On the research side, I've been working on a neurosurgical oncology project with Dr. Matthew Tate and Dr. Karan Dixit for my AOSC project. Our project is looking at whether distinct patterns of brain disconnectivity can predict specific cognitive and behavioral deficits in patients with brain tumors. The goal of this project is to improve our understanding of the organization of the brain, which could hopefully improve surgical planning and, ultimately, quality of life for patients with brain tumors.
Why was the Senior Social Call program created?
My peers and I were made aware that older adults can be at increased susceptibility for social isolation, which has been tied to many serious mental and physical health outcomes. Unfortunately, this was made worse with the necessary social distancing measures during the pandemic. With this issue in mind, our co-presidents, Emma Office and Marissa Rodenstein, formed this group last spring at the beginning of the pandemic.
The goal of the program is to connect student volunteers with seniors who might be isolated or lonely during the pandemic and set them up to have regular phone calls to provide some companionship, help alleviate loneliness and hopefully form a longitudinal friendship. On top of that, we were also hoping to help students practice their communication skills with older adults and learn about some of the daily experiences and challenges older adults face.
The program is open to students in any degree program at Feinberg. Another unique aspect of the program is that we partnered with a community housing organization called The Community Builders, centered in Bronzeville to recruit senior participants. Community housing leadership identified the seniors that might be experiencing loneliness and connected them to the program. Since we are still a small organization we are focused at this location right now, but we're hoping to expand as we get more student volunteers.
What have you learned from the volunteering with the program?
I've been made more aware of the importance of social connection and integration, especially for older adults. I've also learned how even something as small as a weekly phone call can actually make a big impact. For example, one of our other board members, Elaine Sobel, said that her senior buddy mentioned they were feeling really lonely during the pandemic and the phone calls always made her day. It makes me excited as a medical student that there are little things that I can get involved in that might comfort someone or cheer them up.
Looking forward, we are hoping to expand volunteers and seniors in the program, as well as start in-person volunteer outreach opportunities as it becomes safe to do so at the Community Builders' site. Since there is no official student geriatrics interest group, we are also hoping to have speaker events in the fall to discuss geriatric topics and a panel on geriatrics careers.
Students are welcome to contact me (mia-andreoli@northwestern.edu) or Elaine Sobel (elaine.sobel@northwestern.edu) with questions or interest!
What advice would you give to prospective medical students?
Try to get involved during your first year and take advantage of whatever interests you, whether that is student groups, shadowing, research or volunteering. I think we have a bit more flexibility during the first year of medical school and getting involved can really add a lot to your education and help you ultimately become a better doctor.