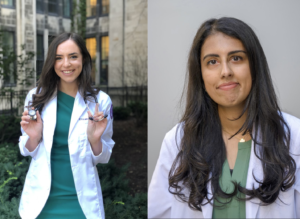 Trisha Kaundinya, a first-year student in Feinberg's MD/MPH Program, and Elizabeth Adams, a first-year medical student, are the co-presidents of Feinberg's Disability Advocacy Coalition in Medicine (DAC Med). Amidst a global pandemic, Kaundinya and Adams co-founded DAC Med in March 2021 and have been operating the coalition virtually since.
The coalition, which currently includes more than 60 student, faculty and staff members, seeks to create a culture of disability inclusion in medicine that promotes disability awareness in the training paradigms of health professions students, faculty and staff; combats ableism in medicine; and supports students and healthcare providers who themselves have disabilities.
Read a Q&A with Kaundinya and Adams below.
Where are you from and where did you attend undergrad?
Kaundinya: I'm from Bridgewater, N.J. and attended Northwestern for undergrad where I double majored in neuroscience and human communication sciences and disorders, and also pursued a leadership certificate.
Adams: I'm from Roxbury, N.J. originally and went to The Ohio State University for undergrad. There, I studied psychology. Afterwards, I dedicated two years to researching breast cancer full-time at The James Cancer Hospital Solove Research Institute.
Why did you choose Feinberg?
Kaundinya: What helped me choose Feinberg was the compassionate guidance I received when I interviewed. I experienced a common thread of engaged mentorship and willingness to support student ideas and visions. When I committed to Feinberg, I felt certain that I would not have to pave my path alone whatever I chose to do.
Since starting here, I couldn't be more grateful for all of the intentional small group skill-based learning. One of my favorite parts of our curriculum is our Clinical Education Center sessions because they are a direct and constructive way to track progress over the course of the year. I also love the location of our campus and bike by Lake Michigan quite frequently!
Adams: What it really came down to for me when choosing Feinberg was that I loved the curriculum, I loved the opportunities beyond the classroom, I loved the city of Chicago and most importantly I loved the people. Within the curriculum, I especially appreciated the structure of ECMH and thought it was incredible that we could take on a clinical role from our very first couple of weeks while also gaining the mentorship of peers across different years.
Outside of the curriculum itself, it was super clear to me when interviewing that Feinberg really valued the experiences we pursue out of passion and out of curiosity, whether that be taking on research projects, shadowing, getting involved in student organizations or even starting one. Before starting here, I consistently was hearing stories about how incredible faculty mentors and staff members were and how they really made themselves available to students. Now that I'm a student, I can tell you that even that is an understatement. When discussing ideas with faculty or staff, the question has never been, "Can you do this?". It's always been, "How can I help you do this?", and I think that says a lot.
What are your clinical and research interests?
Kaundinya: I'm in the MD/MPH dual-degree program, so this summer we work on an APEx (Applied Practice Experience) in healthcare. My project is a collaboration between Lurie Cancer Center and the Department of Dermatology. We are trialing a support group for patients who develop graft-versus-host-disease from stem cell transplantation to improve quality of life and psychosocial support. My other research interests include studying effects of telemedicine on patient care, epidemiology of chronic diseases and inclusion of skin of color in medical education. Both of us are also interested in research on disability inclusion in health curricula and clinical practice.
Adams: It's been so exciting to get to explore different specialties and subspecialties through lectures and shadowing this year! I'm definitely a believer in the process of getting exposure to different areas of medicine through school and I trust that I'll end up exactly where I am supposed to be, but surgery by far has captured my heart the most. For my AOSC project, I'm working with the Surgical Outcomes and Quality Improvement Center in thoracic oncologic surgery. We're exploring how lung cancer survivors perceive telehealth-delivered surveillance care after their initial lung cancer resections, as well as whether telehealth surveillance increases the number of patients able to meet the suggested guidelines for surveillance care. I'm also excited to be a Novy Family Foundation Research Fellow within the Department of Urology this summer and to continue my research within breast cancer surgery.
Why did you create DAC Med at Feinberg?
Kaundinya: There were a few experiences I had as a kid that made me aware of a spectrum of ability. I have a paralyzed facial nerve, which provided firsthand perspective on how easy it is to take the smallest abilities or movements, like smiling, for granted. I also grew up volunteering with my family at a center for patients with cerebral palsy, which showed me how structures that we utilize in our everyday life can exclude folks with disabilities. In college, my coursework in communication sciences and disorders provided background on disability legislation.
Once I started my MD/MPH at Feinberg, I realized pretty early on that we didn't have a space to have a conversation on how to be better advocates for our patients and our peers with disabilities. After connecting with Liz and doing a review of medical schools across the country, we realized that this was a national gap in the healthcare advocacy conversation for disability. There is an intimidating and harmful perception that every healthcare provider is this infallible, able-bodied figure, and we needed a channel to combat this ableism which is ultimately why we founded this group.
Adams: I became involved in the disability sphere myself when I was in college. I got involved with traumatic brain and spinal cord injury research, as well as a social psychology lab that focused on how children recovering and rehabilitating from neurosurgery and neurological conditions re-enter into their social circles like school. Through these experiences, it became readily apparent to me that much of society, and also healthcare, were not built in a way that had folks with disabilities in mind – and that both the folks with disabilities and the institutions and society as a result were negatively impacted. At the same time, I became involved with a community organization that helped high school students with disabilities transition from their school environment into the working world.
All of these experiences together solidified my role as an ally alongside the disability community and gave me the lens to see that often times in medical education, disability wasn't being a part of broader discussions surrounding inclusion and equity. Feinberg has made such an intentional effort to start these conversations, but Trish and I wanted to come together and bring disability awareness and advocacy to the discussion. We set out to create a hub for our community of peers who identify as having a disability and create change within not only our own school and our own curriculum, but broadly across medical education and medicine. DAC Med is very intentionally interdisciplinary and interprofessional because we believe strongly that coming together is the best way to really make change, to learn from each other, and to ultimately benefit patients.
What are the goals of DAC Med?
Kaundinya: An estimated 25 percent of the U.S. identifies as having a disability, so it is important that every person on the healthcare team knows how to provide culturally humble care for patients with disabilities. Research has historically been lacking on medical care for folks with disability, but recent work reveals significant physician bias. These realities in healthcare must be addressed sustainably, and it begins with us on the very first day that we enter this profession. The change that we can make as trainees to spread awareness and change misperceptions of disability can positively impact the future training climate and patient outcomes for folks with disabilities. Currently our coalition is about 60 members. We are virtual, but really hoping that our coalition have more in-person events in the fall.
Adams: Our goal is to implement a multidimensional approach to address the inequities, prejudice and discrimination that folks with disabilities face within healthcare, whether that be as a patient, as a health sciences student, or as a provider. To reach this, we have several committees, including the Education, Programming, National Network, Peer Support, Research Engagement and Chicago Outreach committees. So we all work together to do things like putting on educational workshops to equip students with the language and information needed to provide comfortable, respectful and equitable care to patients with different disabilities or creating a national virtual conference to start this conversation with other schools and students. What it really comes down to as a group is that we want to be a hub for all folks to come together in authentic conversation whether they're a student who has a disability, a student who identifies as an ally or anyone who just wants to learn more. We're here to do our part to educate, to advocate and give a sense of community.
What has DAC Med accomplished so far? Any upcoming plans?
Adams: We've had a couple of virtual events so far. We kicked it off with an introduction to disability sensitivity and etiquette and also had a panel with folks with mobility disabilities. We got to learn from their firsthand experiences within the context of how we as future healthcare professionals can provide the best, most comfortable and respectful care possible.
DAC Med also recently received the Gold Humanism Honor Society student summer fellowship, which will allow us to create a safe space training module. This will be focused on how to be inclusive of folks with disabilities, how to best deliver care in a way that's equitable, and how to overcome ableism and implicit bias in healthcare and society as future healthcare providers. We're really excited to be partnering with a community organization here in Chicago called Access Living to develop the content of the module and can't wait to make it available to students, faculty, and staff here at Feinberg.
Kaundinya: This summer we will continue to learn from all of our Northwestern collaborators and partners, including faculty at the  Shirley Ryan AbilityLab, Lurie Children's Hospital , the Northwestern Medicine Disability Champions Network, the Augusta Weber Office of Medical Education, AccessibleNU, the Office of Diversity and Inclusion and the Center For Health Equity Transformation. We are also engaging with other healthcare institutions nationally to start DAC Med chapters and share our model for building a collaborative advocacy platform. Every time folks in healthcare want to get involved in disability advocacy, it should not take reinventing the wheel.
In the fall, we will be hosting our first national virtual conference for healthcare trainees. The purpose of this summit is to connect students interested in disability advocacy to both learn from driven faculty and staff in this area and to work with each other in problem-solving workshops.