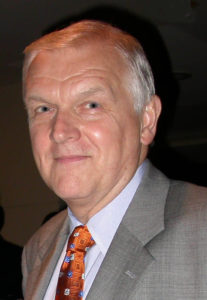 Andrew D. Bunta, '67 MD, '74 GME, associate professor of Orthopaedic Surgery, has been named a "Pillar of the Orthopaedic Profession" by the American Orthopaedic Association (AOA). The honor recognizes orthopaedic surgeons for their significant dedication, leadership and contributions to the field.
"This is certainly an unexpected honor and actually a bit overwhelming. It is clearly very satisfying, though, to know that my dedication to excellence in orthopaedic surgery, and the profession of medicine in general, was meaningful to a number of my physician colleagues, as well as former residents and students with whom I've worked and mentored over the years. In the end, it's also a tribute to the physicians, surgeons and nurses who played a major role in my training and development in regard to personal character and professionalism, as well as clinical skills attainment," Bunta said.
Bunta earned his bachelor's degree in medicine from Northwestern University in 1964 and his medical degree from Feinberg in 1967. He completed his residency training in orthopaedic surgery at Northwestern's McGaw Medical Center in 1974 and then joined Feinberg's faculty that same year as an instructor in Orthopaedic Surgery.
Until 1999, Bunta practiced orthopaedic surgery at Lutheran General Hospital in Park Ridge, Ill., where he also served as director of the division of orthopaedic surgery and director of Feinberg's orthopaedic surgery residency rotation at the hospital.
Bunta joined Northwestern Memorial Hospital (NMH) as an attending physician in orthopaedic surgery in 1999. From 1999 to 2015, he served as vice chair of the Department of Orthopaedic Surgery and as associate program director of the orthopaedic surgery residency program.
"Undoubtedly, the biggest challenge and ultimate success of my career are centered on my move from Lutheran General Hospital to Northwestern Memorial Hospital in January 1999. Even though it was 'starting all over' in a way, that was the catalyst for further professional stimulation due to my association with Northwestern, a truly academic medical community, and the many accomplished, energized and welcoming individuals I have come to know over the years," Bunta said.
Most recently, he served as medical director of the NMH orthopaedic unit in Feinberg Pavilion and currently serves as medical director of clinical documentation improvement at NMH and Northwestern Medicine Lake Forest Hospital.
Bunta has held various leadership positions for the Northwestern University Medical Alumni Association, including serving as president from 2001 to 2003, as well as at the AOA. He was also the recipient of Feinberg's Alumni Faculty Lifetime Achievement Award in 2012.
"Dr. Bunta has long been a national champion and leader of the American Orthopaedic Association's 'Own the Bone' program, which has improved the lives of thousands of patients who sustain fractures as a result of osteoporosis. We are extremely proud of Dr. Bunta's accomplishments and of his being named an AOA 'Pillar of Orthopaedics'. He is the first faculty member of the Feinberg School of Medicine to be so honored. Congratulations from all of us in the Northwestern community," said Terrance Peabody, MD, chair and the Edwin Warner Ryerson Professor of Orthopaedic Surgery.
Bunta will be honored as a "2021 AOA Pillar of the Orthopaedic Profession" at this year's virtual AOA annual meeting in June.
The American Orthopaedic Association, founded in 1887, is a community of orthopaedic surgeons committed to developing leaders, strategies and resources to guide the future of musculoskeletal care.