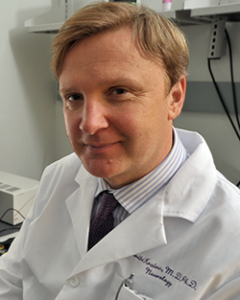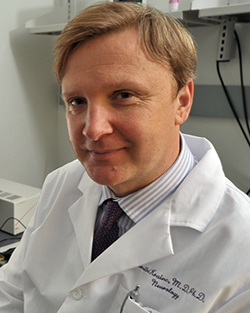 Dimitri Krainc, MD, PhD, chair and the Aaron Montgomery Ward Professor of Neurology, has received a Research Program Award grant from the National Institute of Neurological Disorders and Stroke (NINDS), part of the National Institutes of Health (NIH).
The award allows investigators freedom to embark upon long-term research projects without the constraints of specific aims. It provides eight years of funding totaling about $9 million.
"This award will help us tackle some key questions in Parkinson's disease that take more time and resources than what can be done with regular funding," said Krainc, who is also director of the Simpson Querrey Center for Neurogenetics.
Krainc has worked to define key molecular pathways in a variety of neurodegenerative diseases and identify new targets for therapies. Along with collaborators, Krainc discovered the previously unknown role of astrocytes in Parkinson's disease in a study published in The Journal of Neuroscience, and used patient-derived neurons to test a new strategy to treat Parkinson's disease in a study published in Science Translational Medicine.
Further, recent studies from the Krainc laboratory — published in Nature and Science — have highlighted the role of mitochondrial and lysosomal dysfunction in Parkinson's disease, suggesting that direct signaling between these two organelles may represent an important component of the disease.
This award will allow Krainc to develop new collaborations across academic institutions and industry to perform translational science. The prospect of a disease-modifying treatment for Parkinson's disease — and what that might do for patients and their families — is what drives Krainc and his collaborators forward, he said.
"I would like to thank our patients who have and will generously donate their samples for these studies," Krainc said. "It is the patients who inspire our research and our quest for better treatments."
Krainc was recently inducted into the Association of American Physicians (AAP), a society honoring physicians with outstanding credentials in basic or translational biomedical research. The society has 1,200 active members and 700 emeritus and honorary members.