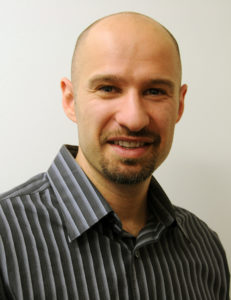 Northwestern Medicine investigators have discovered how a particular type of immune cell exerts a dual function in cancer cells that is contingent on tumor grade, according to a study published in Gastroenterology.
The findings suggest that tumor-infiltrating neutrophils — white blood cells that can exacerbate inflammation — promote cytotoxicity and the killing of cancer cells in early tumors but also promote tumor cell survival and tumor growth in advanced tumors.
"That's why we call it the biphasic or dualistic effect of neutrophils," said Ronen Sumagin, PhD, assistant professor of Pathology in the Division of Experimental Pathology and senior author of the study.
Neutrophils provide the first line of defense against invading pathogens and aid in tissue repair, however dysregulated neutrophil accumulation in tissue often results in exacerbated inflammation and tissue injury. They are one of the first cell types recruited to sites of inflammation, making neutrophils prime biomarkers for indicating disease severity.
Previous work also suggests that neutrophils may contain additional functions, such as promoting cytotoxicity or exacerbating tumorigenesis, but the exact genetic mechanisms behind these functions remained unknown.
"Neutrophils are the new kids on the block. They are most understudied cells, but they appear to have a big impact on tumor progression," Sumagin said.
In the current study, the team analyzed the impact of tumor-infiltrating neutrophils on colon cancer progression in mouse models of colon cancer and human samples of colon cancer tissue, discovering that tumor-infiltrating neutrophils exhibit a dual impact on cancer cells.
In early or low-grade tumors, the investigators found that neutrophils mediate the killing of cancer cells by shutting down their "presize" double strand breaks (DSB) repair by homologies recombination (HR), inhibiting overall tumor growth.
In advanced tumors, however, they found that neutrophils promoted the activation of the "error prone" non-homologous end-joining (NHEJ) pathway to repair DSBs, which proved advantageous for the survival of cancer cells. This change in the DNA repair landscape resulted in increased tumorigenesis.
Based on these findings, the authors proposed treating early colorectal tumors with FDA-approved PARP1 inhibition drugs currently used to treat BRCA1 and BRCA2 mutated breast cancer, as these tumors possess similar phenotypes, specifically HR-deficiency.
As for next steps, the investigators are currently identifying novel therapeutic targets for more advanced tumors, specifically inhibitors of the NHEJ pathway, and determining whether neutrophils actually change phenotypes as the tumor progresses and alter the tumor microenvironment.
"Because neutrophils are only present in the tissue during inflammation, this makes them attractive targets for treatment," Sumagin said.
Triet Bui, a student in the Driskill Graduate Program in the Life Sciences (DGP), and Veronika Butin-Israeli, PhD, research assistant professor of Urology, were co-lead authors of the study. Co-authors include Jennifer Wu, PhD, the Mary and Patrick Scanlan Professor of Urology and Microbiology-Immunology, Guang-Yu Yang, MD, PhD, the Joseph C. Calandra Research Professor of Pathology and Toxicology, and Stephen Hanauer, MD, the Clifford Joseph Barborka Professor of Medicine in the Division of Gastroenterology and Hepatology.
Sumagin, Butin-Israeli, Wu and Yang are members of the Robert H. Lurie Comprehensive Cancer Center of Northwestern University.
This work was supported by the Digestive Health Foundation, an American Cancer Society Research Scholar Award, a Crohn's & Colitis Foundation Senior Research Award and the Department of Defense's Congressionally-Directed Medical Journal Pre-proof 2 Research Program Horizon Award.