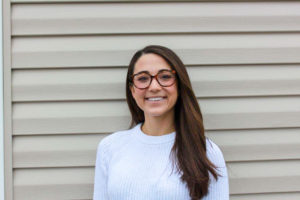 Abbey Filicko, a third-year medical student, presented findings from her two community-based participatory research projects on menstrual health management (MHM) policy efforts and implementation at this year's American Public Health Association virtual annual meeting.
For the first project, Filicko's team assessed Chicago Public Schools' availability of MHM products to students in response to Illinois' passage of the Learn with Dignity Act, which requires all Illinois schools that teach grades six through 12 to offer free MHM products in school building student restrooms. The second project involved analyzing MHM policies throughout the U.S. for gender inclusive language.
Read a Q&A with Filicko below.
Why did you choose Feinberg?
I went to Northwestern for undergrad, so I was pretty familiar with the general culture of the Northwestern community. I was excited to see a similar sense of ambition but also collaboration amongst medical students. From my interview day to Second Look and through my first three years of medical school, I've found my classmates to be really inspiring and thoughtful, and they have helped me become a better student doctor.
What also drew me to Feinberg were the opportunities for mentorship at various levels. Whether that was from older students through ECMH or mentors through AOSC, I felt like Feinberg really made an effort to give students various access points for guidance, which I think is invaluable in the field of medicine.
How did you become interested in public health and gender equity research?
With MHM specifically, I was first drawn to the field because of its emphasis on promoting gender equality. By defining and advocating for the components of equitable and dignified menstrual hygiene management, the MHM movement hopes to better support women and girls through this natural bodily experience. Several studies have found that when women and girls have the supplies, privacy, and infrastructure to manage their menses, their physical, psychological, and social outcomes improve. As I began exploring MHM further, I found that these same principles could be upheld while being more inclusive and acknowledging that MHM must address the needs of menstruating persons that don't identify strictly as female. I love that this field is still so new and evolving and that we have an opportunity to make sure we're promoting equitable and dignified MHM for all people.
Can you elaborate on the presentations you made at the APHA annual meeting?
My research mentor, professor Leah Neubauer, has done collaborative school-based sexual health promotion and MHM research work in Kenya for over 10 years. With support from the Institute for Global Health's catalyzer grant, we are focused on leveraging the team's insights from Kenya to better understand MHM in Chicago. This opportunity really came to fruition based on several years of thought partnership between the Chicago Public Schools' (CPS) Office of Student Health and Wellness and Dr. Neubauer. Upon the rapid awareness of Learn with Dignity passing (Jan 1, 2018), the team decided to further develop their partnership to assess the rollout of their new school policy which would provide free MHM products (pads, tampons) to students. As part of this existing thought partnership and collaboration, I was able to lead work with our CPS partners to understand MHM implementation in urban school health settings. Together, we are developing an understanding of the existing MHM infrastructure within CPS — the third largest school district in the U.S.A. – and will then explore their policy implementation process and process barriers.
I was lucky enough to be selected to present on two of our co-authored abstracts. The first was an oral presentation entitled "Policy to health service delivery implementation: Exploring district-wide menstrual hygiene management (MHM) in Chicago Public Schools." In this presentation, I elaborated on the work our partnership has accomplished in the past three years. This included a review of how we developed a survey to assess fidelity of implementation of the new school health policy. I also addressed how our team is working together to deliver that survey and get some data collection going amidst a pandemic.
For my second abstract, it was a poster presentation entitled, "Towards Gender Inclusivity in the Menstrual Hygiene Management (MHM) agenda: Insights from MHM in Chicago Public Schools." This work emerged from the larger project after our partners expressed concern over where MHM products were being placed in schools, specifically if gender neutral and male designated bathrooms will have these products.  They were concerned that all menstruating students need to have access to these products, regardless of which restroom that they use.
Expanding on this idea, our team explored the role of gender-referencing language in school-based MHM policies.  We found that 70% of school-based MHM policies in the United States employed language that either directly or indirectly limited access to MHM supplies based on gender identity. For us, language has such meaningful consequences, especially in public health policy, so we're hoping that the work that we're conducting in partnership with CPS OSHW will help inform future school-based MHM policies to employ more gender inclusive language and practices to promote equitable, dignified MHM for all students.
What do you hope to do after medical school?
Currently, I'm still trying to figure that out! I am leaning towards pursuing OB/GYN or internal medicine as my ultimate specialty. I feel very passionate about women's health, specifically understanding and addressing the social determinants of health that affect women's health outcomes. I'm hoping that I can continue to do research in this field and be a strong women's health advocate in my future practice.
What advice would you give to your peers who are interested in pursuing public health research?
I think it so important to have a mentor that not only helps you get the foundational understanding of whatever your research focus will be, but also challenges you and gives you the confidence to develop some of the research skills. This includes learning how to give a presentation or learning how to work with community partners in a meaningful, responsive, and supportive way. My advice to students would be to find a mentor who is invested in your education and your professional development as a researcher. I know Professor Neubauer has been instrumental in my interests and work in public health research