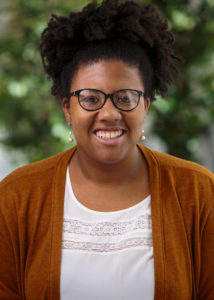 Shayla Reid's commitment to sexual and reproductive health and health equity has a domestic,  global and campus reach. Even before starting at Feinberg, she worked in Gaborone, Botswana, at a non-governmental organization focused on youth health and education. During the summer of 2019, Reid, a National Medical Fellowships Primary Care Leadership Program scholar, completed a six-week program in Chicago, learning how federally qualified health centers (FQHCs) operate and the role they serve in community healthcare. At Feinberg, the third-year medical student founded and served as president of the student Health Equity Group and is actively involved with the student Wellness Committee and student recruitment efforts at the Office of Diversity and Inclusion.
Read a Q&A with Reid below.
Why did you choose Feinberg?
I chose Feinberg because of the emphasis on and early exposure to clinical medicine through the Education Centered Medical Home (ECMH); numerous global health opportunities; the location in a large city where I could serve a diverse patient population and connect them with various community resources; as well as the friendliness of the students, faculty and staff I met when interviewing, especially at the Office of Diversity and Inclusion. I felt like Feinberg would prepare me well, given its strong academic training and emphasis on student wellness and professional development. That, paired with getting to live in and getting to know a new city, made me excited to come here!
Where are you from and where did you attend undergrad?
I am from New Jersey. I grew up right outside of Princeton and attended undergrad at Princeton University — I didn't go too far!
What are your medical or research interests?
My interests include: sexual and reproductive health and reproductive justice; health equity; mental health; adolescent health; global health; LGBTQ and gender-affirming health; and medical anthropology and medical social sciences. In short, I am particularly interested in the intersection of sexual and reproductive health with social justice and the social determinants of health, with a particular focus on marginalized communities, both in domestic and global contexts.
I have done research here on trauma-informed obstetrics care with Dr. Melissa Simon. Prior to medical school, my undergraduate senior thesis was on childbirth in São Paulo, Brazil, specifically on local activism for decreasing the amount of medical intervention during childbirth (Brazil is known to have high C-section rates). After graduating college, I worked in college health at Princeton for a year and then at a non-governmental organization focused on youth health and education in Gaborone, Botswana, for another year before starting at Feinberg.
Do you participate in any organizations or societies at Feinberg?
Yes, I was on the board for Medical Students for Choice, the Chicago Youth Program Pediatric Clinic and the Family Medicine Interest Group during my second year. I founded the Health Equity Group. I also am actively involved with the Wellness Committee and the Office of Diversity and Inclusion in its student recruitment efforts.
How did it feel to be recognized by the National Medical Fellowships Primary Care Leadership Program?
It was really rewarding to do this program last summer! It is a six-week program where we complete a project to benefit the clinic we are assigned to and learn about how federally qualified health centers (FQHCs) operate and the role they serve in taking care of the health of the community.
I appreciated the opportunity to learn about local FQHCs; I was assigned to Near North Health Service Corporation, which has a partnership with Northwestern Memorial Hospital and there are some ECMHs at their clinics. It was a great opportunity for me to get to know Chicago better, work with a different patient population than the one I serve at my ECMH and to meet medical students from across the country.
I also appreciated getting some more exposure to primary care on a daily basis for an extended period of time. My summer project focused on increasing HIV testing and treatment in the community health center setting, which taught me a lot about how HIV care is provided as part of primary care, as well as local resources related to HIV testing or treatment.
What has been your most rewarding experience?
ECMH! My ECMH is at CommunityHealth Center (CHC), which is a free clinic that primarily serves patients without insurance. I am so glad to be there — it is a privilege to be able to provide healthcare for them, as there are limited resources in general for patients who do not have insurance.
It has also been exciting to see how physicians volunteer their time to take care of the patients at CHC — not only my ECMH attending, but also the various Northwestern specialty volunteer clinics that are run at CHC, such as CHC Gynecology.
Finally, it was great to be able to start seeing patients from my first month of medical school and to have the continuity of care with them over my entire time here. It's been really lovely to be able to see patients for multiple visits over the years, especially since our clinical rotations are only a month or two, so opportunities for continuity are not common.
What advice would you give to prospective medical students?
I think that it is important to think about what you need, in a holistic sense, to support you so you can do your best and thrive during medical school. Training is very demanding, and it is important to choose a school where you feel supported by the administration, have access to the resources you need to succeed both professionally and personally and are living somewhere you can enjoy and take advantage of when you are not studying. That may mean being close to loved ones, close to nature — whatever speaks to you.
Academically, there are standards each medical school must meet, so I would pay special attention to how the school fits you and what opportunities you could take advantage of, both academically and personally, that will be fruitful to you. Things are already more stressful than usual with COVID-19, so I think this is something particularly important to reflect on during these challenging times.