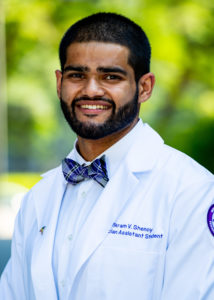 This past fall, first-year students in the Physician Assistant (PA) Program were welcomed into the Education-Centered Medical Home (ECMH) program for the first time. Previously offered only to medical students, ECMH now provides medical students and PA students the opportunity to gain early team-based clinical experiences and exposure.
"The addition of PA students to the ECMH program came about from the interests in creating more opportunities for interprofessional education within the curricula of the PA and MD programs. The PA student experience will be strengthened by the enhanced early clinical experiences," said Mike MacLean, MS, PA-C, director of the PA Program and assistant professor of Medical Education. 
The integration of PA students into the ECMH program also provides both PA and medical students the opportunity to learn what each discipline brings to the practice of medicine and gives students the opportunity to be part of an interdisciplinary, long-term clinical care team.
"Bringing these students together builds a foundation of trust and understanding of the complementary knowledge and skills that each can contribute to patient care," said Marianne Green, MD, the Raymond H. Curry, MD, Professor of Medical Education, vice dean for medical education and chair of the Department of Medical Education.
The recent expansion of the number of ECMH sites has also allowed the opportunity for PA students to join the program, according to Jennifer Bierman, MD, associate professor of Medicine in the Division of General Internal Medicine and Geriatrics and director of ECMH.
"ECMH gives PA students the opportunity to see patients early and work in an authentic team-based setting," Bierman said.
Of the 17 total ECMH sites located across the city of Chicago, PA students currently work at 11, conducting both in-person and telehealth patient visits. Due to the COVID-19 pandemic and social distancing guidelines, PA currently visit their ECMH sites once a month, but there are plans to have students visit their sites more frequently next year, according to Bierman.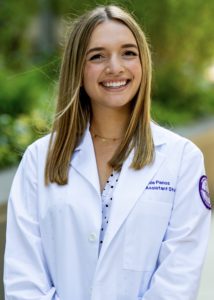 Currently, each first-year PA student is assigned to one ECMH site that includes a team of second-, third- and fourth-year medical students and one faculty preceptor. PA students are typically assigned one to three patients per clinic visit, who are either seen in person or through a telehealth visit. Each PA student is then paired up with a medical student to discuss their assigned patient's medical history. After interviewing the patient and completing a physical exam, the students meet with their site preceptor to discuss the case amongst themselves and finally all together with the patient. Once all patients have been seen for the day, the team present their cases to each other to discuss their findings and diagnoses.
Typically, PA students don't see patients until their second year during clinical rotations, so having clinical experience as early as the first year of school through ECMH has already proven invaluable, said first-year PA student Jason Lynch.
"It is rewarding to see my preparation throughout didactic year applied to encounters with patients, and it never fails to fascinate me on how much I have already learned, five months into school. It is such a unique opportunity, and I am starting to feel like a practicing clinician already," said Lynch, who works at the Bucktown ECMH clinic under the direction of Christopher Miller, MD, health system clinician of Medicine in the Division of General Internal Medicine and Geriatrics.
For Vikram Shenoy, a first-year PA student, ECMH has helped him learn how much patient care is a team sport. Shenoy works at the Lavin Family Pavilion ECMH clinic under the direction of Anne Schultz, MD, Clinical Instructor of Medicine in the Division of General Internal Medicine and Geriatrics.
"Being able to talk through a differential and get differing views from others has been insightful and helped me develop into a better care provider. Everyone brings something to the table," Shenoy said. "It's important to understand that you're on a team that is working towards a common goal: treating the patient as a whole."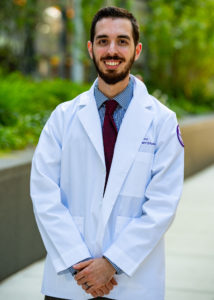 As for first-year PA student Ariella Panos, ECMH has presented countless opportunities to learn new skills and knowledge from her peers, such as performing a diabetic foot exam on a patient and consulting with her care team. According to Panos, applying what she's learned in class into practice with patients and receiving feedback from her team has been incredibly rewarding.
"It is really exciting to be able to make connections between the knowledge that I am learning in class and real clinical situations," Panos said. "I also think that, given the circumstances of COVID, working and learning together in clinic with other medical student peers is more valuable than ever."
Panos works at the Galter Pavilion ECMH clinic under the direction of Brigid Dolan, MD, MEd, associate professor of Medicine in the Division of General Internal Medicine and Geriatrics and of Medical Education.
"At the end of each clinic day, Dr. Dolan meets with all the ECMH students, and we each go around and share something we learned that day, briefly teaching each other about something we found interesting or relevant. Her enthusiasm, kindness and professionalism are all characteristics that I strive for as a future provider," Panos said.