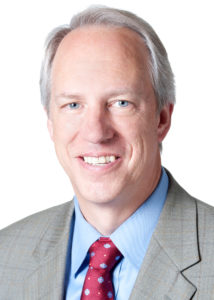 A novel antibiotic drug called cefiderocol showed similar treatment effectiveness as current therapies in treating antibiotic resistant infections, according to results from two complementary clinical trials published in The Lancet Infectious Diseases. 
Richard G. Wunderink, MD, professor of Medicine in the Division of Pulmonary and Critical Care, was a co-author for both studies.
Antibiotic resistant bacterial infections, specifically carbapenem-resistant Gram-negative infections, are high-risk bacterial infections resistant to most antibiotic treatments. Carbapenems belong to a class of antibiotics called beta-lactams, which are used to treat severe or high-risk bacterial infections, functioning similarly to penicillin in binding to penicillin-binding bacterial proteins. By binding and inactivating these proteins, the drug inhibits the synthesis of the bacterial cell wall, ultimately killing the infected cells.
Cefiderocol is also a beta-lactam, but it is unique in that in addition to binding to penicillin-binding bacterial proteins, it enters bacteria through its iron channels.
"It's a unique drug in that it has this somewhat unusual mechanism of action," Wunderink said.
In the treatment of pneumonia, few FDA approved treatments are available and the rate at which bacteria evolves and becomes resistant to new antibiotics makes treating antibiotic-resistant patients extremely difficult, according to Wunderink.
"We want to see improved clinical outcomes; we want to see patients get off of breathing machines; we want to see the signs and symptoms of pneumonia go away, even for the patients who survive. There's a lot of treatment failure in these patients because they're so ill and in many ways compromised," Wunderink said.
For the current complementary clinical trials, the investigators tested the safety and efficacy of cefiderocol compared to the best available therapies in adults with serious carbapenem-resistant Gram-negative infections.
In the first trial, investigators found that cefiderocol proved to be as effective as available therapies when treating both groups, but noted that more deaths occurred in the cefiderocol group. In the second trial, investigators compared cefiderocol to a high dose standard antibiotic therapy called meropenem, a carbapenem, and found the rate of mortality from any cause and adverse events were similar between both groups.
While the drug was indeed effective, Wunderink said the results were disappointing because cefiderocol did not work noticeably better than best available therapies, further suggesting that the drug should be used on a case-by-case basis.
"It's clear that this new drug didn't quite meet what our hopes were, in being able to treat all of these carbapenem-resistant infections," Wunderink said. "We're happy we have additional drug that is available to us, but it's not something that is going to solve all of our problems."
Nonetheless, Wunderink added that the findings may be of relevance when determining care for patients with COVID-19, many of whom are required to use a ventilator and are at a higher risk for contracting pneumonia.
"Each pneumonia is more resistant to the bacteria that's now been exposed to antibiotics, and we are seeing some of these resistant pathogens in severe COVID-19 related pneumonia. Bacterial infections are one of the prominent causes of death in COVID-19 patients, so these findings are somewhat pertinent depending on your antibiotic strategy," Wunderink said.
Both trials were funded by the pharmaceutical company Shionogi Inc.