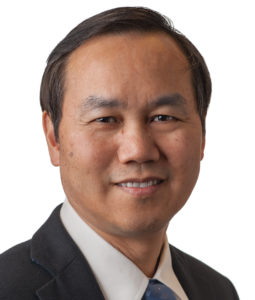 Shi-Yuan Cheng, PhD, professor in The Ken and Ruth Davee Department of Neurology in the Division of Neuro-oncology, has been named a fellow of the American Association for the Advancement of Science (AAAS) for his outstanding contributions in molecular and translational cancer research.
"I am very honored to be elected as a fellow of the American Association for the Advancement in Science," Cheng said. "I know many of my esteemed colleagues and friends with outstanding achievements across various research disciplines who are AAAS fellows. Being a member of this esteemed body provides excellent opportunities to interact with these and other scientists and make meaningful contributions to advance sciences in the United States and in the world," Cheng said.
The AAAS is the world's largest multidisciplinary scientific society which seeks to advance science and serve society through initiatives in science policy, international programs, science education, public engagement and more. Cheng is one of 489 AAAS members to be awarded this honor by the association in 2020.
Cheng's research aims to improve the understanding of molecular mechanisms and signaling pathways of cancer initiation, tumorigenesis, invasion, metastases and angiogenesis, as well as the development of cellular and preclinical models for human tumor biology and therapies that target molecular pathways.
His laboratory is currently exploring the functions and mechanisms of protein methylation in mitosis, long non-coding RNA, RNA splicing, and overcoming therapy resistance in glioblastoma, the most common and aggressive type of brain tumor.
Most recently, Cheng and colleagues discovered a new therapeutic target for glioblastoma by revealing the molecular mechanisms that regulate autophagy in the malignant brain cancer. Autophagy, a natural process of cell destruction, is induced by common cancer treatments and promotes tumor resistance to therapies. The findings demonstrated that inhibiting this process could enhance the effects of radiation therapy.
Cheng joined Feinberg faculty in 2012. He earned his doctorate in biochemistry from The Ohio State University in 1992 and completed his postdoctoral fellowship in signal transduction and tumor biology at the Ludwig Institute for Cancer Research and the University of California, San Diego in 1999. Prior to joining Feinberg, Cheng was assistant professor and then associate professor of Pathology at the University of Pittsburgh School of Medicine from 1999 until 2012.
He has authored more than 100 peer-reviewed publications, has received numerous awards for excellence in research and has served on the editorial boards for various neuro-oncology academic journals, including Neuro-Oncology, the Chinese Journal of Cancer and the Journal of Neuro-Oncology.
Cheng is also a member of the Robert H. Lurie Comprehensive Cancer Center of Northwestern University, the Simpson Querrey Institute for Epigenetics and the Lou and Jean Malnati Brain Tumor Institute.
Cheng will be inducted as a fellow during a virtual ceremony held by the AAAS on February 13, 2021.