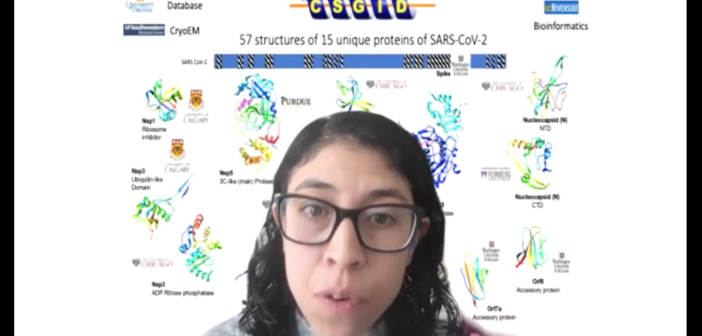 The Northwestern University Clinical and Translational Sciences (NUCATS) Institute hosted the first virtual COVID-19 symposium, which gave the Northwestern research community an opportunity to learn about efforts to advance public health and respond to the COVID-19 pandemic.
Held on November 19-20, the two-day event featured back-to-back sessions from four keynote speakers and 19 "lightning round" talks from Northwestern medical students, residents and faculty. NUCATS also offered a competition for three $25,000 Collaborative Innovation Awards to fund new and interdisciplinary COVID-19 research collaborations that were initiated through the event.
The awards are supported by NUCATS and philanthropic donations to Feinberg directed for COVID-19 research. Co-sponsors include the National Institutes of Health's National Center of Advancing Translational Sciences, the Bluhm Cardiovascular Institute Clinical Trials Unit, the Emerging & Re-Emerging Pathogens Program (EREPP) in the Division of Infectious Diseases, the Feinberg School of Medicine Office of Research and the Institute for Public Health and Medicine (IPHAM).
Keynote speakers included Richard Wunderink, MD, professor of Medicine in the Division of Pulmonary and Critical Care, Robert Murphy, MD, '81, '84 GME, the John Philip Phair Professor of Infectious Diseases and executive director of the Institute for Global Health, Jaline Gerardin, PhD, assistant professor of Preventive Medicine in the Division of Epidemiology, and Douglas Vaughan, MD, chair and the Irving S. Cutter Professor of Medicine.
Presentations included local innovations, including intensive care unit research safely integrated into care, a first-in-human trial of a therapeutic, pre-clinical development of several promising interventions, development of point-of-care rapid diagnostics, modeling and surveillance, the discovery of previously uncharacterized manifestations in pregnancy, bioengineering advances, and assessments of the often-difficult process of recovery from acute COVID-19.
The virtual symposium was moderated by Michael Ison, MD, MS, professor of Medicine in the Division of Infectious Diseases and of Surgery the Division of Organ Transplantation and director of the NUCATS Center for Clinical Research.
"The breadth and quality of the speakers on both days really highlighted the creativity, collaboration, and commitment that exemplifies the response of the entire Northwestern community to the pandemic. This outstanding sample of all that is happening across Northwestern gives me hope. It also confirms our strength and growing global impact as an academic community," said Richard D'Aquila, MD, the Howard Taylor Ricketts, MD, Professor of Medicine, associate vice president of Research and director of NUCATS.
Day one of the event began with Wunderink discussing the impact of COVID-19 on clinical and translational research, specifically in regard to the impact of COVID-19 on the Successful Clinical Response In Pneumonia Treatment (SCRIPT) project, of which he is the principal investigator.
The goal of SCRIPT is to identify host and pathogen interactions occurring in the lungs that lead to unsuccessful therapy response in aggressive pneumonia. Wunderink and his team found that SARS-CoV-2, the virus that causes COVID-19, not only infects epithelial cells in the lungs, but also specialized immune cells such as macrophages and monocytes, which ultimately drive COVID-19 pathogenesis.
"The really important thing to do now is to go back to the clinical side and see how our current interventions are changing pathogenesis and in what ways," Wunderink said.
During his session, Murphy spoke about the importance of innovation in technology efforts for COVID-19 diagnostics. Murphy highlighted the Rapid Acceleration of Diagnostics initiative, or RADx, a fast-track technology development program launched by the National Institutes of Health (NIH) that supports the rapid development, commercialization and implementation of nationwide testing for SARS-CoV-2.
Murphy's team at the Center for Innovation in Point-of-Care for Technologies for HIV/AIDS at Northwestern University (C-THAN) is part of the RADx Tech program, which aims to drastically speed up the development, validation and commercialization of innovative point-of-care and home-based tests, as well as improve clinical laboratory tests, that can directly detect the SARS-CoV-2 virus.
According to Murphy, the U.S. is barely keeping up with current SARS-CoV-2 demands, even as the country is currently testing roughly 1.6 million people for SARS-CoV-2 every day.
"Innovative, less expensive, effective testing of easy to obtain diagnostic specimens is achievable and will lead to more effective identification of infected patients who can then be treated and quarantined," Murphy said.
On the second day of the symposium, Gerardin discussed the impact of COVID-19 on minority populations in the state of Illinois and the impact of systemic racism and inequality on public health. Gerardin explained that these underrepresented populations have experienced higher rates of COVID-19 infections and mortality compared to white individuals. Furthermore, additional data analysis from Gerardin's team found that despite high testing rates throughout the state, Black individuals continue to be under-tested.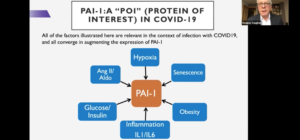 Vaughan concluded the event's keynote presentations by discussing novel COVID-19 therapeutic interventions and prevention strategies, with a focus on identifying risk factors such as age, obesity, hypertension, diabetes, gender, race and ethnicity, that may contribute to systemic morbidity in patients with COVID-19 that could be targeted to mitigate risk.
Currently, Vaughan and his colleagues are in the process of conducting preclinical trials to explore the correlation between elevated levels of a protein called PAI-1, which is commonly found in patients who exhibit these risk factors, and increased risk of developing COVID-19.
"PAI-1 is a protein of interest for COVID-19. The convergence of clinical risk factors and responses to this viral infection can all contribute to driving and increasing PAI-1 production and PAI-1 levels in human beings," Vaughan said.
Following each keynote session were five-minute lightning round talks from the following Northwestern investigators:
Huiping Liu, MD, PhD, associate professor of Pharmacology and of Medicine in the Division of Hematology and Oncology
Jian Gao, PhD, postdoctoral fellow at Northwestern Kellogg School of Management's Center for Science of Science and Innovation
Jeffery Goldstein, MD, PhD, director of Perinatal Pathology in the Department of Pathology
Judd Hultquist, PhD, assistant professor of Medicine in the Division of Infectious Diseases
Amir Alhajjat, MD, assistant professor of Surgery in the Division of Pediatric Surgery and of Pediatrics
Alexis Demonbreun, PhD, assistant professor of Pharmacology
Matthew Grayson, PhD, professor of Electrical and Computer Engineering at the McCormick School of Engineering
Catherine Gao, MD, postdoctoral fellow in the Pulmonary Disease & Critical Care Medicine
Yang Zhang, PhD, research assistant professor of Biomedical Engineering at the McCormick School of Engineering
Bernard Black, JD, MA, the Nicholas J. Chabraja Professor of Finance at the Northwestern Pritzker School of Law
Amy Krefman, MS, assistant director of research at the Center for Epidemiology & Population Health
Ashwin Sunderraj, a second-year medical student
Dylan Felt, BA, research project coordinator for the Evaluation, Data Integration and Technical Assistance (EDIT) Program at the Institute for Sexual and Gender Minority Health and Wellness (ISGMH)
Megan Ruprecht, BA, data assistant associate for the EDIT Program at ISGMH
Monica Rosas-Lemus, PhD, postdoctoral fellow in the Center for Structural Genomics of Infectious Diseases
Colby Thaxton, '04 MD, '07 PhD, associate professor of Urology
Jing Jin, MD, PhD, assistant professor of Medicine in the Division of Nephrology and Hypertension
Shira Cohen-Zimerman, PhD, research assistant professor of Physical Medicine and Rehabilitation
Sean Dreyer, MD, resident in the Department of Physical Medicine and Rehabilitation
Ison, Murphy, Liu and Thaxton are also members of the Robert H. Lurie Comprehensive Cancer Center of Northwestern University.
Recordings of each day of the COVID-19 symposium are available for the Northwestern community to view. Request for applications for the three Collaborative Innovation Awards will be released on December 1 on the NUCATS website.