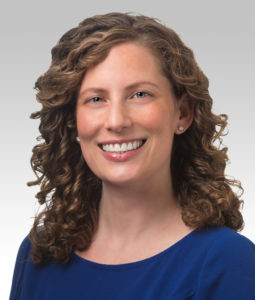 Susan Goldsmith, MD, '08 GME, assistant professor of Obstetrics and Gynecology in the Division of General Obstetrics and Gynecology, has been appointed associate dean for student affairs effective January 1, 2021.
Goldsmith has served as director of the Obstetrics and Gynecology clerkship since 2012 and is also director of career advising for obstetrics and gynecology. These positions reflect her interest in medical education and development, which stem from her own positive experiences with mentors and advisors during her undergraduate medical education.
"In many ways, this is my dream job. I've never forgotten what it was like to be a medical student and the support I received from medical educators and administrators during those four years," said Goldsmith, who is also an assistant professor of Medical Education. "Guiding students through the process of becoming a physician and selecting a specialty is one of the most important things we can do for our students."
Goldsmith earned her medical degree from the Medical College of Wisconsin in Milwaukee, before completing a residency in obstetrics and gynecology at McGaw Medical Center. After five years as an instructor, she became an assistant professor at Feinberg in 2013.
With the COVID-19 pandemic and an increasingly critical lens on racial and ethnic inequity, Goldsmith assumes the associate dean position during a unprecedented time. Many students are interested in combating systemic racism and inequality, but also feel the effects of social isolation and a virtual world — not to mention the traditional pressures of clerkships, career advancement and residency applications.
"My work as a clerkship director has taught me how to create a supportive environment, prioritize requests, recognize and assist students in crisis, and set boundaries," Goldsmith said. "I'm so thrilled to work closely with the AWOME team, senior leadership, clerkship directors, college mentors and our medical student body to enhance student wellness, facilitate academic support and provide exceptional career guidance and mentorship."
One area of interest for Goldsmith is reforming or improving the residency application and match process. In addition to her Feinberg student advisory positions, Goldsmith serves on an Association of Professors of Gynecology and Obstetrics task force that is working to bridge the gap between undergraduate and graduate medical education. She plans to continue this work in her new position, she said.
"I'm excited to be a part of this process while centering the student experience," Goldsmith said.
"I am thrilled that Susan has accepted this critically important position," said Marianne Green, MD, the Raymond H. Curry, MD, Professor of Medical Education, vice dean for medical education and chair of the Department of Medical Education. "I am certain that she is the right person to join the AWOME leadership team in our commitment to create a learning environment, curriculum and student support system that empowers each and every student to succeed wherever their passions and interests lead them."