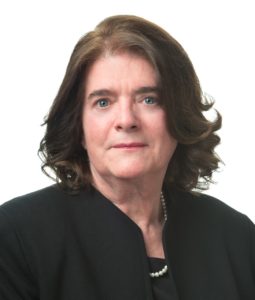 Kristine Healy, MPH, PA-C, assistant professor of Medical Education and associate director of Feinberg's Physician Assistant (PA) Program, has received the Illinois Academy of Physician Assistants' (IAPA) Lifetime Achievement Award for her service and dedication to physician assistant advocacy, education and clinical practice.
"I am most honored to be selected as the first-time recipient of this award," Healy said. "As I consider this recognition, what is really important is to acknowledge the teamwork and efforts of so many others with whom I have had the privilege of working over the many years during my involvement in the PA profession. As I often remind PA students, advocacy is at the heart of our work as PAs, starting with advocacy for the patients for whom we care."
Healy joined the faculty of Feinberg's PA Program in 2009 as an assistant professor of Medical Education and in 2011, she was named associate program director. In 2010, Healy was inducted as an inaugural member of the Feinberg Academy of Medicine Educators (FAME). She is currently a member of the FAME Membership Committee and represents the PA Program on Feinberg's Medical Faculty Council. In 2016, she helped launch the medical school's first interprofessional curriculum for medical, physical therapy, nursing and PA students.
Healy received her degree in PA studies and certification from Albany Medical College in Albany, New York in 1979. She then received a Master of Public Health with a focus in health policy and administration from the University of Illinois at Chicago in 2001.
Healy, a fellow member of the IAPA since 1980, has held a number of leadership roles for the association, including being president in 1988 and 1989. Her 41-year career as a PA includes being a medical educator for three decades.
In 1979, Healy began her career as a family medicine PA at the John H. Stroger, Jr. Hospital of Cook County, providing patient care to Chicago's South Lawndale and Little Village communities. In 1988, she became a PA educator and held various leadership roles for Illinois' first ever PA program, which was associated with the City Colleges of Chicago and Cook County Hospital. In 1999, Healy joined the faculty of Midwestern University's PA Program and during this time, she also joined a team of PA educators from across the U.S. to create and develop a web-based, interactive genetics curriculum for PAs.
For more than a decade, Healy served as a consultant to the Illinois Area Health Education Center's Chicago location, where she helped develop and instruct community health and medical curriculum in Spanish to multi-disciplinary groups of healthcare professionals and students. She has also advocated for patients as a member of a U.S. Department of Health and Human Services' Federal Advisory Committee and worked to improve opportunities for PAs to serve patients throughout the state of Illinois.
After becoming a full-time PA educator in 1990, Healy continued to provide primary care as a voluntary family medicine PA for medically underserved patients in the health center where she began her PA career, and retired from this role in early 2018.
Over the course of her career, Healy said she has most valued preparing her students for clinical, professional, community and leadership positions, many of which were unheard of when she was a PA student.
"Seeing how the PA profession has adapted to an ever-changing health care environment over our 52 year history is most remarkable. As a PA educator, I am most proud of contributions I have made to help students be ready for the many roles PAs play on healthcare teams," Healy said.
Healy is the recipient of multiple awards for excellence in teaching, including the Master Teacher Award from the Physician Assistant Education Association and the John X. Thomas, Jr., Best Teachers of Feinberg Award.
"As a very early member of the IAPA, Kris has been a consistent and inspiring leader who has helped to advance our profession since the early 1980s. Moreover, she is a widely recognized leader in PA education, having taught and mentored nearly 1,400 practicing PAs.  We are incredibly grateful for her decades of service to our students and our profession," said Michael MacLean, MS, PA-C, assistant professor of Medical Education and director of the PA Program.