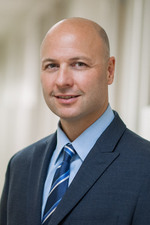 Measuring acid reflux with a wireless electrode can help clinicians determine if patients are ready to stop taking proton pump inhibitors, a medication commonly prescribed for acid reflux disease.
These findings, published in the journal Gastroenterology, provide a framework for determining if a patient requires the life-long medication, according to John Pandolfino, MD, '94 '96 '01 GME, the Hans Popper Professor, chief of Gastroenterology and Hepatology in the Department of Medicine and senior author of the study.
"This provides a strong assessment of their underlying acid exposure, and based on that data, you can make an educated and personalized decision for the patient," Pandolfino said.
Proton pump inhibitor (PPI) therapy reduces stomach acid production and is a standard and effective treatment for stomach-acid related disorders, including gastroesophageal reflux disease (GERD). However, acid-reflux is just one of many possible conditions that could cause heartburn-like symptoms, and simply discontinuing the medication to see if symptoms return is not an effective test of whether or not the medication is medically useful, according to Pandolfino.
"Even if symptoms come back, you may still not have reflux because there's a strong placebo response," Pandolfino said. "On the other hand, there are patients who for many reasons don't want to take medicine every day, who really need this medication and could come in with serious complications if they stop."
In the study, Pandolfino and his collaborators used a "Bravo™ test," a wireless device implanted in the esophagus that measures acidity. Over the course of three years, a pool of 100 participants underwent wireless monitoring during rolling three-week periods in which they stopped taking PPIs.
If their symptoms subsided and acid exposure was minor or nonexistent, patients were able to stop taking PPIs permanently — an outcome achieved by 34 participants.
Among those participants, the strongest predictor of being able to discontinue PPI therapy was the number of days with low or no acid exposure. Participants with zero days of acid exposure above a low threshold had 10 times the odds of discontinuing PPI therapy compared to participants with four days of acid exposure above the threshold.
These findings point to days without acid exposure, measured using the Bravo™ test, as a clinically relevant measure for whether or not a patient can discontinue PPI therapy, according to Pandolfino.
"This allows you to utilize a personalized approach and clinically phenotype patients and better dictate their therapy," Pandolfino said. "Someone who doesn't need to be on a PPI is wasting a lot of money and subjecting themselves to some potential mild side-effects."
In addition, the Bravo™ test can also serve as a confirmation that some patients do need PPI therapy, lest they risk serious complications.
"Some people, even though they are suffering with their symptoms, just don't want to take this medication," Pandolfino said. "This gives you the ability to say, if you don't take this you could have serious complications and this gives you confidence that the risk benefit is in favor of benefit with therapy."
Leila Kia, MD, '12 '16 GME, and Dustin Carlson, MD, '12 '16 GME, both assistant professors of Medicine in the Division of Gastroenterology and Hepatology, were co-authors of the study.
This study was funded by National Institutes of Health grant R01 DK092217-04.