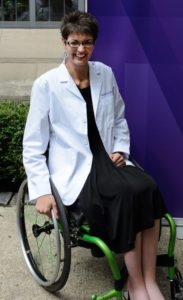 In collaboration with the Office of Diversity and Inclusion, student groups organized the medical school's first Diversity and Inclusion Week, which explored the importance of diversity, inclusion and representation in medicine and society.
Held virtually from September 28 to October 2 to help minimize the spread of COVID-19, the week-long event consisted of daily, hour-long sessions featuring speakers representing a variety of identities and perspectives, from non-physician healthcare providers to patients and community members.
"This has been a generation defining moment; the intersection of COVID-19, the disproportionate burden of the pandemic borne by communities of color, the palpable presence of racial tensions and the unifying calls for a clear path forward has galvanized both our student constituency and our faculty and staff, broadly across all departments at Feinberg. With this new call, we have appropriately begun to think differently about the intersection of health and society, physiology and sociology, healthcare and community engagement. I am confident we will emerge as a decidedly better, more equitable and consistently excellent academic medical center," said Clyde Yancy, MD, MSc, the Magerstadt Professor and chief of Cardiology in the Department of Medicine, and vice dean for Diversity and Inclusion.
Sessions explored a wide range of topics, including self-advocacy in medicine, gender inclusivity and affirmation for non-binary and transgender individuals, diversity and inclusion in surgical specialties, and mental health in the homeless population.
"Diversity Week is a safe, supportive space for intersectional talks connecting members of both Feinberg and the greater Chicagoland community. The goal is to learn about challenges in diversity, inclusion and representation in various facets of health and wellness, as well as strategies to tangibly make an impact on an individual and systemic level," said Andrea Rustad, a second-year medical student and one of the lead student organizers of Diversity Week.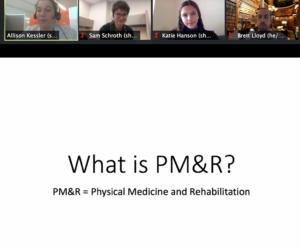 The original idea and motivation for Diversity Week came about last year, according to Rustad, but was intensified by the COVID-19 pandemic and events from this summer spotlighting racial and social injustice.
"Talking about issues of representation and discrimination won't solve the many inequities ingrained in medicine and society, but such conversations have the potential to motivate meaningful action," Rustad said.
The week's opening session explored advocacy and inclusion for people with disabilities, featuring speakers Samantha Schroth, a fourth-year student in the Medical Scientist Training Program (MSTP); Allison Kessler, '12 MD, MSc, '16, '17 GME, assistant professor of Physical Medicine and Rehabilitation; Kenneth Jennings, a spinal cord injury patient and peer mentor at the Shirley Ryan AbilityLab; and Robert Brett Lloyd, Jr, MD, PhD, '13 GME, assistant professor of Psychiatry and Behavioral Sciences.
Kessler discussed why there are so few individuals with physical, sensory, psychological and learning disabilities enrolled in medical school in relation to current medical school technical standards.
"I think one of our things that we can do better is to understand who we're representing and how, and to try to think about quality of life and bias in terms of us being healthcare providers and treating patients with disabilities," Kessler said.
Later in the session, Schroth shared her story about how a spinal cord injury that left her paralyzed from the chest down helped her realize her true passion for medicine and being an advocate for individuals with disabilities.
Schroth is currently a fourth-year student in Feinberg's MSTP program and founded AccessMed, a group which aims to educate others about providing high-quality medical care to persons with disabilities. She also shared her experience going to medical school while using a wheelchair, how she came to accept her disability as a part of her identity and how to talk to persons with disabilities.
"When it comes to talking with persons with disabilities, and even considering the language you use, there isn't one right answer. It's best to ask and not assume and respect the answer they give you," Schroth said.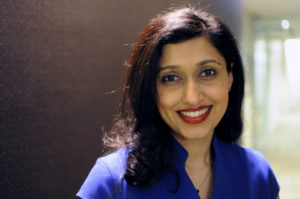 In a later session, Roopal Kundu, '01 MD, the Jacob R. Suker, MD, Professor of Medical Education, associate dean for Admissions, and founder and director of the Northwestern Center for Ethnic Skin, discussed the social and medical representation and discrimination of skin diversity and the need for centers and clinics that focus solely on treating skin of color.
The session also featured speakers Julia Mhlaba, MD, assistant professor of Dermatology, who started a residency curriculum program at Feinberg focusing on skin of color, as well as Madison Jordan, a patient with alopecia which causes sudden hair loss, and Laura Hogan, a patient with ichthyosis, a genetic skin disorders characterized by dry, thickened and scaly skin.
"In skin, there's something unique and special when we think about dermatology because there are core structural and functional differences within the biology of hair, for example, and of course we think about melanocytes, or melanin, that are making our pigment. We know that there's differences in different individuals and groups of people in that space, and that then gets adjusted by our own cultural beliefs and practices," Kundu said.
During the session, Kundu explored how the social effects of skin color, beauty standards around the world based on skin color, and why it's important for healthcare providers to learn about and recognize skin disorders that disproportionally effect people of color.
"Learning how to identify skin disorders in different skin types is very important part of our educational mission at the center. Understanding peoples' backgrounds and their cultural practices can impact health outcomes in a really meaningful way," Kundu said.
The organization and planning of Diversity Week were also made possible by Janet Olivo, MSLOC, director of Diversity, Inclusion and Outreach; Maggie Sullivan, BA, program assistant for Feinberg's Office of Diversity & Inclusion and the Augusta Webster, MD, Office of Medical Education (AWOME); second-year medical students Zachary Cross and Ronus Hojjati; and first-year medical students Kai Holder and Rebecca Arteaga.
Featured sessions for Feinberg's Diversity and Inclusion Week included the following:
Advocacy and Inclusion for People with Disabilities
Self-Advocacy as a Woman in Medicine
Cultural Humility in Caring for the SouthAsian Population
Gender Inclusivity and Affirmation in Medicine for Non-Binary and Transgender Individuals
Mental Health and the Experience of Homelessness
Combatting the Exclusivity and Commodification of Wellness
Representation, Diversity, and Inclusion in Surgical Specialties
Social and Medical Representation and Discrimination of Skin Diversity