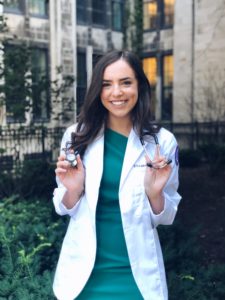 For Elizabeth Adams, a first-year medical student, donning her white coat felt like the culmination of one journey and the beginning of another.
Read a Q&A with Adams below.
Where where is your hometown?
I was born and raised in Roxbury, New Jersey.
Where did you attend undergrad and what was your major?
I went to The Ohio State University where I majored in psychology.
Have you lived in Chicago before or did you move here? What do you think so far?
I had only been to Chicago two times before moving here, but I am absolutely loving it! It's only been a few weeks since I moved but Chicago is already starting to feel like home. Everyone here is so friendly and there are always things to do — even in the era of COVID.
What did it feel like to finally get your white coat?
It felt amazing! I have wanted to go into medicine for ten years now, so finally being able to put on the white coat for the first time really was such a momentous occasion. In the moment, I felt the culmination of years of hard work and my dream coming to fruition, as well as the great gravity of the honor and responsibility it is to wear the coat.
To me, the white coat symbolizes the physician's commitment — or the student doctor's commitment — to actively partner with patients to deliver the best personalized care for them as individuals, to stand against injustices within medicine and in our communities and society, and to strive to advance our field's medical and psychosocial knowledge to continue improving care for all.
I'm not sure that it's hit me that I'm in medical school now – I think once I step into my Education Centered Medical Home (ECMH) or even into the Clinical Education Center (CEC) for the first time, it will start to feel more real!
How has your first week been?
The first week has been so exciting! Adjusting to the predominantly virtual and socially distant learning is definitely a work in progress. I took two years off from school so getting back into studying would have already been a transition — and Zoom adds an extra layer to that.
That being said, I think Feinberg has had a good approach to this by minimizing in-person activity while also strategically planning for very important in-person sessions, like our first CEC vital signs session.
Has the ongoing pandemic changed how you think about medical school or the profession?
The ongoing pandemic has really shown me the incredible grit of the medical community and how far medicine can rise in the face of challenge. To see departments change completely to telemedicine overnight, as well as the flexibility of administration, faculty and students in the delivery of school over a (primarily) virtual platform, has been really remarkable.
I think the pandemic has also demanded that we have greater focus on the inequities and health disparities that, frankly, have always been ravaging our communities, but now are being exacerbated under the challenges of the pandemic. This renewed momentum within social justice and advocacy I think has really exemplified the physician's role and medical student's role in advocating for our patients, our neighbors and our communities within the hospital and beyond in policy and direct community organizing.
Outside of school, what hobbies or interests take up your time?
I love cooking, baking and trying new restaurants (when it is safe), getting outdoors and being in nature, having board game nights and spending time with my friends and family.