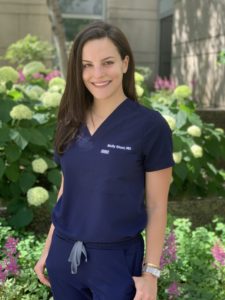 Since July, Molly Stout, MD, chief resident in the Department of Dermatology, has been interning with ABC News's Medical Unit through their Resident Rotation Program, helping with writing and reviewing medical news stories for the network's major television news broadcasts and website.
Stout is part of the "residents in med" unit, a subunit within ABC's news medical group which comprises of roughly 900 people stationed across the country who are dedicated to covering medical news for the network. As an intern, her daily responsibilities include proofreading scripts about medical stories for live news broadcasts on ABC's Good Morning America, World News Tonight and other local affiliate stations. Additionally, she conducts research for reporters about all medical specialties, summarizes embargoed scientific articles for live news broadcasts, and writes medical news articles for ABCNews.com.
Stout has also written news articles for the network about the Centers for Disease Control's recent call to action for a rare neurologic disease found in children called acute flaccid myelitis, nationwide ICU shortages due to the COVID-19 pandemic, and how children and teachers can keep each other safe at school during the pandemic, among many others.
Read a Q&A below with Stout below.
How did you come across this opportunity?
I've always been interested in medical journalism from a public health perspective as a way to get the word out. I love educating my patients one-on-one, but also to be able to reach a huge audience either through print journalism or broadcast. As much as we tell our patients in the exam room, a lot of them also are watching TV and sometimes their attention is much better held on television. So, I thought this would be a really interesting opportunity to see behind the scenes how medical journalism comes to be.
I have also been involved with Dialogues in Dermatology, which is a podcast through the American Academy of Dermatology both as a commentary writer and as an interviewer, and that sparked my interest in media. Although Dialogues in Dermatology is more targeted to other dermatologists, it can be used as CME credit. I also grew up in a family with no doctors, so frequently, I'm the person in my family explaining medical news to my family in a way that they can understand.
How has the COVID-19 impacted your internship?
I was really excited to have the opportunity to work in a newsroom and be in that atmosphere, to go to the tapings of Good Morning America and World News Tonight. Unfortunately, that part has been missed. I will say the whole unit is working remote, so that's been nice. When talking to the producers that are some of my team leaders in terms of the scripts that we review, prior to COVID-19 we were getting about four per week in terms of scripts that contained any medical information and we were fact checking every single COVID-19 case number. Whereas now, we get probably around seven scripts per day. There's no way that we can check every single number, so there is a whole team separate from ours that has been dedicated to monitoring COVID-19 and get the numbers correct.
What have you learned so far?
I think in the beginning, I was especially concerned about communicating medical advice or answering medical questions about things beyond the scope of dermatology, which I had become so accustomed to. Now I've realized that by keeping in mind those key principles of sound research methodology and using the skills that I learned being a resident at Feinberg, I've realized I know a lot more than I thought I did. A big thing, too, is that I've learned how verbatim the edits and changes that we make to these scripts are appreciated. Just last week, there was a script that included an autopsy report and it had all these words that I knew my own family would never be able to understand. It was my job to translate that into something that not only told the story of what was going on but was also medically accurate. I worked together with the producer and what I wrote was then, in one and a half hours' time, read verbatim on camera. It was really remarkable to see how respected our input is and how seriously we're taken.
I would like to encourage any resident that has any interest in medical journalism, or even just an interest in public health and how these messages are disseminated on larger scale, to consider doing this elective. It's a well-established program that has been going on for years, and residents from all over the country and all different specialties have participated in and really shined. The benefit for the team to have our expertise is huge, but the education and just using a different part of your brain during this elective has been so rewarding and enriching to my residency experience.
Why did you choose Feinberg for your residency?
I was really looking for a very well-rounded program and Northwestern's dermatology program had so many different clinical sites. They had such a large department with so many amazing potential mentors and it really came down to the people. When you come for your interview, you realize there's this sense of camaraderie and real friendship among the residents that was really unique to Northwestern. It just felt like home.