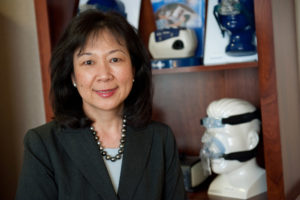 Eliminating 24-hour shifts for pediatric resident physicians did not decrease serious errors, according to a study published in The New England Journal of Medicine.
Residents working shifts of 16 hours or less actually made more errors than residents assigned to 24-hour shifts, indicating that resident medical errors are not simply about sleep deprivation, according to Phyllis Zee, MD, PhD, '87 '89 GME, the Benjamin and Virginia T. Boshes Professor of Neurology and a co-author of the study.
"The results were unexpected, but highlight that there are multiple interacting factors in the setting of resident schedules, education and patient care that influence performance and specifically medical errors," said Zee, who is also chief of Sleep Medicine in the Ken and Ruth Davee Department of Neurology and director of the Center for Circadian and Sleep Medicine.
Publications from the 1970s showed that sleep-deprived resident physicians made more errors in reading electrocardiograms and a robust literature has accumulated, indicating that sleep deprivation adversely impacts alertness and the performance of resident physicians.
In 2008, the National Academy of Medicine recommended that resident physicians work no more than 16 consecutive hours without sleep, and in 2011 the Accreditation Council for Graduate Medical Education (ACGME) partially acted on this recommendation, prohibiting shifts exceeding 16 hours for first-year residents. This guideline was rescinded in 2017, after further trials showed no changes in errors with limited hour shifts.
Those recent findings muddled the picture of sleep deprivation and its impact on errors, so for the current study, investigators conducted a randomized multicenter trial to examine the effects on patient safety after eliminating extended shifts for pediatric residents.
"We hypothesized that shorter shifts would allow for longer sleep duration and better circadian alignment, either of which has been shown in previous work — including by our group — to enhance performance and safety in the general population," Zee said.
Six pediatric intensive care units participated in the trial, beginning in 2013. The trial was completed over several years, with pairs of units starting at staggered times. The pairs were randomly assigned to start with either the 24-28 hour schedule or the 16-hour schedule.
After about a year, the units would swap schedules and then use those for most of the second year of the trial. This design allowed each site to serve as its own control.
The investigators found that resident physicians on shorter shifts made more serious errors, 97.1 errors per 1,000 patient-days, compared to resident physicians on the control schedule, who made 79 errors per 1,000 patient-days. (Patient days are a measure of each patient cared for multiplied by the number of days spent in the hospital — for example, a resident caring for two patients over three days would have six patient-days.)
The number of errors unit wide was also higher during the shortened schedules. According to Zee, this could be a consequence of increasing the number of hand-offs between care teams.
"One possibility may be that shorter shifts increase the number of shifts during 24/7 coverage, which can increase errors due to a potentially higher number of hand-offs between teams affecting continuity of care," Zee said.
In the future, a more circumspect approach to resident sleep schedules is required if healthcare providers are going to reduce errors, according to Zee.
"Interventions that address the multiple factors including sleep, circadian alignment, flexibility of duration and timing of shifts that maximize sleep and circadian alignment and the work environment can help improve performance and safety," Zee said.
This study was supported by grants U01-HL-111478 and U01-HL-111691 from the National Heart, Lung, and Blood Institute.