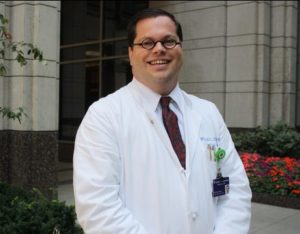 Patients with influenza at risk of complications recovered more quickly after early treatment with the drug baloxavir marboxil, according to a study published in The Lancet Infectious Diseases.
The antiviral was previously approved for use in uncomplicated influenza, and the Food and Drug Administration (FDA) recently approved its use in patients at risk of complications.
"Some people think of flu as a benign illness, but I don't think everybody appreciates how sick you can get and how a medicine can make you feel better, faster," said Michael Ison, MD, MS, professor of Medicine in the Division of Infectious Diseases and lead author of the study.
Among healthy individuals, the average duration of symptoms is between five and seven days. This often means two to three missed days of work, and raises the possibility of spreading influenza to others in the household.
"Even for someone who's healthy, these therapies can speed recovery," said Ison, who is also a professor of Surgery in the Division of Organ Transplantation and a member of the Robert H. Lurie Comprehensive Cancer Center of Northwestern University. "People can miss fewer days of work and get back to their lives."
However, some patients are at high risk of complications from influenza. Individuals older than 65 with underlying medical conditions or who are overweight could require hospitalization for bacterial or fungal complications such as pneumonia or ear infections, or for cardiovascular conditions such as heart attacks or strokes.
To speed recovery, baloxavir inhibits a polymerase used when the virus copies its RNA, according to Ison.
"It basically prevents the virus from making more viruses," Ison said.
In the study, investigators enrolled 2,184 patients with influenza-like illness and at least one risk factor for influenza-associated complications. The patients were randomized to receive a placebo, baloxavir or oseltamivir, another antiviral influenza therapy currently in use.
Most years, influenza A accounts for about 80 percent of influenza infections. In this study, nearly half of the patients were diagnosed with influenza A and nearly half with influenza B. This allowed the investigators to test baloxavir's efficacy against both strains.
They found patients treated with baloxavir experienced quicker recovery and lower viral loads compared to patients treated with the placebo or with oseltamivir for both strains of influenza. Patients with influenza B treated with baloxavir had faster clearance of the virus and quicker clinical recovery than patients treated with oseltamivir or placebo. Patients in the baloxavir group recovered about one day more quickly compared to placebo.
These findings and the recent FDA approval signal that baloxavir should be considered as an early treatment for influenza patients at risk of complications, according to Ison.
This study was sponsored by Shionogi, manufacturer of baloxavir marboxil.