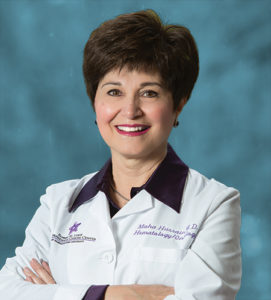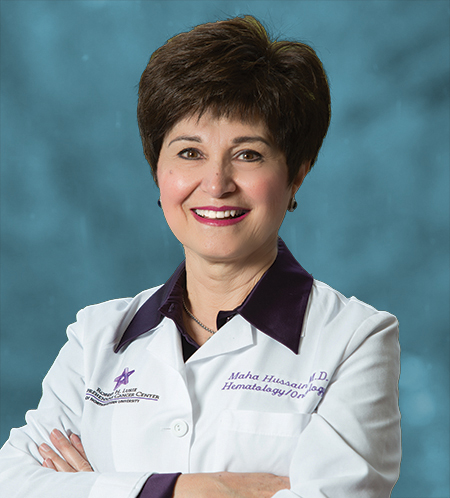 A novel drug called enzalutamide may extend overall survival for men with nonmetastatic, castration-resistant prostate cancer, according to findings from a clinical trial published in The New England Journal of Medicine.
The double-blind, phase three clinical trial was led by Maha Hussain, MBChB, the Genevieve E. Teuton Professor of Medicine in the Division of Hematology and Oncology.
Prostate cancer produces a biomarker called prostate-specific antigen (PSA), a protein made by cells in the prostate gland and prostate cancer cells that appear in the blood at increased levels when cancer is present. Patients are typically treated with a type of hormone therapy called androgen-deprivation therapy that suppresses the production of testicular testosterone, which promotes the growth of prostate cancer cells.
In the case that a patient's PSA levels increase again after receiving hormone therapy — a sign of relapse — imaging scans may come out negative, indicating that the patient has nonmetastatic, castration-resistant prostate cancer.
"The reason we say 'castration-resistant' is because despite the fact that these patients are on hormone treatment, their PSA levels are still going up. We know they have cancer activity, we just cannot see the cancer in scans," said Hussain, who is also the deputy director of the Robert H. Lurie Comprehensive Cancer Center of Northwestern University.
Enzalutamide is an androgen receptor antagonist, meaning it suppresses the effects of male sex hormones produced by the prostate gland and elsewhere in the body. Delaying the time of the development of metastasis is a clinically important endpoint, according to Hussain, who was part of the original FDA assembled panel that discussed treatment testing in this disease setting.
For the clinical trial, the investigators recruited over 1,400 male participants from around the world with nonmetastatic, castration-resistant prostate cancer who were receiving androgen-deprivation hormone therapy. The participants were then randomly assigned to receive enzalutamide or placebo once a day; for every two participants that received enzalutamide, one received a placebo.
In the enzalutamide group, average overall survival was 67 months compared to 56.3 months in the placebo group. The overall risk of death in the enzalutamide group was also 27 percent lower than the placebo group, demonstrating that enzalutamide not only can significantly delay the time of metastasis in this patient population but also prolong survival, according to Hussain.
"These findings highlight that earlier treatment, specifically effective treatment, can essentially have a better 'return on investment' for patients," Hussain said.
The drug, which was recently FDA approved, is now one of three drugs currently available for the treatment of nonmetastatic, castration-resistant prostate cancer. In choosing to treat this patient population, however, Hussain noted that physicians should consider how quickly a patient's PSA levels are increasing, as a slower increasing time may not justify the immediate need for treatment.
"This patient may be observed closely and not receive immediate treatment because there's always a potential risk from the treatment itself in terms of side effects and certainly financial cost," Hussain said.
Hussain recently led a different clinical trial that successfully treated advanced prostate cancer using a genomically targeted treatment approach to successfully delay cancer progression.
"Wishful thinking will not cure cancer," Hussain said. "It's research coupled with exceptional care that will cure cancer, and investment in research is very critical. It's also a partnership between physicians, patients, their families and the care team to try to develop better treatments and together try to conquer cancer."
The current study was funded by Pfizer pharmaceutical company and Astellas Pharma.