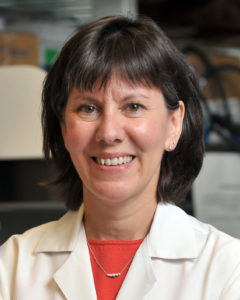 Genetic mutations in the protein desmoplakin cause heart failure and left ventricular cardiomyopathy, rather than right ventricle defects as previous work had shown, according to a recent study published in the journal Circulation.
The mutations are linked to a form of cardiomyopathy that puts patients at risk for life-threatening arrhythmias, and these findings should be integrated into clinical evaluations, according to Elizabeth McNally, MD, PhD, the Elizabeth J. Ward Professor of Genetic Medicine and a co-author of the study.
"Genetic testing is an important part of managing risks for heart failure and irregular heart rhythms," said McNally, who is also a professor of Medicine in the Division of Cardiology, of Biochemistry and Molecular Genetics and director of the Center for Genetic Medicine. "People with DSP gene mutations, the gene that make desmoplakin, need to be followed more closely for irregular heart rhythms and then appropriately treated if that risk is deemed high enough."
Desmoplakin is a structural protein that is key for linking cardiac cells together and transmitting force between them. Mutations in the DSP gene have been linked to inherited cardiomyopathies — diseases that impair heart muscle function — but the majority of these arrhythmias were categorized as right ventricular cardiomyopathies.
However, recent studies have shown a distinct pattern of scarring in DSP cardiomyopathy that's not seen in typical right ventricular cardiomyopathy. To more clearly define this condition, the investigators analyzed clinical and genetic data from more than 100 patients with DSP mutations and 81 patients with PKP2 mutations — the latter group serving as a control for more typical right ventricular cardiomyopathies.
Left ventricular cardiomyopathy was exclusive present among patients in the DSP group, while right ventricular cardiomyopathy was present in just 14 percent of the DSP patients, compared to 40 percent of the PKP2 patients. Similarly, diagnostic criteria for right ventricular cardiomyopathy often missed the heart conditions in DSP patients.
These findings cement DSP cardiomyopathy as a distinct condition primarily manifested by scarring and dysfunction in the left ventricle, and a genotype-specific approach should be used to screen for and treat these patients.
"If there is a family history of heart failure, and especially a family history of early sudden death, we recommend that these people undergo screening with a cardiologist knowledgeable about genetic testing and interpretation," McNally said. "We have a number of good devices now that let us more carefully monitor for irregular heart rhythms, as well as medications to treat the cardiomyopathy."
Lisa Castillo, MS, Esther E Vorovich, MD and Lisa D Wilsbacher, '03 MD, PhD, assistant professors of Medicine in the Division of Cardiology, were co-authors of the study. Wilsbacher is also an assistant professor of Pharmacology.