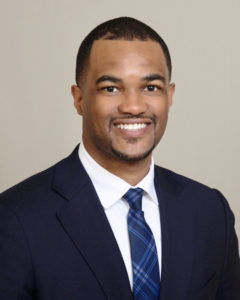 A recent study found that 38 percent of underrepresented minority (URM) medical students have endured some form of mistreatment and more than 20 percent experienced either discrimination or mistreatment in medical school based on their race or ethnicity.
These findings underscore how the challenges of medical school are magnified for URM medical students when forced to grapple with racist remarks or the denial of educational and professional opportunities because of their race or ethnicity, according to a recent letter to the editor written by Quentin Youmans, '15 MD, a fellow in the Division of Cardiology.
One way medical schools can better support URM medical students, according to Youmans, is to create welcoming and safe spaces that allow students to share their experiences regarding discrimination and bias with others without the fear of retribution or repercussion.
For example, in 2016, Youmans started the Student to Resident Institutional Vehicle for Excellence program, or STRIVE, which connects URM medical students at Feinberg with URM resident mentors. Throughout the year, STRIVE holds social events, curriculum review sessions, panel discussions and serves as a space for students to learn about approaches to confront bias and discrimination from peers and mentors who have lived similar experiences.
"While identifying and addressing the sources of discrimination and bias will be paramount, creating spaces like the ones in the STRIVE program through a model of near-peer mentorship should be a consideration for academic centers moving forward," Youmans wrote in the letter published in JAMA Internal Medicine.
Additionally, the Federation of State Medical Boards' and the National Board of Medical Examiners' recent decision to make the Step 1 exam of the U.S. Medical Licensing Examination (USMLE) a pass/fail outcome instead of a numeral score may also help increase diversity in the medical profession, Youmans discussed in a recent perspective piece published in the New England Journal of Medicine.
Step 1 of the USMLE exam tests a student's scientific and medical knowledge acquired during the first two years of their medical school career. But the exam costs $645, presenting additional psychological and financial stress to URM students who may be already dissatisfied with the learning environment of their medical school, according to Youmans.
Although the decision to make the exam pass/fail will not take effect until January 2022, this change offers URM students more opportunity to succeed and expand physician diversity in all specialties, which will ultimately transform and improve patient care, according to Youmans.
Read a Q&A with Youmans below to learn more about STRIVE, what USMLE pass/fail scoring means for medical education and the medical profession, and what medical schools can do to help combat discrimination.
What motivated you to write the JAMA Internal Medicine letter to the editor?
When I was a medical student at Feinberg, I recognized that there wasn't a lot of interaction between the URM medical students and residents and fellows. I also recognized how important it is for URM medical students to see other people who look like them in the years ahead.
Medical school can be hard for anyone. When I saw that these discrimination numbers had come out, I remembered personal experiences that I've had and how cathartic it can be to have an outlet. Serving as a mentor in STRIVE allowed me to talk about and discuss the things that we experience as trainees throughout the spectrum of medical education.
Were the findings from the original study surprising?
Unfortunately, I was not surprised, though I was very pleased that JAMA Internal Medicine decided to publish the data, because I think it's such an important discussion to have when we're thinking about helping to support all of our students, particularly our URM students. I think we first have to know what the issues are that URM students are facing and the prevalence of issues like discrimination before we can even begin to create solutions for them.
Since establishing STRIVE in 2016, have you noticed any particular changes with the medical student community at Feinberg?
I think the environment feels more inclusive and welcoming. I think Northwestern has always had a family atmosphere and for me, that's one of the reasons I stayed here for medical school, residency and fellowship. But I think that collegial environment is even stronger now. For STRIVE, we generally have social events, including our welcome event at the beginning of the year and it's always very well attended by medical students, but also by residents and fellows. I think the beauty of that is that once medical students get to the wards in their third and fourth years, I'm hopeful that they are heartened by the fact that they're meeting people who they know and who've acted as mentors in the in the years before. It makes them feel a lot more comfortable in an environment that can feel very foreign.
What does a USMLE Step 1 exam score indicate about a medical student?
Scores on Step 1 are often markers of privilege. Studies have shown that students who are underrepresented in medicine fair worse, on average, than their white counterparts. The exam was never designed to assess one's ability to succeed as a physician.
How can a pass/fail USMLE Step 1 exam increase diversity in medicine?
The change to pass/fail for Step 1 opens a world of possibilities for residency recruitment. A test that has reinforced inequities in medical education can now give way to new ways to assess students, ones that are hopefully free of bias and more equitable. We must build this new path forward. To do this we should consider implicit bias training for all. We also must prioritize diversity within our assessments of students. Hopefully, residency programs across specialties, will lean into this opportunity to diversify and therefore improve.
Are institutions doing enough to respond to discrimination? If not, what can they do to best support URM medical students?
I think that institutions are generally trying, but I think there's always room for improvement. I think one thing is to engage those learners who are URMs and ensure that you know exactly what they need. You have to be a little bit careful because there's this whole concept of the minority tax, where you don't want to put the onus on just one or two minorities to essentially speak for an entire race or ethnicity. But at the same time, if you're not vocal and honest with your trainees about what they're experiencing, you'll never know the extent of the issues that are happening at your institution.
I think the first step is to engage with people who are there, and the second step is to create real, tangible action items, including potentially creating things like mentorship programs. But it shouldn't just stop at mentorship. More needs to be done to ensure that URM students receive opportunities to succeed and explore medicine. Another thing to consider is that specialty selection and where students end up matching for residency can all be determined by students' experiences. Recognizing that discrimination is so prevalent but also can affect people's career trajectories is something that we need to consider.
How can medical students, faculty and staff become better allies for URM medical students?
I think the best ally is an outspoken ally, so when you see something and you know that it's wrong, you should say something right there in the moment so that everyone knows that it's unacceptable for that form of discrimination to take place. I also find it very helpful to debrief after whatever experience may happen, so that you understand whether your learners are affected by it. Creating a space that's open, honest, and allows people to share what they're feeling can also be therapeutic.