John Lumpkin, '73 BMS, '74 MD, is the recipient of this year's Feinberg Distinguished Medical Alumnus Award, presented annually to recognize an alumnus or alumna whose outstanding professional achievements bring honor to the medical school and merit special recognition.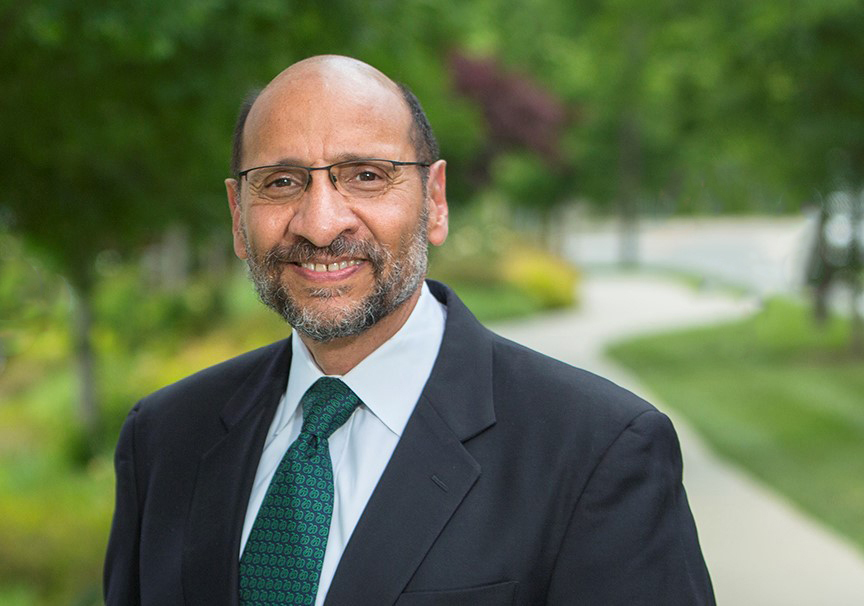 Lumpkin was the first African American physician trained in emergency medicine in the country after completing his residency at the University of Chicago. He later earned his master's in public health at University of Illinois, to be able to serve communities at a larger scale. Currently, he serves as president of the Blue Cross and Blue Shield of North Carolina Foundation which focuses on expanding access to healthy food, supporting children, and more, as well as Vice President, Drivers of Health, for Blue Cross and Blue Shield of North Carolina. Previously, he served as senior vice president of programs at the Robert Wood Johnson Foundation and as director of the Illinois Department of Public Health.
A member of the National Academy of Medicine and a fellow of the American Academy of Nursing, American College of Emergency Physicians, and the American College of Medical Informatics, Lumpkin has also served on several federal committees. He is the author of numerous journal articles and book chapters and has served on the faculty of Northwestern University, the University of Chicago, and University of Illinois at Chicago.
Lumpkin shared his thoughts about his long and impressive career.
What advice do you have for young alumni just starting their careers in medicine?
Remember that healthcare is all about people. On average, people in the U.S. spend about 60 minutes a year in a clinical setting. The other 525,540 minutes are spent working, eating, sleeping, and simply going about life.. The factors that influence their health most happen where they live, work and play. You must strive to deliver the best care possible as a clinician while also being a positive force for health in the communities where your patients live.
Why did you choose your specialty of emergency medicine?
I was exposed to emergency medicine during my freshman year of medical school through a family friend. As I proceeded through my clinical experiences, I enjoyed each area of specialty and did not want to preclude learning more. After each clinical rotation, I came back to Emergency Medicine as the specialty that would enable me to continue to learn in a broad range of clinical fields. And then there was the challenge of being able to make a difference in people's lives when they were experiencing life-threatening illness or injury. I guess I was attracted by the excitement and broad range challenges of Emergency Medicine.
What has emergency medicine taught you about health and healthcare in America?
Working in the emergency department put me up close and personal with the triumphs and failures of our health care system. I saw the possibilities of world class medical science and the tragedy that many people did not have access to it due to lack of healthcare insurance. I saw the ravages of addiction and the injuries caused by violence and felt the joy of being able to care for those in extremis. No emergency physician sits in the emergency department at 4 a.m. saying, "I want to see another person with a cold." But the compassionate ones recognize that it is system failures, not individual failure, that results in that non-urgent visit.
What led you to pursue a degree in public health?
I knew that working with our emergency department team that we could treat acute asthma exacerbations, myocardial infarctions, gunshot wounds, injuries from motor vehicle crashes and diabetic ketoacidosis, but we could do nothing for causes the led people to come in. Too often, I saw people whose root cause for their illness was poverty or the lack of access to healthcare beyond the emergency department. I felt a calling to understand and do something about those causes, to go from treating casualties one at a time to improving the health of communities, interventions that would obviate the need for an emergency department visit.
How did your experience as a medical student at Feinberg prepare you for your journey as both a physician and a leader in public health?
Northwestern is a world-class medical school that gave a sound foundation in the basic sciences of health. I was able to understand and grow as I built upon that foundation the rest of my career. Clinical excellence is key to addressing the clinical and social factors that affect health, all things I learned during my years at Feinberg (then the Northwestern University Medical School). I was exposed to distinguished physicians who modeled behavior that prepared me for clinical care, addressing the broader health factors and leadership.
What are your words of wisdom to the ED doctors on the front lines right now?
I have the upmost respect for emergency physicians, nurses and other staff who are providing critical services despite the personal risk. Everything in an emergency physician's training and career was preparation for COVID-19—the training in management of multiple critical patients at the same time while maintaining the compassion necessary to help achieve a good outcome. At the same time, nothing in our training prepared us for the day-in, day-out press of this pandemic. When in the press of this crisis, it is important to realize that if we work together as a nation, we will get through this. As emergency physicians, we learn early that we cannot save everyone. To survive in this COVID world, it is important to step back from time to time to celebrate the good you are doing before going back into the fray.
From a public health perspective, what can we learn from this pandemic about how our society deals with a public health crisis, and who is falling through the cracks? What needs to change?
In 1988, a report from the Institute of Medicine (now the National Academy of Medicine) noted that public health was a system in disarray, suffering from years of neglect and underfunding. Despite some gains in funding after the anthrax bioterrorism attacks in 2001, the public health system has continued to wither on the vine. After the 2008 Great Recession, local public health agencies lost more than 60,000 staff positions — positions that were never refilled. With the novel coronavirus pandemic, we are reaping what we have sown. Our public health system, despite the incredible dedication of public servants across the country, found it very difficult to mobilize the resources needed to respond in a way that protected lives and prevented the spread of this disease. I only hope that we learn from this experience as a nation and adequately fund public health agencies at the national, state and local level.