Phyllis Zee, MD, PhD, GME '87, the Benjamin and Virginia T. Boshes Professor of Neurology, has been awarded the Sleep Research Society's 2020 Distinguished Scientist Award. The award recognizes one outstanding sleep and circadian scientist for their sustained contributions to sleep and circadian research.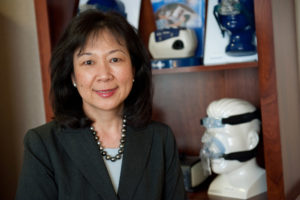 "It is a personal honor to receive this lifetime achievement award, but more importantly, it represents the recognition and appreciation of the scientific and medical community of the significant role circadian rhythms have on sleep and nearly all biological functions, and especially how the work from my laboratory has helped lead the way on translating this knowledge into clinical medicine," said Zee, who is also the also the director of the Center for Circadian and Sleep Medicine and chief of sleep medicine in The Ken and Ruth Davee Department of Neurology.
Zee's research focuses on understanding the mechanisms linking sleep and circadian rhythm disturbance with risk for cardio-metabolic and neurological disorders, as well as understanding the etiology of circadian rhythm sleep-wake disorders. Currently, the research in her lab ranges from basic science studies on how changes in the timing of food intake and microbiome affect sleep, metabolism and cognition, to developing novel approaches to improve sleep and circadian function, improving health outcomes in age related metabolic and cognitive disorders, and conducting clinical trials in sleep apnea.
"I think that the timing is perfect for the rapid advances in sleep and circadian science to be incorporated beyond the field of sleep disorders to other medical specialties," Zee said. "In the future, I see the development of biomarkers of sleep and circadian rhythms, and their use to assess health and disease, as well as to optimize the timing of treatments in medicine."
Her work has also explored sleep quality and patterns expressed in underrepresented minority populations and health disparities caused by poor sleep, socioeconomic and environmental factors, and lack of access to treatment.
Zee is also the founder of the first circadian medicine clinic in the U.S., which provides novel approaches for the diagnosis and treatment of circadian rhythm sleep-wake disorders.  The clinic is part of the Northwestern Medicine Sleep Health Centers, which provides diagnosis and treatment of sleep disorders, including sleep apnea, periodic limb movement disorder, nocturnal behavior (sleep walking, talking and eating in sleep, acting out dreams) disorders and narcolepsy.
Zee earned her MD/PhD from the Rosalind Franklin University of Medicine and Science Chicago Medical School in 1983. She then completed her residency at Northwestern Memorial Hospital in 1987 and a fellowship also at Northwestern Memorial in 1989.  She is a fellow of both the American Academy of Sleep Medicine and American Academy of Neurology, a member of the American Neurological Association and has authored 300 peer-reviewed publications.
Sleep Research Society members were invited to nominate colleagues for the 2020 Sleep Research Society awards. The 2020 award recipients were selected by the society's board of directors.