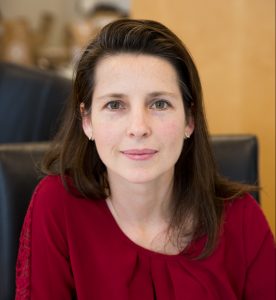 Higher cumulative blood pressure among African American patients is a major contributor to their higher risk of dementia, according to a new study published in JAMA Neurology.
These findings underscore the importance of preventing and treating high blood pressure, especially in African American patients, according to Norrina Allen, PhD, '11 GME, associate professor of Preventive Medicine in the Division of Epidemiology and a co-author of the study.
"While we have known that hypertension is a risk factor for cognitive decline, this is the first study to examine the role of cumulative blood pressure on racial differences in cognitive decline," said Allen, who is also an associate professor of Pediatrics and director of the Center for Epidemiology and Population Health at the Institute for Public Health and Medicine (IPHAM). "The findings supported our hypothesis that blood pressure may play a role in disparities in cognitive performance across the United States."
The excess burden of hypertension in the African American community has been known for decades, and the corresponding high rates of cardiovascular disease and stroke have been the focus of numerous interventions and public health efforts. However, cardiovascular health is not the only area where black patients suffer disproportionately: older black individuals are twice as likely as white individuals to have cognitive impairment or dementia.
While some studies have suggested lower socioeconomic status may explain these differences, according to the authors, there is an increasing body of evidence that cumulative high blood pressure — that is, elevated blood pressure over a period of several years — negatively impacts cognition, even beginning in young adulthood.
Using five large population cohorts totaling nearly 20,000 individuals, investigators analyzed the interaction between cumulative blood pressure and changes in cognitive function, finding that high blood pressure over time was associated with significantly faster cognitive decline, as measured by cognitive function and memory tests.
These findings show that hypertension impacts health beyond just cardiovascular disease, according to Allen.
"Maintaining ideal blood pressure is important to lower risk for future cardiovascular disease and stroke, and this study demonstrates that lower cumulative blood pressure is also important to reducing cognitive decline," Allen said.
Further, the results emphasize the critical need for reducing hypertension among African American patients — both to reduce the overall burden of dementia and cognitive decline, as well as to reduce health inequities.
"We have known for decades that African Americans experience an excess burden of hypertension and hypertensive-related outcomes," Allen said. "This study expands our understanding of the impact of the these blood pressure disparities to demonstrate they are additionally responsible for racial disparities in cognitive decline with age; therefore, prevention of hypertension particularly focusing on African American communities is critical to addressing racial disparities in a broad range of health outcomes."
This research project was supported by the National Institute of Neurological Disorders and Stroke, National Institutes of Health and US Department of Health and Human Services grant R01 NS102715.