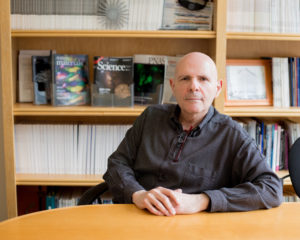 Samuel Stupp, PhD, the Board of Trustees Professor of Materials Science and Engineering, Chemistry, Medicine, and Biomedical Engineering, was recently honored by two major organizations: he was elected to the National Academy of Sciences (NAS), and was also awarded the 2020 Nanoscience Prize from the International Society for Nanoscale Science, Computation and Engineering (ISNSCE).
National Academy of Sciences
Stupp was elected to NAS alongside two other Northwestern University faculty members — mathematician Laura DeMarco, PhD, and engineer Yonggang Huang, PhD. Membership in the academy is one of the highest honors given to a scientist in the United States.
DeMarco, Huang and Stupp are among 120 new members and 26 new international members elected this year in recognition of distinguished and continuing achievements in original research. They will be inducted at the academy's annual meeting next year.
Nanoscience Prize
Both the NAS election and the Nanoscience Prize recognizes Stupp's career achievements in the areas of self-assembly and supramolecular chemistry, discoveries that have led to a new class of self-assembling peptides that have shown therapeutic potential in regenerative medicine.
"I was delighted to be recognized with the Nanoscience Prize offered by the ISNSCE, since this is an organization started and maintained by a group of highly accomplished scientists who have been pioneers themselves in nanoscience," said Stupp, who is also director of the Simpson Querrey Institute and a professor of Medicine in the Division of Endocrinology.
The ISNSCE, started in 2004, promotes the study of controlling the arrangement of atoms in matter: both the tools and methods of control, and the future uses of these technologies to benefit humanity.
A Career in Nanoscience
Stupp's groundbreaking research involves the formation of highly functional supramolecular nanostructures — aggregates containing hundreds of thousands of molecules — and materials created by programming molecules for self-assembly. One of his main achievements has been the development of peptide assemblies with unprecedented capacity to signal cells for use in regenerative medicine.
His laboratory has developed systems that activate growth factor receptors, promote cell differentiation and amplify protein signaling and materials capable of regenerating a range of tissues, including bone, cartilage, muscle, blood vessels and axons of the injured spinal cord. His regenerative medicine work at the Simpson Querrey Institute is now highly focused on translation toward clinical trials.
Stupp is currently interested in developing novel therapies that utilize his supramolecular constructs built from a large variety of biomolecular structures. This includes timely work on disabling viruses and treating neurodegenerative diseases.
Over the past several years, Stupp has collaborated with Feinberg clinicians and scientists, exploring bone regrowth with Wellington Hsu, MD, the Clifford C. Raisbeck, MD, Professor of Orthopaedic Surgery, and Erin Hsu, PhD, research associate professor of Orthopaedic Surgery, and spinal cord regeneration with John Kessler, MD, the Ken and Ruth Davee Professor of Stem Cell Biology, in addition to many other projects.
He has more recently been pursuing exciting work with Evangelos Kiskinis, PhD, assistant professor in the Ken and Ruth Davee Department of Neurology in the Division of Neuromuscular Disease and of Physiology, on the use of his systems to generate motor neurons from human induced pluripotent stem cells, and D. James Surmeier, PhD, chair and the Nathan Smith Davis Professor of Physiology, on Parkinson's disease.
"I have carried out this work through the years in partnership with the many talented graduate students and postdocs who have been members of my laboratory," Stupp said. "Our group remains excited about our ongoing work to develop novel supramolecular therapies to improve human health and to create bio-inspired technologies for a sustainable energy future."
Stupp, who has been at Northwestern since 1999, credits some of his success to the ecosystem of interdisciplinary science at Northwestern — both on the Evanston campus and at Feinberg in Chicago.
"I have had great collaborators at Northwestern that include clinicians, materials scientists, chemists, engineers and life scientists," Stupp said. "I believe that an interdisciplinary approach to science is the only way to understand the complex universe around us and develop the best approaches to benefit society along the way."
Of course, collaboration extends beyond the laboratory, and Stupp says he is grateful for backing from university administration and outside donors, as well.
"I have been fortunate to have had great support from the past and current presidents of Northwestern, Henry Bienen and Morty Schapiro, as well as Lou Simpson and Kimberly Querrey who provided an incredibly generous gift to our Institute," Stupp said.
Above all, however, drive and passion is at the center of his success, and Stupp encourages young scientists to lead their investigations with their hearts.
"Other than sheer luck, being truly excited about the science we pursue and about its relevance to a better world is the key to success," Stupp said. "Indeed, I believe this enthusiasm for addressing important challenges with an interdisciplinary approach has become my scientific brand and I am proud that many young colleagues are now following this pathway."