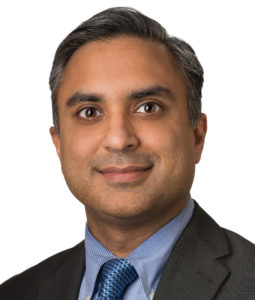 Adults with chronic cough and phlegm production are at risk for poor respiratory function, even if they don't have more severe respiratory disorders, according to a new study published in JAMA Internal Medicine.
These findings emphasize the granularity of respiratory disease, and support preventive measures among patients who have chronic bronchitis that has not progressed to chronic obstructive pulmonary disease (COPD), according to Ravi Kalhan, MD, '06 GME, professor of Medicine in the Division of Pulmonary and Critical Care and a co-author of the study.
"The key for us is to start viewing respiratory and lung health as a key component of overall health and respiratory symptoms are something we need to pay more attention to in clinical settings across the board," said Kalhan, who is also a professor of Preventive Medicine in the Division of Epidemiology.
Chronic bronchitis affects about five percent of adults over 45, and while clinical guidelines suggest these patients should receive a lung function test, chronic bronchitis alone is not included in the diagnostic criteria for COPD.
The impact of bronchitis on lung function is a subject of debate, according to the authors, and whether or not these patients should receive COPD-style therapies remains an open question. Complicating the issue are the differing clinical trajectories of smokers versus non-smokers and how those patient populations should be treated.
To elucidate the impact of chronic bronchitis on lung function, investigators pooled data from nine cohorts studied under the National Health, Lung and Blood Institute. Lung function and outcomes data were collected at a series of visits every three months for at least two years.
A total of more than 22,000 patients were analyzed, at a median age of 53.
The investigators found that among smokers, chronic bronchitis was associated with a faster decrease in lung function and a greater risk of hospitalization or mortality due to respiratory causes. Among non-smokers, the analysis found similar rates of hospitalization and mortality due to respiratory causes, but no significant difference in lung function decline or all-cause mortality.
For smokers, these results are consistent with the accelerated aging effects caused by longtime tobacco use, and emphasize that patients who smoke and have chronic bronchitis could benefit from risk-avoidance interventions, such as smoking cessation or avoidance. In addition, the authors urge that smokers with chronic bronchitis should take extra precautions if they develop new respiratory symptoms.
"We can take steps to make sure we are counseling these people to reduce their risk for subsenquent disease by quitting smoking or vaping and avoiding exposures to vapors, gases, dusts or fumes at work and home," Kalhan said.
For all patients, these findings support consideration of chronic bronchitis as a clinically independent condition from COPD, and a diagnosis of chronic bronchitis should prompt risk factor mitigation and preventive measures, according to the authors.