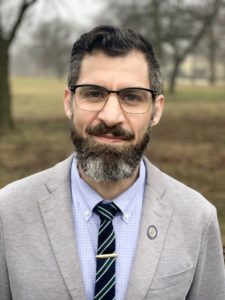 Nicholas Soulakis, PhD, assistant professor of Preventive Medicine in the Divisions of Health and Biomedical Informatics and Epidemiology, is taking a leave of absence from the medical school to work as an epidemiologist in the Illinois Department of Public Health's (IDPH) Office of Policy, Planning and Statistics.
Soulakis, who specializes in epidemiological surveillance, will help the IDPH understand the number of Illinoisans infected with COVID-19 and predict how long the outbreak will last.
"To be called on to serve in a time of crisis, you train your whole career for that moment," said Soulakis, who is also a professor of Medical Social Sciences. "At 20, by chance, an epidemiologist introduced me to 'The Disease Detectives,' 'The Hot Zone,' Ebola, AIDS, polio eradication — it's all I ever wanted to do."
At Feinberg, Soulakis investigates novel approaches to collect, analyze and communicate population trends from the data-rich environment created by health information technology, especially electronic health records. Since arriving at Feinberg in 2013, Soulakis has taught students across the spectrum of biomedical disciplines to rapidly build and evaluate surveillance systems in the 10-week Health and Biomedical Informatics Methods I course.
Soulakis is also director of data science services at the Northwestern University Clinical and Translational Sciences Institute, and helps coordinate and organize Biomedical Data Science Day at Northwestern.
"Public health informatics is an excellent lens to teach the fundamental concepts of data science and informatics, and, equally important, how to improve our use of information for action," Soulakis said.
COVID-19 threatens to surge and even potentially overwhelm healthcare capacity in Illinois, but Soulakis said he believes early warning of areas with high caseloads could provide much-needed time to properly prepare personal and resources to address affected areas.
Public health agencies like IDPH track disease through syndromic surveillance, daily datasets sent from hospitals around the state. These reports include information from clinical encounters and overall healthcare utilization, but with stay-at-home orders in place, some of this data may not accurately capture the full picture of COVID-19 in Illinois.
"Because so many people are staying home and not seeing a doctor, symptomatic or not, we have diminished capacity to understand how many people are sick and how many are positive for COVID-19," Soulakis said.
Soulakis, working under Tiefu Shen, MD, PhD, deputy director of IDPH's Office of Policy, Planning and Statistics, will work with IDPH colleagues to develop and implement new surveillance techniques to better understand the scope of COVID-19 in Illinois.
"For example, it's become more important to survey people at home, find out if they're feeling sick or not," Soulakis said. "In a situation like this, we may need qualitative data to supplement the quantitative for better modeling. We have to have an open mind to all the possibilities."
This opportunity is just one way that Feinberg clinicians and scientists are making their mark in the fight against COVID-19, and Soulakis believes that the ideas born at the medical school could have an enormous impact.
"Feinberg faculty are creative and resourceful, and the collaborative, multidisciplinary science that we have here is an incredible incubator of new ideas as well as a powerful platform for public health innovation," Soulakis said. "In circumstances like this, we need fresh ideas, which is what our faculty bring to light. I am committed to serve at the IDPH but I know our faculty will be doing great work here at Feinberg, as well."