On Friday, March 20, a handful of fourth-year medical students gathered in a Chicago apartment, eagerly awaiting a life-changing moment. At exactly 11:00am, they ripped their cell phones from envelopes — a nod towards the match ritual of previous years — and logged on to a portal where they learned their match.
"I would have loved celebrating with all of our classmates, but we've been able to stay close with each other despite being physically separated," said Stewart Pine, who matched into emergency medicine at Cook County Hospital. "I've had great people in my corner since day one, I just can't say enough about my mentors and classmates."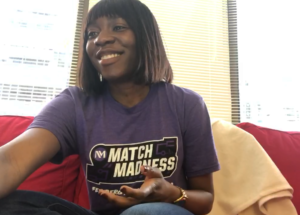 On Match Day, an annual tradition held on the third Friday of March, all fourth-year students across the country learn at the same time where they will train as residents for the next three to seven years.
This year, students learned their match online and celebrated virtually, following public health measures restricting public gatherings, aimed at slowing the spread of the COVID-19 pandemic.
As the matches were revealed, students joined a video chat hosted by the Augusta Webster, MD, Office of Medical Education (AWOME), where they were congratulated by Diane B. Wayne, '91 MD, vice dean of Education and Sandra Sanguino, '93 MD, MPH, associate dean of Student Affairs.
"We are so extraordinarily proud of all of your accomplishments, both at Feinberg and for what is to come," said Wayne is also chair and Dr. John Sherman Appleman Professor of Medical Education, and a professor of Medicine in the Division of General Medicine and Geriatrics. "One thing we can be sure about: We know each of our graduates will add tremendously to the needs of our country at an unprecedented time."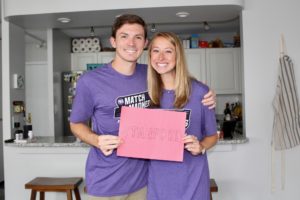 "I am grateful that medicine will be in your hands," added Sanguino, who is also an associate professor of Pediatrics in the Division of Academic General Pediatrics and Primary Care.
Residency matches are made by the National Resident Matching Program (NRMP), which uses an algorithm to pair graduating medical students with available training positions at U.S. teaching hospitals. The model takes into account the top choices of both the students and the residency programs.
This year's match was the largest to date, including more then 40,000 registered applicants and more then 37.000 residency spots.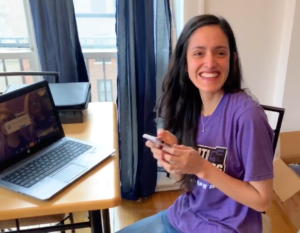 Eseohi Ehimiaghe, a fourth-year medical student, was video chatting with her family and hundreds of other fourth-year students as she learned her match: obstetrics and gynecology at Northwestern's McGaw Medical Center.
"I'm really excited: the faculty, residents and staff at Prentice have been so caring and set a great example for being a physician," Ehimiaghe said. "I'm proud to say I trained at Feinberg, and I can't wait to stay."
David Reed and Sarah Talamantes, fourth-year medical students, matched as a couple into anesthesiology and internal medicine, respectively, at Stanford University Medical Center.
"We are incredibly excited to take this next step in our career at Stanford," Talamantes said. "We have worked our whole life for this moment and are ready for the next stage of training as resident physicians."
The NRMP allows students who choose to match as a couple to link their rank lists together, in order for the two to obtain residencies in the same geographic location.
Even in these unusual circumstances, students were finding ways to celebrate their success as medical students, and to look forward to their first few years as physicians.
"Northwestern has helped me build the foundation for the rest of my career, and even though I know residency will be challenging, I feel confident Feinberg has given me the tools I need to be successful," said Ariel Magallon, a fourth-year student who matched into family medicine at Northwestern Lake Forest. "Even though I wasn't able to celebrate with my classmates and family in person, I am thankful for technology that allows us to be together even when we are apart."
View the full list of match results here.