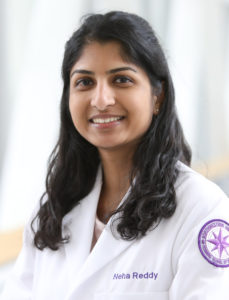 Fueled by her passions for design and innovation in healthcare, Neha Reddy, a second-year student in Feinberg's Medical Scientist Training Program (MSTP), recently co-founded NU Health Hacks, Northwestern's first healthcare hackathon, which took place from Feb. 7 – 8 in Feinberg's McGaw Pavilion and Simpson Querrey Biomedical Research Center.
While an undergraduate at Case Western Reserve University, Reddy worked with several non-profit organizations through the group Design for America (DFA). The organization, which trains college students across the U.S. to use a problem-solving approach called design thinking to create social change, helped Reddy develop an interest in applying the design process.
"Design thinking taught me a unique way to approach problems and work with communities that is incredibly applicable to healthcare," Reddy said. "I am so happy to have organized this hackathon to encourage creative problem solving and foster collaboration between students at different Northwestern schools."
The inaugural event brought together about 40 attendees from many of Northwestern's schools — including Feinberg, the Kellogg School of Management, McCormick School of Engineering, Weinberg College of Arts and Sciences, and Pritzker School of Law. The goal of NU Health Hacks, according to Reddy, is trifold: learn, collaborate and innovate. Through forming interdisciplinary teams with attendees, the two-day event formed a community of innovators from various disciplines, skill levels, and backgrounds to explore the current challenges in healthcare and form creative and effective solutions. This year's event focused on student-run clinics and brought together experts from across Chicago who served as mentors and judges.
Read more about Reddy and her efforts to establish Northwestern's inaugural Health Hackathon, NU Health Hacks, in the Q&A below.
Why did you choose Feinberg?
My interview is when I really felt I could find my place here. I had positive experiences with all the administration and students I met. As an MSTP student, the research aspect was especially important to me. There are extensive opportunities here for my research interests, which broadly lie in neural engineering and rehabilitation. I was excited to explore the research at the Physical Therapy and Human Movement Sciences department, where I'll be doing my PhD, and at the Shirley Ryan AbilityLab. I was also drawn to its location in Chicago — it's a great city. I'll be spending several years here and as a musician and foodie, I knew I would love exploring all the concerts and restaurants.
How did you and your team organize NU Health Hacks?
Last year, a couple of our current team members attended a healthcare hackathon at the University of Chicago and thought, "Why don't we have something like that here?" From my own experience participating in hackathons, I knew they provide a great environment to explore design thinking and innovation, so I was eager to help create Northwestern's first health hackathon. We formed a team of six — five medical students and a Master's of Science in Law graduate — spanning different backgrounds in design, user experience, start-ups, healthcare and law.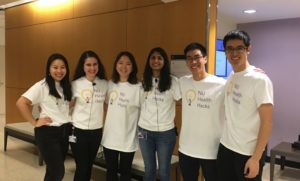 This was the first healthcare hackathon at Northwestern, and therefore came with some unique considerations, particularly regarding our exact goals for the event. What did we want to accomplish here at Northwestern? We decided that our main goal was to bring together the different schools at Northwestern to collaborate, innovate and learn about problem solving in healthcare. Feinberg, Kellogg, McCormick, Weinberg and Pritzker were among the schools represented at the event, and each participating team was made up of members from three to five different schools. It was incredible to see team members learning from each other's training and experiences, when they otherwise likely would have never met and worked together. The interdisciplinary nature of the event required reaching out to people across the university.
We spent several months planning and bringing together the necessary people and logistics to make this event happen. The hackathon would not have been possible without the support of our many mentors and judges from across Northwestern and Chicago. Our sponsors, The Garage at The Sardine Bar and the Feinberg School of Medicine, gave us the financial and organizational support to make it all happen.
What do you hope attendees took away from the event?
I hope attendees were able to form new connections across schools and learn from each other's knowledge and experiences. When I first came to Northwestern, I was amazed that there are so many different schools on the Chicago campus alone. I wished I had the opportunity to interact with interdisciplinary students because many of us share common goals.
We also aimed for attendees to build new skills through team-based collaboration and workshops led by our mentors. Most of our participants had never done a hackathon before, so having to problem-solve in such a short time period was, I hope, a unique and fun experience for them. It would be fantastic if some teams decide to pursue their ideas after the event. Our top three teams won prize money, and we are encouraging all participating teams to apply for residency at The Sardine Bar if they are interested in taking their ideas forward.
We have received a lot of positive feedback from participants and mentors already, as well as helpful suggestions on how to improve the event for future years.
In your own words, how would you define "design thinking"?
Design thinking is an approach to problem solving that focuses on understanding the human experience and involves an iterative process of problem identification, ideation and solution generation. For example, let's say the physician is at the heart of a problem you are trying to solve. The design process involves understanding and empathizing with physicians' experiences and performing structured problem solving around their specific needs. It's a multi-disciplinary approach that can be used in any practically any setting. I'm personally most excited about applying it to healthcare.
What other extracurricular activities are you involved with at Feinberg?
I am a pianist and love making music with others. For my undergrad, I majored in biomedical engineering and music, so I knew I definitely wanted to continue music performance at Northwestern. Last month, I organized and performed in a chamber music concert here at Feinberg with other musicians in the Northwestern medical community. I'm thankful for the support of Northwestern faculty and students who helped make this concert possible; we had a great turnout of people who came to support their classmates and enjoy the music.
Another activity I participate in at Feinberg is Sustained Dialogue, a program where individuals from different backgrounds gather regularly to discuss and tackle challenging topics. On the design and innovation front, other than the hackathon, I was on the board for the Medical Innovations and Business club. Last year, I served as a Design for America (DFA) Chicago alumni ambassador. As an ambassador, I organized events to help connect and grow the Chicago DFA alumni community.
What are your plans for the future?
I see myself combining clinical work, research and innovation in medicine into my career. This summer, I'll begin my PhD with my advisors, Dr. Molly Bright and Dr. Julius Dewald; my research involves using fMRI methods to better understand motor impairments after stroke. I'm looking forward to my training over the upcoming years to develop my skills and identify my specific interests.