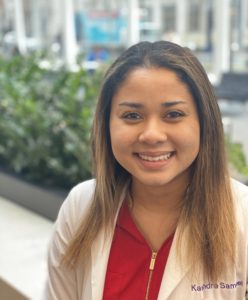 For Kassandra Samuel, a third-year medical student interested in orthopedic surgery, what happens after a surgery is as important as the procedure itself. As part of her studies, she's investigating bone grafts to better correct shoulder instability, as well as exploring the racial differences in opioid prescription and how the field of surgery contributes to the ongoing opioid epidemic.
These dueling topics reflect her interest in the broader impacts of medicine — an interest that is also reflected in another project: Exploring the narratives of women after abortion and how the experience impacts their world views and self-perception as a caregiver and mother.
Read a Q&A with Samuel below.
Why did you choose Feinberg?
I fell in love with Feinberg from the moment I was invited to interview. I distinctly remember speaking with Anita Munoz in the Office of Diversity and Inclusion, who helped arrange a pre-interview dinner with current students. At this dinner, my nerves were calmed and I could tell that Feinberg students were really happy — they only had positive comments about fellow classmates and faculty interactions. Coming to Feinberg, I felt that I would have a family away from home within the Office of Diversity and Inclusion and my experience has been nothing short of that. It was a bit of a gut decision, but it just felt right.
I knew that coming to Feinberg would provide me with a top tier medical education to become the best, well-rounded physician possible. Plus, I was given a generous scholarship from the Guggenheim Family which made the decision even easier!
Where are you from and where did you attend undergrad?
I was born and raised on a military base near Tokyo, Japan where my father was serving in the U.S. Air Force. I moved to Maryland during my junior year of high school. I graduated from the University of Miami with a bachelor's degree in exercise physiology and kinesiology with minors in chemistry, biology and psychiatry. I worked part-time as a medical assistant in the Department of Hepatology at the University of Miami Hospital during my college enrollment.
What are your medical or research interests?
I'm very interested in the field of orthopedic surgery and have been working with Dr. Matthew Saltzman and Dr. Patrick Sweeney, a fifth-year resident in orthopedic surgery, on a project that explores using MRI measurements to determine the variance in radius of curvature for distal tibial allografts that are used in surgery for recurrent anterior shoulder instability.
I am a dual-degree student working towards a master's degree in medical humanities and bioethics. In college, I participated in an ethics society and competed in both local and national case competitions. I was thrilled that Feinberg offered this program to students at a reduced tuition price and with easy scheduling that never conflicted with the medical school curriculum.
I anticipate writing a thesis as my capstone project for this program and plan on researching the racialization of the opioid epidemic, specifically looking at methadone versus buprenorphine therapies. I plan on connecting this project to my interest in orthopedics as well, given that opioids are often given after surgery.
Under the guidance of Katie Watson, JD, I've started working on a fascinating project regarding the narratives of women at an abortion clinic. We have had the amazing opportunity to complete an in-depth review of journal entries written by women at a clinic and are exploring recurring themes surrounding their experience. Together, we are currently working on two publications that deal with religious beliefs, stigma and the role of being a caregiver and mother.
Do you participate in any organizations or societies at Feinberg?
I am an active member in our chapter of the Student National Medical Association (SNMA). During my M1 and M2 years, I was able to serve as the liaison between our undergraduate sister program, Minority Association of Pre-Medical Students (MAPS), at Northwestern University's Evanston campus. Working together with other students and faculty, we were able to host events for minority students interested in going to medical school. It was a great opportunity to expand mentorship between the two campuses.
I helped tutor and was a mentor to high school students enrolled in Chicago Youth Programs once a week. This program was longitudinal, so I was able to build a bond with my mentee over an entire year.
I had the opportunity to travel to Dehradun, India for one month during the summer of my M1 year with some of my peers. The Northwestern Program in Global Health Studies helped fund our trip through Child Family Health International (CFHI).  Our program allowed us to experience both rural and urban medicine in a variety of clinical settings. My peers and I were also able to immerse ourselves in the local culture by staying with host-parents and partaking in daily activities like yoga.
I am a part of the Feinberg student senate, serving as my college representative. This has been a great avenue to participate in the ongoing improvement of our curriculum and events. Our faculty really values student feedback and being a part of senate I have seen this in action first hand.
What has been your most rewarding experience?
Providing care in my Education-Centered Medical Home (ECMH) has been one of the most rewarding experiences in medical school. My preceptor is Dr. Jennifer Bierman and she is phenomenal. I have been in this clinic since my M1 year and we get to take ownership over a small panel of patients and become a part of their primary care team longitudinally. It has been awesome to develop strong relationships with our patients and see them trend towards better health. Furthermore, we have the opportunity to do a lot of teaching to younger students and learn a lot from older ones. It is a very unique clinic structure that provides for great patient care and medical education.
What advice would you give to prospective medical students?
Remember what is important to you and find ways to incorporate that into your life as a medical student. At Feinberg, we talk a lot about balance and student wellness, which helps a lot. I think it is so important to remember to take care of yourself during this rewarding, yet sometimes hectic, time in our lives. Thankfully, there are so many student organizations and activities in the city of Chicago that make this possible.
You will find friends at school with similar interests as yourself and mentors that will help incorporate your passions into meaningful projects. No matter what values, hobbies or goals you hold, you will find yourself surrounded by those who want to help you succeed.