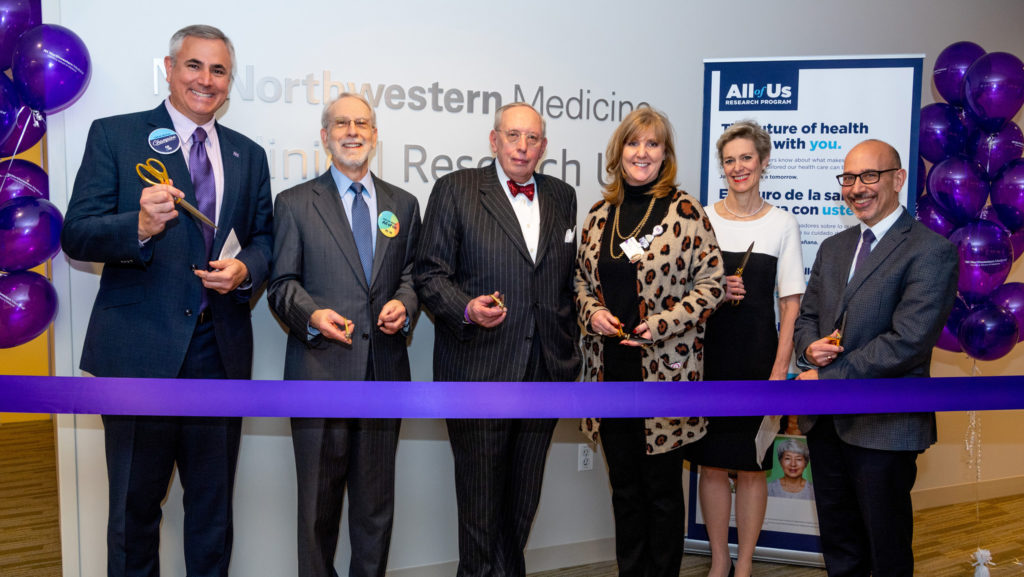 Research footprint grows by 10,000 square feet with outpatient facilities, core lab, enhanced support
As Northwestern investigators continue to increase the breadth and widen the impact of clinical research, Northwestern Medicine has opened a new 10,000 square foot Clinical Research Hub to enhance investigative scope and infrastructure while improving participant experiences.
Following a ceremonial ribbon cutting on January 31, the dedicated outpatient research space on the 15th floor of Northwestern Memorial Hospital's Galter Pavilion was opened for visitors to tour. The augmented Galter 15 floorplan now includes an expansion of the outpatient location of the Northwestern University Clinical and Translational Sciences (NUCATS) Institute's Clinical Research Unit (CRU), which also maintains an inpatient unit on the 10th floor of the Feinberg Pavilion.
"This expansive new space for the CRU includes 20 exam rooms, procedure rooms, an echocardiography and ultrasound room, additional core lab space and a clinical research coordinator and research staff training room," said Richard D'Aquila, MD, Northwestern University associate vice president for research and director of the Clinical Research Center (CRC). "It's also important to note that the Clinical Research Unit serves as a nexus for innovative research and epitomizes the robust collaboration that is Northwestern Medicine."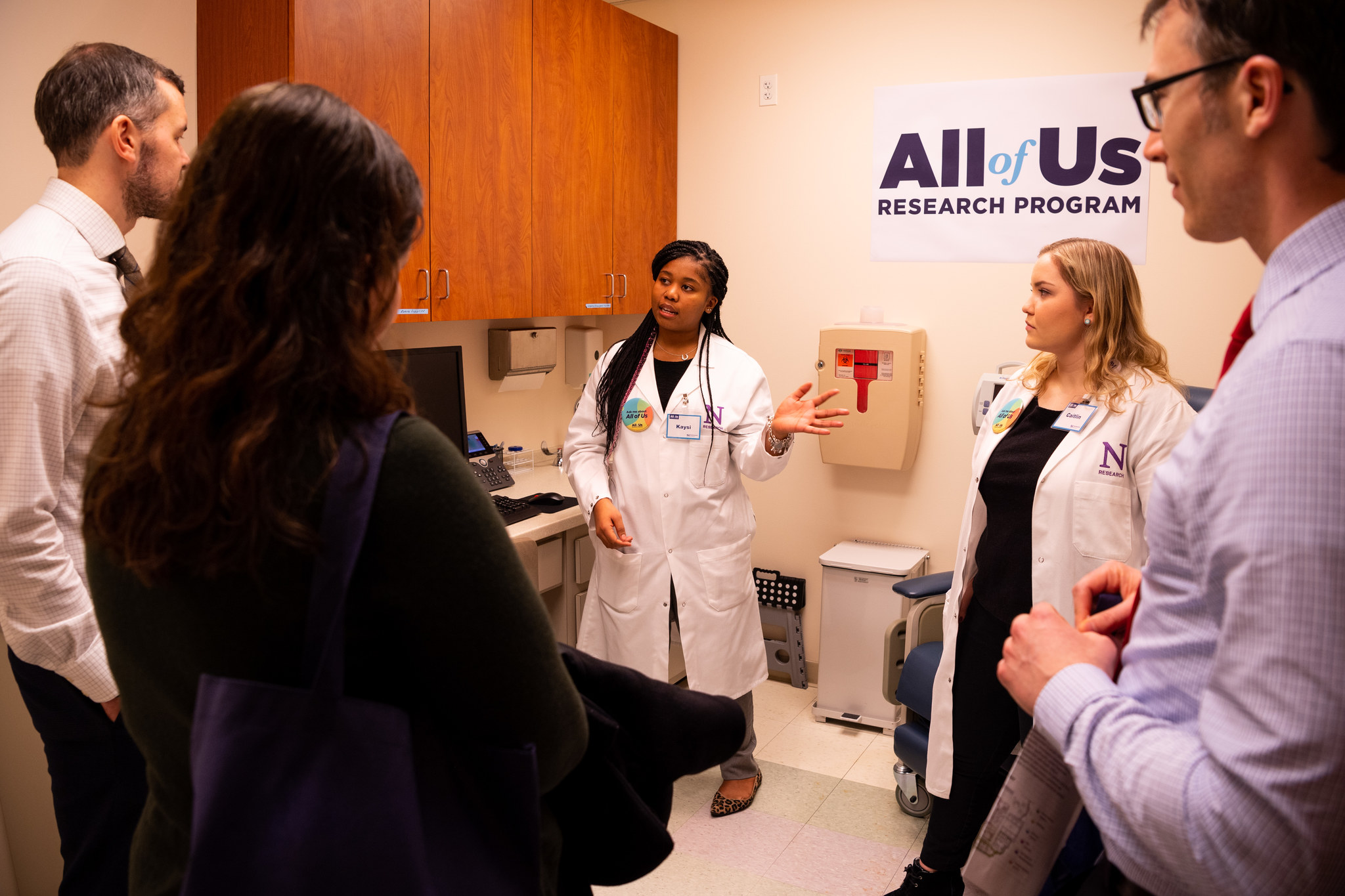 The Northwestern Medicine Clinical Research Hub also features dedicated space for the All of Us Research Program, Division of General Internal Medicine and Geriatrics research studies, the Bluhm Cardiovascular Institute Clinical Trials Unit, and Division of Infectious Diseases research study teams.
"The CRU represents a critical part of the University's translational research infrastructure, providing support for continuous physiologic measures in health and disease states, first in human studies, drug dosing studies and much more," said Donald Lloyd-Jones, MD, senior associate dean for clinical and translational research, the chair and Eileen M. Foell Professor of Preventive Medicine, and director of NUCATS. "Moreover, the CRU has contributed substantially to growth in the research enterprise over the last decade. In the past six years alone, we have seen more than a 300 percent increase in the number of studies supported by the CRU."
Before officially opening the doors to the Clinical Research Hub, Lloyd-Jones, along with Eric Neilson, MD, vice president for medical affairs and the Lewis Landsberg Dean; Kristin Ramsey, Northwestern Memorial HealthCare senior vice president and chief nurse executive; Mary McDermott, MD, the Jeremiah Stamler Professor of Medicine in the Division of General Internal Medicine and Geriatrics; Philip Greenland, MD, the Harry W. Dingman Professor of Cardiology and a professor of Preventive Medicine in the Division of Epidemiology; and D'Aquila, also the Howard Taylor Ricketts, MD, Professor of Medicine in the Division of Infectious Diseases, cut a ceremonial ribbon.
"Northwestern Medicine is proud to work collaboratively with the University to create this outpatient space for the continued growth of research," Ramsey said. "As the Streeterville campus continues to expand, we are pleased to create this dedicated space for our research teams and to acknowledge the value of research as part of our strategic mission."
The space also brings new capacity for a host of research teams, including the All of Us Research Program, a nationwide effort, which seeks to speed up health research breakthroughs by enrolling one million people, and McDermott's team in general internal medicine.
"For the past 20 years, more than any other university, Northwestern has been a leader in scientific discovery regarding lower extremity functional impairment in people with lower extremity peripheral artery disease (PAD)," McDermott said. "I am sincerely grateful to have this beautiful space to allow us to continue our important scientific investigation, with the ultimate goal of erasing disability and improving health and quality of life for people with PAD."
In the last year alone, McDermott's investigative team has conducted nearly 1,500 baseline or follow-up visits at Northwestern, including 436 six-minute walk tests. The tests have been used in various research studies investigating patients with PAD to show the effectiveness of exercise to improve a person's ability to walk, and thus their quality of life, including promising findings published in JAMA.
Northwestern Medicine is a partner of the All of Us Research Program in Illinois. Since launching in 2017, the local component of the program has enrolled 5,000 individuals in the National Institutes of Health-funded initiative. The redesigned space on Galter 15 greatly expands the program's ability to see new enrollees so that they might enter the database in less than an hour. To learn more about enrolling, please visit the All of Us FAQ page.