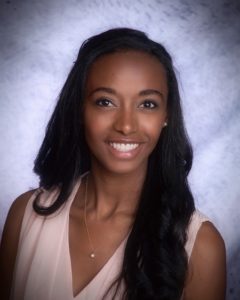 In October 2018, the Trump administration published a broadened proposal of the Public Charge Rule which would deny green cards to immigrants in the U.S. who might be dependent on government assistance programs like Medicaid, food stamps and housing vouchers.
Last summer, second-year medical student Salem Argaw began working with the Illinois Coalition for Immigrant and Refugee Rights (ICIRR) and was, as she recalls, in the right place at the right time. She joined ICIRR staff and administered a survey to its 23 partner organizations, asking how the proposed rule might affect immigrants in Cook County and the likelihood that their clients would remain enrolled in government assistance programs following the rule's enactment.
That research then was used to support a class-action lawsuit filed by ICIRR and Cook County in federal court to block the rule deemed as discriminatory against poor immigrants. The study's findings among other evidence and testimony ultimately helped persuade a federal judge in Chicago to issue a temporary injunction on the rule, standing with other federal courts including New York, California and Washington state and preventing the rule from going into effect nationwide in October 2019.
Recently in a 5-4 vote, the Supreme Court permitted the Trump administration to move forward with the rule, lifting the temporary nationwide injunction. In the coming months, lower courts are expected to hear lawsuits regarding the proposed rule once again.
Read a Q&A with Salem below about her research with ICIRR, her passion for global and public health, and her plans for the future.
Why did you choose Feinberg? Why the MD/MPH program?
I was drawn to Feinberg because of the opportunities it offered to consider individuals' health in the global and local context — outside of the confines of the science behind their illness — through avenues like the Health & Society thread in our curriculum. I also knew Feinberg had a large number of students who went abroad for global health work. This was something I was interested in as I knew it would be a great way to apply what I'd learn in school on the ground. I became interested in global health from a young age mainly because I grew up in Ethiopia and saw my mom working as a pharmacist first there and now here. After undergrad, I took a year and a half off and conducted research in Geneva, Switzerland through a Fulbright Research grant, working on access to healthcare in conflict zones and attacks against health systems, such as cyberattacks. That project was in collaboration with physicians at the International Committee of the Red Cross (ICRC) and the experience solidified my interest in the junction of medicine and global or public health.
So why did I want to pursue both degrees at the same time? I knew for a while that I wanted to earn an MD, but the public health side was very much reinforced by my time abroad. My experience with ICRC staff made me realize that you can't truly treat a person without considering the context within which they live. I knew that the opportunity to pursue both degrees at once would allow me to integrate across the two disciplines properly. Global health is a very hot topic right now, but it's different when people are actually passionate about it and are approaching it with the right mindset and I like that Feinberg provides opportunities to do that.
What motivated you to work with ICIRR?
Through the combined MD/MPH program, we do a field experience in the summer of our first year. Mine happened to be this past summer when the public charge rule was in the midst of being finalized. There's a list of partners that Northwestern has in the community that are working on various public health concerns and we have the opportunity to intern with any of these partners or others that interest us.  I myself am an immigrant — I was born in Ethiopia and moved here with my family when I was ten — and I've always been very interested in working with immigrant and underserved communities. I was drawn to ICIRR because of my own background and because of the policy work they do. I'm interested in the policy side of public health and knew this would be a good way to gain experience in the field.
How did you get involved with this research?
Within ICIRR's health policy division, my preceptor was working on a couple of different projects in health and policy as it relates to Chicago's immigrant population. ICIRR does a lot of policy and advocacy work in Springfield and the Trump Administration's Public Charge rule was something that had been on their radar for a while, since the proposed rule was supposed to be finalized a month or so after I started working there. When I joined ICIRR, they were thinking about being part of this lawsuit with the Shriver Center, but it was just in its beginning phases and I was able to be a part of the research that was used to support the case.
At ICIRR, we collected data from the organizations that work directly with the immigrant population in Chicago to see how people had been impacted by the proposed rule. My work involved a lot of reaching out to ICIRR partner organizations, researching and drafting the survey we ended up sending to our partner organizations. The results from that survey were part of the findings the Shriver Center used for the lawsuit. I was actually able attend the trial downtown.
To see the work that I did on the ground and how it developed to be a part of something bigger, to see and witness our work be presented in a courtroom, was a really cool experience.
What exactly were the survey findings?
From the preliminary data, 17 of the 23 organizations we surveyed reported that an average of one to five of their clients were withdrawing from government sponsored public assistance programs every month since the proposal was published. It's a qualitative and quantitative study, so we asked a lot of "why's" on the survey and fear was the reason that a lot of organizations listed. Fear, as well as confusion about who the rule applied to and how it would affect them and their family members in the future.
The other interesting but unfortunate thing we saw was in the type of people that were withdrawing from these programs. The fact that so many lawful permanent residents were withdrawing was telling on its own, as the rule doesn't even apply to lawful permanent residents. Naturalized citizens were also on the list—but to a lesser degree—and they, too, are excluded from the rule.
In your opinion, how would the Public Charge Rule impact immigrants in the U.S.?
From a public health point of view, it would be the decreased access to healthcare and resources that is concerning. For example, instead of getting access to healthcare early on as a preventative measure, now they're receiving healthcare further along in the disease process, which is not only costly to the healthcare system, but the patients themselves are now bound to have poorer outcomes. Getting access to healthcare and other resources such as healthy food is already a burden. With this rule, individuals and families have to make do with even less. In the long-term, it's going to have greater consequences.
The stance that ICIRR and Cook County took in suing the federal government last year was in showing that the rule would be too much of a burden for Cook County to deal with economically and would cause irreparable harm to the community in various ways. But we're still waiting to see what will happen on a national level and what will come of it all.
What are your plans for the future?
I'm interested in surgery, specifically global surgery. There's a huge need for it and it has been neglected for years. Meeting physicians who worked with international organizations when I was living abroad and others like Dr. Sarah Clark at Northwestern, who does work abroad but from an academic standpoint, has made me realize that there are a lot of ways I can make global work possible.