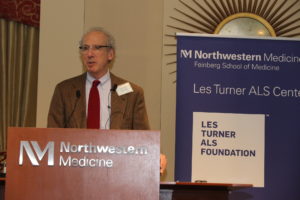 Northwestern physicians, faculty, staff, students and trainees gathered for the ninth annual Les Turner Symposium on ALS and NeuroRepair, a one-day event highlighting the present and future of treating amyotrophic lateral sclerosis (ALS).
The symposium, held Nov. 11, featured presentations about emerging ALS science, a poster session and a clinical panel where patients and family members could ask questions about the ALS-related issues in their lives.
"We're very proud today, as the Les Turner ALS Center and Foundation, to be able to host this symposium," said Andrea Pauls Backman, chief executive officer of the Les Turner ALS Foundation. "We are truly honored to be able to partner with families dealing with ALS and we do this at every step of their journey."
ALS is a progressive neurological disease that attacks upper and lower motor neurons. There is no cure, and life expectancy is typically three to five years from the onset of symptoms.
The Les Turner ALS Center at Northwestern Medicine unites all ALS basic science, clinical investigation and patient care under one umbrella. The center was established by The Les Turner ALS Foundation, one of the country's oldest independent ALS organizations.
During the morning session, Robert Kalb, MD, director of the Les Turner ALS Center, delivered a presentation on the importance of membrane trafficking — moving molecules and proteins throughout the cell using small membrane-bound vesicles — and how the process is disrupted in ALS.
Proteins, such as RAB and ARP, play a key role in moving these compounds to the right places within the cell. Kalb has studied this trafficking in neuron models of ALS, finding that a trafficking imbalance between two organelles — from the Golgi to the endoplasmic reticulum and back — may be one mechanism that contributes to neurodegeneration.
"In healthy cells, there's a balance of RAB-dependent forward trafficking and ARP-dependent retro-trafficking," said Kalb, who is also chief of Neuromuscular Disease in the Ken and Ruth Davee Department of Neurology and the Les Turner Professor. "When mutant proteins cause inhibition of forward trafficking, this may lead to endoplasmic reticulum stress and neuron death."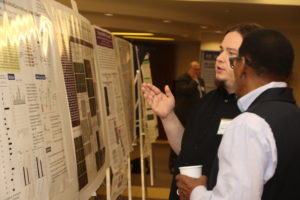 Other scientists, including Chris Donnelly, PhD, assistant professor of Neurobiology at the University of Pittsburgh, tackled other mechanisms of disease. Donnelly studies the effects of protein aggregations seen in many different subtypes of ALS, and presented his most recent findings at the symposium.
"With the exception of patients with mutations in SOD1 or FUS, 97 percent of ALS cases have aggregates of TDP-43," Donnelly said.
In a healthy neuron, this protein is found mostly in the nucleus, but in ALS, it spreads to the cytoplasm and creates clumps and inclusions. In this study, Donnelly modified cells to overexpress TDP-43 and analyzed these aggregates, finding that the reason these protein clumps are toxic is because they lack RNA.
Adding RNA back into the equation with an oligonucleotide — a small piece of RNA that can be inserted into the nucleus of cells — thwarted formation of clumps, pointing to a potential future therapy.
"We think these oligonucleotides may be a way to prevent aggregation," Donnelly said. "Not only could we inhibit formation of these assemblies, but we could reverse it by adding in RNA after the inclusions have formed."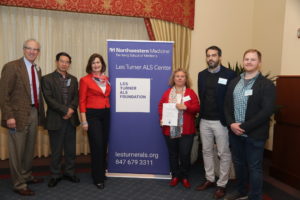 Scheduled keynote speaker Eva Feldman, MD, PhD, professor of Neurology at the University of Michigan, had travel plans mislaid by inclement weather, but Kalb and Hande Ozdinler, PhD, associate professor of Neurology in the Division of Neuromuscular Disease, delivered Feldman's presentation in a pinch-hitting performance.
The afternoon session also featured a clinical panel of Northwestern faculty, who answered a range of questions from patients and family members about living with ALS. The panel included Kalb; Colin Franz, MD, PhD, '13 '17 '18 GME, assistant professor of Physical Medicine & Rehabilitation and of Neurology; Senda Ajroud-Driss, MD, '05 GME, associate professor of Neurology in the Division of Neuromuscular disease and John Coleman III, MD, assistant professor of Medicine in the Division of Pulmonary and Critical Care and of Neurology.
While there are common threads that unite all diagnoses of ALS, the disease has significant differences from patient to patient. This makes it difficult to find a cure, but is also what continues to drive scientists forward, according to Ozdinler.
"Patients have similar phenotypes, but the underlying causes may be different," said Ozdinler. "That's why we bring all our knowledge and expertise together to find the common mechanisms to better understand treatment strategies."