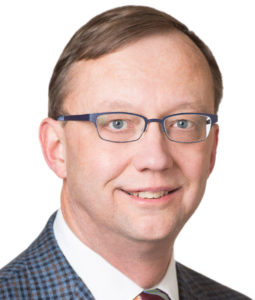 John Csernansky, MD, the chair and Lizzie Gilman Professor of Psychiatry and Behavioral Sciences, has announced that he will be stepping down as chair after a distinguished tenure leading the department through unprecedented growth and expansion. He will remain in his position until March 1, 2020, to assist with the transition and search for a replacement, and will continue his role as a member of the faculty.
"John has been a phenomenal leader for the Department of Psychiatry and Behavioral Sciences, charting a course of growth and improvement that has resulted in an enhanced reputation and national recognition. His research has provided critical insight into psychiatric disorders like schizophrenia and Alzheimer's disease, and the field will surely continue building upon his discoveries for years to come," said Eric G. Neilson, MD, vice president for Medical Affairs and Lewis Landsberg Dean. "John leaves the department in outstanding shape, and with a legacy that will prepare future leaders to reach even greater heights."
During his more than a decade as chair, the department's portfolio of research grants more than tripled, and the number of National Institutes of Health funding agencies that support the department's research expanded greatly.
Csernansky oversaw the recruitment and retention of more than 50 regular faculty members as chair, while also deepening the department's commitment to diversity and inclusion and noted that in terms of its faculty representation, the department is now among the most diverse departments at the medical school.
In terms of clinical care, the Department of Psychiatry saw its flow of outpatients more than triple since 2008, and during Csernansky's tenure, the department also developed and launched specialty clinical programs in Women's Behavioral Health, Neuropsychiatry, and Recovery from Psychosis.
In addition, in 2011, Csernansky oversaw the opening of a new inpatient psychiatry unit at Northwestern Memorial Hospital with a physical design based on neuroscience and functional recovery principles, as well as therapy programs based on behavioral activation.
While serving as chair, Csernansky also played in active role in research in the field of neuroimaging of neuropsychiatric disorders, especially schizophrenia and Alzheimer's disease. He has over 300 peer-reviewed publications including clinical trials of cognition-enhancing drugs, and the development of models for neuropsychiatric disorders.
"The opportunity to lead the Department of Psychiatry and Behavioral Sciences at Feinberg and Northwestern Medicine has been a transformative experience for me," Csernansky said. "I am very grateful for the support I received from the leadership of Feinberg and Northwestern Memorial HealthCare, and as well as from many chairs of other departments, both clinical and basic. Working together, we have been able to integrate mental health research, education and care into the academic fabric of our medical center, which has provided the basis for our department's success."
Csernansky is a Distinguished Fellow of the American Psychiatric Association, a member and officer of the American College of Neuropsychopharmacology and a previous president of the Society of Biological Psychiatry. He serves as a member of the scientific council of the Brain and Behavior Research Foundation. He has served as an associate editor of Schizophrenia Bulletin and on the editorial board of the journals Schizophrenia Research and Neuropsychopharmacology.
Csernansky's research program has received grant support from the National Institute of Mental Health, the National Institute of Aging, and the Department of Veterans Affairs, as well as several foundations and pharmaceutical companies.
Csernansky joined the faculty of Northwestern University Feinberg School of Medicine in March of 2008, after serving as the Gregory B. Couch Professor of Psychiatry at Washington University in St. Louis for 18 years. He earned his bachelor's degree in chemistry from Northwestern in 1975, and received his medical degree from New York University School of Medicine before completing internship and residency training at Stanford University.
Regarding his plans for the future after he returns to the regular faculty next spring, Csernansky said, "I plan to continue my research in the neurobiological basis of psychiatric disorders, and work to find new ways of encourage young psychiatrists to pursue academic careers."
In the coming weeks a search committee will be formed, which will undertake a national search for a new chair for the department.