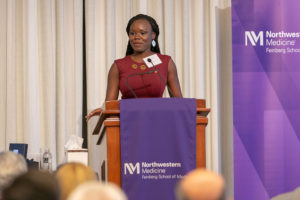 For Ramael Ohiomoba, the desire to pursue medical school stemmed from a firm passion for learning about and addressing healthcare disparities in underrepresented minority communities. Now a second-year medical student, she has chosen to specialize in cardiology and is actively involved in Student to Resident Institutional Vehicle for Excellence (STRIVE) program, which provides academic, social and professional support to underrepresented minority students at Feinberg preparing for and applying to residency programs.
She was recently chosen as one of two first- or second-year medical students in the United States to be awarded the Dr. Richard Allen Williams Scholarship from the Association of Black Cardiologists. The award supports future cardiologists, promotes diversity in medicine and encourages commitment to eliminating healthcare disparities.
According to Ohiomoba, the scholarship is not only a personal honor, but also a reminder of her commitment to promote equal access to healthcare for underrepresented minority communities through academic research and clinical care.
In this Q&A, Ohiomoba discusses how this award will help her further her medical school career, her desire to study cardiology and healthcare disparities and the importance of diversity in medicine.
How will this award impact your education here at Feinberg?
It has given me access to a network of cardiologists involved in building awareness and mobilizing resources for the eradication of cardiovascular disease. Additionally, it has strengthened my resolve to enter the field of cardiology and continue my research in it.
How did you become interested in learning about and studying healthcare disparities?
I'm from Houston, which interestingly enough, has one of the best and largest healthcare centers in the world. I went to a high school for students interested in health professions which allowed me to get early exposure to medicine through shadowing at hospitals. When I was there, I saw how a lack of access to healthcare really shapes health outcomes and – even though I didn't really understand the complexity of the problem because I was so young at the time – it got me asking "why."
I first started studying healthcare inequities in college. As an epidemiology graduate student, I focused on the role of demographics in healthcare and health outcomes. I am very excited that so many clinicians at Northwestern are interested in this topic because when I was growing up, it seemed that no one was interested.
Why cardiology?
I have spent much of my academic career studying health disparities and I think that cardiology is a great discipline for anyone who wants to understand and address the causes and consequences of inequities in our healthcare system. I have practical experience in cardiology, too. I worked at a heart monitoring company before I entered medical school and really enjoyed it.
Why do you think diversity in medicine is important?
Improving diversity in the medical profession is part of the solution to two related problems that are at the forefront of the crisis in healthcare today: access to appropriate care for patients and access to the professions for aspiring doctors. It seems intuitive, but, if clinicians are not able to physically or socially reach the populations that they serve, there will always be a gap in patient care.
Diversity also plays a role in building inclusive communities within the medical profession-in shaping how we relate to each other as physicians. A key piece of advice that Dean Wayne shared with us students during my first year is that there are many different ways in which people who are from different backgrounds or have different life experiences can still be allies.
I think that it is important that we focus not only on increasing diversity but also on increasing the number of allies and potential mentors. At Northwestern, there is vibrant, ongoing conversation about how to support students from all backgrounds, which I think is fantastic.
What are your plans for the future?
One of the reasons I chose Northwestern is because of its research opportunities. I'm currently working on cardiology research with Dr. Youmans and Dr. Okwuosa, who took me under their wing when they found out that I had prior research experience and a background in statistical analysis. I am also working with Dr. Hirschhorn on my Area of Scholarly Concentration (AOSC) project which focuses on infectious diseases in a global health context.
Getting involved with research has been one of the highlights of my experience at Northwestern so far. It has also made me realize that I would like to be an academic cardiologist. While I intend to continue my focus on research, seeing patients and working with other clinicians also makes me happy. But in an ideal world, I would do both.