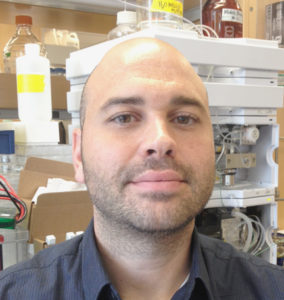 A cancer drug that failed to show benefit in clinical trials for cancer more than 15 years ago may have the potential to slow the progression of Parkinson's disease, according to a Northwestern Medicine study published in Neuron.
The small molecule drug appears to help jump-start lysosomal function, which in turn clears out harmful proteins that build up and lead to Parkinson's symptoms, according to Joseph Mazzulli, PhD, assistant professor in the Ken and Ruth Davee Department of Neurology in the Division of Movement Disorders and senior author of the study.
"We started trying to figure out why cells die in Parkinson's disease," Mazzulli said. "We came up with this new protein called ykt6 as a therapeutic target and we discovered a way to activate this protein with a small molecule."
A defining characteristic of Parkinson's disease is the accumulation of misfolded alpha-synuclein proteins in the brain. These proteins aggregate and form clumps which are linked to a variety of harmful effects including oxidative stress, inflammation and mitochondrial dysfunction.
Previous studies have noted that while other misfolded proteins are usually destroyed by the lysosome, an organelle that is responsible for waste disposal in the cell, Parkinson's linked-protein aggregates have been shown to be curiously resistant to this mechanism.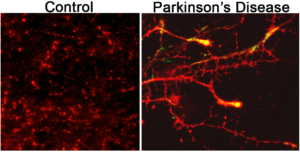 In the current study, Mazzulli and his collaborators discovered that protein aggregates depress lysosomal function by impeding lysosomal protein trafficking — in essence, intercepting the garbage trucks before they empty the dumpster. Normally, cells can cope with lysosomal stress by activating ykt6, boosting lysosomal protein trafficking and helping dispose of unwanted proteins.
However, in Parkinson's disease, alpha-synuclein binds to and deactivates ykt6, disabling the lysosomal stress response, according to Mazzulli.
"It actually impedes the cell's ability to degrade proteins by inhibiting the trafficking of lysosomal machinery," Mazzulli said. "Once the lysosomes are depleted, the cell can no longer degrade proteins."
Previous studies showed that the activity of ykt6 is regulated by farnesylation, a specialized molecule that locks it in an inactive conformation. The investigators surmised that blocking the farnesylation of ykt6 could unleash its activity and boost protein disposal in patients with Parkinson's disease, so they searched for small molecules to inhibit its farnesylation, finding one that might work: LNK-754.
"We had known farnesyl-transferase inhibitors were extensively developed for cancer therapies, but they faded as the pharmaceutical companies realized it wasn't going to be a good strategy for inhibiting tumor growth," Mazzulli said.
Testing this molecule in patient-derived mid-brain neuron cultures and mice modeling Parkinson's disease, the investigators were impressed by its effectiveness: not only did the drug release ykt6, but it appeared to promote trafficking at many other steps, enhancing protein disposal.
"Basically, the highway is clogged and LNK-754 is opening up more lanes for lysosomal trafficking," Mazzulli said.
Mice modeling Parkinson's saw a dramatic reduction in protein aggregates when taking the drug orally and it's active at low concentrations, both of which point to its viability as a future therapy that could head off the worst symptoms of Parkinson's, according to Mazzulli.
"Parkinson's often starts off with a movement disorder, but it progresses to dementia, and we think this molecule could engage this pathway and stop that progress," Mazzulli said. "It's a good candidate for the next stage of drug development."
Leah Cuddy, PhD, research assistant professor of Neurology in the Division of Behavioral Neurology, was the lead author of the study.