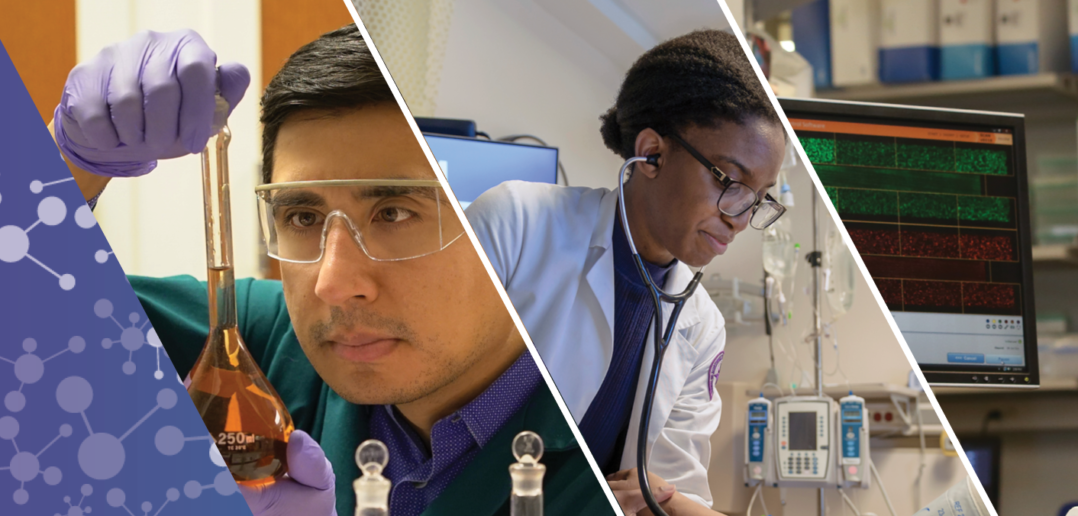 This story comes from the September Issue of Feinberg's Breakthroughs Newsletter.
Northwestern University has received a five-year, $46 million grant from the National Institutes of Health (NIH) to renew the Northwestern University Clinical and Translational Sciences (NUCATS) Institute.
With the new Clinical and Translational Science Award (CTSA), funded by the NIH's National Center for Advancing Translational Sciences (NCATS), NUCATS will continue to collaborate with Northwestern investigators to accelerate their clinical and translational discoveries.
"Northwestern's amazing investigators are making transformative discoveries every day that can advance human health and quality of life," said Donald Lloyd-Jones, MD, senior associate dean for Clinical and Translational Research and director of NUCATS. "At NUCATS, we have been working since 2007 to accelerate the translation of those new discoveries so that our patients here in Chicagoland, and others around the world, can benefit from them as soon as possible."
By bringing clinical research to a much more diverse collection of practice settings and participants, NUCATS will ensure participation in clinical research becomes common, welcomed, easy, safe and efficient for all. The grant also includes funding for the TL1 and KL2 career development awards.
"NUCATS is critical to the medical school's research enterprise," said Eric G. Neilson, MD, vice president for Medical Affairs and Lewis Landsberg Dean. "All the hard work done for this renewal by extraordinary faculty and staff demonstrates the continued evolution of NUCATS in advancing clinical and translational science for our entire academic health system. This funding will allow us to further advance our mission of improving health by accelerating the translation of discoveries into real-world cures and treatments."
Breaking Down Research Barriers
Over the next five years, NUCATS will focus on expanding research opportunities across our academic health systems and collaborating with patients and communities throughout Chicagoland to incorporate diverse perspectives and enhance the health of all.
For example, NUCATS will further integrate research into the clinical care systems and processes through the new Research Enabled and Accelerated in Community Healthcare (REACH) initiative. This program will ultimately ensure that every clinical encounter can be an opportunity for research participation, precision medicine and learning to improve human health. NUCATS and the two other Chicagoland CTSAs, which include seven local institutions, are developing a new online Chicagoland clinical research recruitment portal. This innovative initiative will provide Chicagoland residents with a single, robust online portal to learn about and match with research studies that are publicly recruiting across several Chicagoland institutions. NUCATS will continue to leverage the Trial Innovation Network to connect Northwestern investigators who are involved in multi-site clinical trials or studies with the nationwide clinical research consortium.
"This new CTSA award will catalyze efforts to bring cutting-edge science, and opportunities to participate in research studies, to the point of care for doctors and patients across our growing health system and our community," Dr. Lloyd-Jones said. "We will also train the next generation of young researchers and study teams to answer the critical questions needed to improve human health."
Propelling Careers in Clinical Research
The award also enables new programs to empower the scientists who drive all of this research.
"My professional development as a new translational pediatric brain tumor researcher has been significantly impacted by NUCATS providing a rich environment to foster skills and collaborative relationships to achieve my career goals," said Amanda Saratsis, MD, assistant professor of Neurological Surgery and Biochemistry and Molecular Genetics
attending physician at Ann & Robert H. Lurie Children's Hospital of Chicago. "The mentorship, resources and community NUCATS provides has been invaluable for me to shape and carry out my research vision and, ultimately, to make a true impact with my work."
NUCATS will partner with Northwestern University's Kellogg School of Management to develop a four-day course, "Business for Clinical and Translational Scientists," to prepare junior investigators to effectively and efficiently manage and run a research team.
"NUCATS has been a critical resource for me as an early career physician-scientist," said Lisa VanWagner, MD, assistant professor of Medicine. "I engaged with NUCATS 10 years ago when I began the Master of Science in Clinical Investigation program. Since then, NUCATS has provided me with grant support through its pilot grant program and voucher programs, biostatistical and library services support, grant-writing support and career development funding as a recent KL2 scholar. The resources and support that NUCATS offers to the Northwestern community are invaluable, particularly to early career physician-scientists."
Revolutionizing Healthcare with Informatics
NUCATS will continue to contribute to the digital research infrastructures across Northwestern University and its clinical partners. The award will enable the enhancement of Study Tracker, a clinical trials management system, improving recruitment and efficiency so patients are empowered to participate in research more easily and fully. This includes a new tab that provides every NMHC patient with online visibility to Study Tracker data about studies in which they participate, including study information and their participation status.
"I believe that a critical factor that enabled this award is Northwestern's strength in translational informatics and data science," said Justin Starren, MD, PhD, deputy director of NUCATS and director of the Center for Data Science and Informatics. "For over a decade, The Feinberg School of Medicine and our clinical partners have seen the potential for informatics to revolutionize healthcare and research, and have invested in the development of informatics systems to enable that vision. The Enterprise Data Warehouse is a national model of clinical and research collaboration. Study Tracker, which provides end-to-end digital management of clinical studies, will become available across our clinical network. The creation of the Center for Data Science and Informatics positions Northwestern for the future of artificial intelligence in medicine. These resources have already support hundreds of researchers and thousands of studies. The award will enable us to make them even better."
The new CTSA activities are funded by NCATS grants UL1TR001422, TL1TR001423 and KL2TR001424.