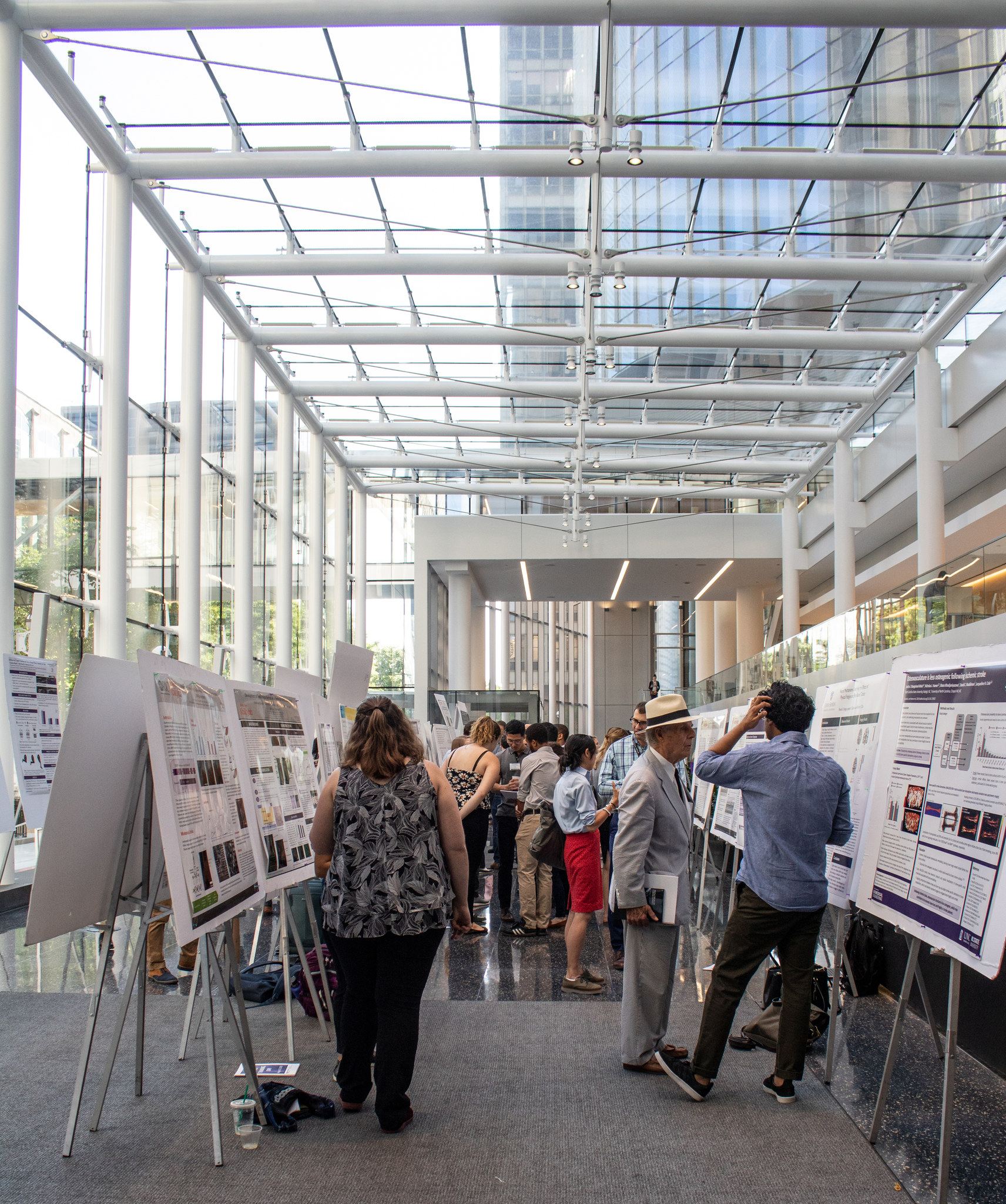 Bringing together a group of more than 100 scientists and students across departments and programs to showcase research collaborations in the field of movement and rehabilitation sciences (MRS), the 9th Annual MRS Training Day took place at the Louis A. Simpson and Kimberly K. Querrey Biomedical Research Center on August 23.
The event included a poster session featuring work from scientists in the Department of Physical Therapy and Human Movement Sciences, Northwestern University's Interdepartmental Neuroscience Program (NUIN), the McCormick School of Engineering and more, all focused on making research advancements to improve patient rehabilitation.
"Northwestern University, as a national and international leader in the field of movement and rehabilitation sciences, plays an essential role in the training of the next generation of investigators in this field," said Julius Dewald, PhD, chair of Physical Therapy and Human Movement Sciences. "The MRS training day provides an exceptional opportunity for investigators-in-training in the field of movement and rehabilitation sciences to learn what is happening in the various labs at Northwestern University, from imaging to robotics to signal processing and wheelchair development."
Grace Bellinger, a PhD candidate in the NUIN program, presented her work which examines different impairments that impact reaching function in individuals with chronic stroke.
Bellinger's research explores the contributions of post-stroke impairments such as weakness, spasticity, loss of independent joint control, and passive range of motion limitations.
"The annual Movement and Rehabilitation Sciences Training Day is one of my favorite days of the year," said Bellinger. "It brings together researchers from various disciplines and creates a sense of community among clinicians, engineers, and neuroscientists. The event is a great opportunity to present recent work and learn about ongoing research in the field at Northwestern and beyond."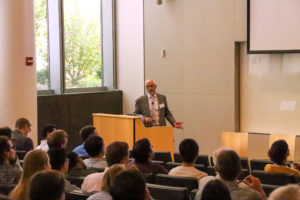 In addition to the poster session, there were several presentations, as well as a keynote address delivered by Roger Enoka, PhD, a professor in the Department of Integrative Physiology at the University of Colorado, Boulder, whose research focuses on the neurophysiology of movement. Enoka previously held positions in the Department of Biomedical Engineering at the Cleveland Clinic Foundation and the Department of Physiology at the University of Arizona.
In his address, Enoka shared career advice based on his own career experiences and stressed the importance of employing an integrative perspective as an investigator.
Reflecting on his career that has spanned 40 years, he said, "What I do is that I generate and disseminate new knowledge. I think that's the simplest way for me to describe what I do."
He encouraged the group of scientists and students to maximize their contributions by being thoughtful and maintaining an integrative perspective in their work, as well as embracing a culture of inclusivity.
The gathering included four training programs funded by the National Institutes of Health: the PhD in neuroscience with an emphasis on movement and rehabilitation sciences (NUIN-MRS); the unique dual DPT/PhD (Eng) program, which combines a doctoral degree in physical therapy with PhD training in engineering; the Pathophysiology and Rehabilitation of Neural Dysfunction (PRND) T32 program; and the Interdisciplinary Rehabilitation Engineering Career Development (IREK12) K12 program, which recruits, trains and supports scholars with engineering and other quantitative backgrounds on their way to becoming quantitative rehabilitation scientists.
The MRS Training Day was sponsored by the NIH Interdisciplinary Rehabilitation Engineering Research Career Development K12 program and the Department of Physical Therapy and Human Movement Sciences.
PTHMS ranks among the top 10 U.S. physical therapy schools in the country by U.S. News & World Report.