A new Starbucks location in the Searle Medical Research center, adjacent to the Galter Health Sciences Library and Learning Center, celebrated its grand opening recently, adding to the dining options on campus. The new coffee shop is directly connected to the newly opened Louis A. Simpson and Kimberly K. Querrey Biomedical Research Center via a sky bridge.
Beyond Starbucks, the opening of the new building is also poised to bring even more additions to dining options on the Chicago campus, with new outlets opening by late fall. See below for an overview of the new dining options slated to open around campus:
Beefsteak Brings Veggie Flavors Forward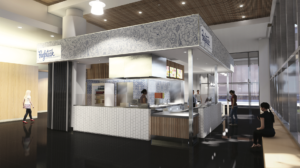 Beefsteak, a fast-casual concept by chef José Andrés featuring fresh vegetables and savory proteins matched with hearty grains, freshly made sauces and flavorful toppings. The menu will feature chef-inspired bowls, salads, sandwiches and soups prepared in front of you. Beefsteak will be opening in the atrium of the Robert H. Lurie Medical Research Center.
---
Smart Market Focuses on Convenience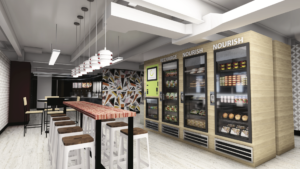 Smart Market will also be opening soon. The new option will offer a self-checkout vending market stocked with a variety of of meals, snacks and drinks on a 24/7 basis. Smart Market will be conveniently located on the first floor of the Simpson Querrey Biomedical Research Center, in the lobby.
---
Pizza Rounds Out the Lobby
Adjacent to the new Smart Market location, a new option for pizza will be opening by late fall. Slice will offer individual slices of traditional pizza offerings as well as seasonal specials.
---
A complete list of all Chicago campus dining options is available through the Northwestern University Feinberg School of Medicine mobile app, available for download in the Apple App Store and Google Play Store.