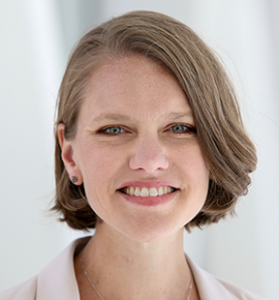 The medical school has announced the launch of the new Northwestern University Data Analysis and Coordinating Center (NUDACC), with the goal of synergizing all components of the clinical research study life cycle through interdisciplinary collaboration.
Denise Scholtens, PhD, chief of Biostatistics in the Department of Preventive Medicine, has been named director of NUDACC.
"NUDACC will empower innovative, high-impact clinical research through a structured and cohesive approach to multicenter study planning and conduct," Scholtens said. "By uniting our team's longstanding strengths in study design, biostatistical innovation and data management with expert project management and study oversight strategies, NUDACC is positioned to provide comprehensive and rigorous infrastructure for multicenter clinical research."
The mission of the new center is to streamline the research process and translate study findings with the ultimate goal of improving clinical practice and public health, especially by providing leadership and collaborative support between Northwestern University Feinberg School of Medicine and clinical partner institutions.
NUDACC will launch with faculty and staff from the Division of Biostatistics within the Department of Preventive Medicine and will grow to include faculty from across the medical school. Scholtens is also the associate director of the Quantitative Data Sciences Core of the Robert H. Lurie Comprehensive Cancer Center of Northwestern University.
"The growth of our expertise in cutting-edge clinical study design and analysis, coupled with the massive expansion in our data infrastructure and analytics capabilities, now affords us the opportunity to be a leader in data coordination for multicenter studies based here at Northwestern or anywhere in the world," said Donald Lloyd-Jones, MD, ScM, senior associate dean for clinical and translational research, and Eileen M. Foell Professor and chair of the Department of Preventive Medicine.
The services provided to investigators by NUDACC will include several aspects of support for research studies across their life cycle, including study design and development, data coordinating and analysis, grant writing and facilitating partnerships within and between institutions.
In addition to research support, data coordinating and statistical activities, NUDACC is committed to helping to train the next generation of statistical analysts, programmers and data managers. NUDACC members hold leadership roles in the master's degree in biostatistics program. In the future, NUDACC will also partner with the Biostatistics, Epidemiology & Research Design initiatives within the Northwestern University Clinical and Translational Sciences Institute (NUCATS) to provide tools for research community training.
Visit the NUDACC web site for more information, or email nudacc@northwestern.edu to learn more about the services available.