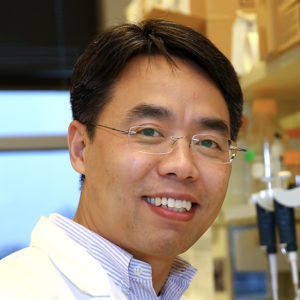 Scientific discovery depends on collaborations — whether it's serendipitous chats in the hallway, coordinated multi-disciplinary meetings or long-standing partnerships between labs.
But prior to the opening of the new Louis A. Simpson and Kimberly K. Querrey Biomedical Research Center, such interactions had been logistically challenging for investigators like Yongchao Ma, PhD, associate professor of Pediatrics, Physiology and Neurology.
As part of the Stanley Manne Children's Research Institute at Ann & Robert H. Lurie Children's Hospital of Chicago, Ma's laboratory was located at the institute's facilities in Lincoln Park — three and a half miles from the hub of scientific activity on Feinberg's campus. That meant extra effort to avoid isolation and time-consuming trips to attend seminars, access core resources and precariously transport reagents and mouse models via the shuttle bus.
"We were getting by, but it was certainly cumbersome," said Brittany Edens, a doctoral student in the Northwestern University Interdepartmental Neuroscience Program (NUIN) and a member of Ma's laboratory.
Today, that is no longer the case. Earlier this summer, the Stanley Manne Children's Research Institute moved into the Simpson Querrey Biomedical Research Center, where it occupies four floors of the new building — allowing investigators in pediatrics to share the same research space as Northwestern scientists across disciplines for the very first time.
The Ma laboratory is already buzzing with enthusiasm about what these new connections might mean for their research goals. The team is focused on uncovering mechanisms of spinal motor neuron development, function and degeneration, in order to inform new therapeutic strategies for devastating diseases like spinal muscular atrophy (SMA) and amyotrophic lateral sclerosis (ALS). They've also recently taken on promising new research projects in RNA methylation and Fragile X syndrome — finding published in Cell Reports — that will benefit from new proximity to the Department of Biochemistry and Molecular Genetics and Fragile X experts like Anis Contractor, PhD, professor of Physiology, among others.
"We are very excited to be here," Ma said. "Being a part of this building will help us to establish collaborations with other scientists, especially as we have new ideas and exciting new projects that really require a team effort."
Open for Discovery
The Simpson Querrey Biomedical Research Center, which officially opened in mid-June, is the largest new building solely dedicated to biomedical research at an American medical school. The impressive, curved-glass 12-story building adds more than 625,000 square feet of research space to the Chicago academic medical campus.
The facility, which can house 23 principal investigators and their teams on each floor, will enable Northwestern to increase sponsored research funding by $150 million annually, or $1.5 billion in the next 10 years with future expansions and investigators.
But even now, just over a month since the purple ribbon was cut and the building officially opened for business, scientists and staff in the new space are already seeing its benefits.
The lab plan on each floor is designed around the idea of flexible "research neighborhoods," which create a vibrant hub for scientists to work together. Each light-filled floor also has centralized, informal gathering areas to promote dialogue among the three lab neighborhoods.
This is critical for investigators like Lisa Wilsbacher, '03 MD, '01 PhD, assistant professor of Medicine in the Division of Cardiology and Pharmacology and a member of the Feinberg Cardiovascular and Renal Research Institute (FCVRI). "The open layout for both the labs and the office areas has already promoted more discussions and collaboration, and we now regularly work with more FCVRI labs to move our research forward," said Wilsbacher, who studies signaling pathways in cardiac development. "We collaborate closely with labs in the Center for Genetic Medicine, and their close proximity is a real advantage as well."
The Simpson Querrey Biomedical Research Center also features floor-by-floor connections with the Robert H. Lurie Biomedical Research Center and a new skybridge connection to the Searle Medical Research Building. Scientists throughout campus in a diversity of areas — including cancer, cardiovascular diseases, neurosciences, pulmonary, pediatrics, epigenetics, nanotechnology, biomedical engineering and more — can now more seamlessly interact with one another.
"The building and views have obvious aesthetic appeal. However, I now also appreciate the intelligence behind the layout of the space," said Marc Mendillo, PhD, assistant professor of Biochemistry and Molecular Genetics, who studies stress response transcriptional networks in the context of malignances. "I have experienced a great increase in the number of interactions I have with colleagues every day. This promotes the exchange of ideas, which is the foundation for new collaborations and moving biomedical research forward."
As research expands, so can the building; the Simpson Querrey Biomedical Research Center is designed to accommodate a future expansion that can more than double its size vertically, with up to 16 new floors in the second phase of construction.
For now, Jennie Lin, MD, MTR, assistant professor of Medicine in the Division of Nephrology and Hypertension and a member of the FCVRI, has already found the open-concept laboratories to be beneficial to her research in cardiometabolic and kidney disease. "As more investigators finish moving into SQBRC, I look forward to accelerating discoveries through increased interactions in an incubator of scientific creativity."