PECASE is the highest honor bestowed by the U.S. government on young science and engineering professionals
Two Northwestern Medicine investigators were among five Northwestern University faculty recently awarded the prestigious Presidential Early Career Award for Scientists and Engineers (PECASE).
Joel Voss, PhD, associate professor of Medical Social Sciences, Neurology and Psychiatry and Behavioral Sciences, and Jason Wertheim, MD, PhD, the Edward G. Elcock Professor of Surgical Research and vice chair for Research in the Department of Surgery, will be honored at a July 25 ceremony in Washington, D.C.
Established in 1996, the PECASE honors the contributions of scientists and engineers in the advancement of science, technology, education and mathematics (STEM) through scientific education, community outreach and public education. It is the highest honor bestowed by the United States government on science and engineering professionals in the early stages of their independent research careers. The White House, following recommendations from participating federal agencies, confers the awards.
The Northwestern Medicine investigators tackle very different problems: Voss, a neuroscientist, develops novel treatments for memory impairment and Wertheim, a surgeon, explores new methods to bioengineer kidney and liver tissue for eventual transplantation.
Joel Voss
Nominated by the Department of Health and Human Sciences, Voss received the PECASE for his work in cognitive neuroscience.
His laboratory uses human neuroscience methods, such as MRI and brain stimulation, to investigate mechanisms of learning and memory and their impairment in neurologic and neuropsychiatric disorders. His work with noninvasive brain stimulation has shown that it is possible to predictably influence brain networks responsible for memory in order to probe their function and to develop novel treatments for memory impairment.
Listen to an episode of the Breakthroughs Podcast on Voss' research:

---
Jason Wertheim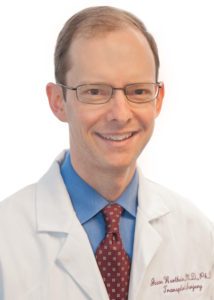 Nominated by the Department of Veterans Affairs, Wertheim received the PECASE for innovative and applied research investigating how injured tissues and organs heal, regenerate and repair in order to develop new tissues as future treatments for chronic organ failure.
A clinical transplant surgeon and biomedical engineer, Wertheim focuses on discovering new methods to bioengineer liver and kidney tissue in the laboratory as a cutting-edge solution to donor organ shortage. Wertheim's applied research develops bioartificial tissues, and his group has produced quantitative metrics to track how cells develop into new tissue within bioreactors. This work could uncover essential drivers of how tissues repair and regenerate to develop innovative, future cures for chronic diseases. Together, this research opens new scientific opportunities for the development of future medical treatments to improve quality of life and health. Wertheim is also an associate professor of biomedical engineering at the McCormick School of Engineering.
In addition to Voss and Wertheim, chemist Danna Freedman, PhD, in the Weinberg College of Arts and Sciences, computer scientist Han Liu, PhD, in the McCormick School of Engineering, and economist Mar Reguant, PhD, in Weinberg were each also honored with a PECASE.